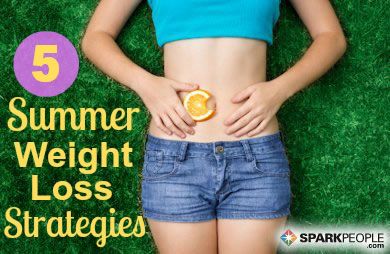 Forget about New Year's resolutions--summer is the easiest time to start your weight-loss journey. The days are longer and the grass is greener. The sun isn't hiding behind the clouds, and you don't have any excuses left to stay bundled up on the couch. But there's a flip side to everything that makes summer so great for weight loss. Learn which hurdles to watch out for so you can make this summer a fitness success.

Eat Your Fruits and Veggies
So many delicious fresh fruits and vegetables are now in season. The tomatoes are bursting with flavor. The plums are dripping with juice. The salad greens are crisp and fresh. If you haven't been devoting at least half your plate to fresh produce, now is the perfect time to start. In fact, the Centers for Disease Control and Prevention and the USDA both recommend at least five servings per day! A diet rich in fruits and veggies protects against certain cancers and reduces the risk of type 2 diabetes. Best of all, loading up on colorful produce lets you eat a higher volume of food while still feeling full and saving on calories.

Want to rev up the calorie burn while you load up on healthy snacks? Many farms offer pick-it-yourself options that make stocking up on expensive berries more affordable and turn choosing the perfect peach into a workout as you climb ladders and haul a basket of heavy fruit to your car.

Get Started: Learn what's in season during the summer months; when it's fresh, it's also more nutritious and easier on your wallet. And be sure to fill half your plate with fresh veggies each time you sit down to eat. Our fun and easy bikini diet plan will show you how!
Weight-Loss Hurdle: Make sure your eyes aren't bigger than your stomach. Before you hit the farmers market or grocery store, make note of how long your favorite fruits and veggies will stay fresh. They'll taste better, and you'll be more likely to eat them if they haven't started to turn brown.

Leafy vegetables and most fruit are best stored in the refrigerator, but foods like tomatoes, bananas and lemons do better stored separately on the countertop. (Note: storing produce too close together can cause it to spoil faster due to the release of ethylene gas.)

If you do find yourself with an overabundance of vegetables or fruit—perhaps you planted too many tomatoes this year—it might be time to try your hand at preserving the bounty for the winter. Canning, pickling and freezing are all great ways to store excess produce to enjoy later. You'll be more likely to stick with your good summer eating habits if you have delicious preserved produce right at your fingertips.
Stay On Track: Learn four ways to preserve produce at home.


Continued ›