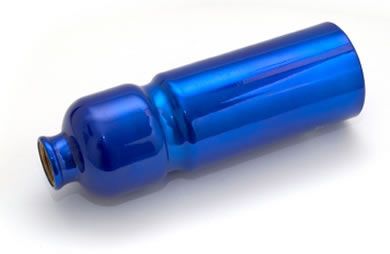 You Probably Need to Drink More Water While Working Out
Except for oxygen, there's nothing your body needs more than an adequate supply of water. And the more you exercise, the more important it is to drink the right amount of water before, during, and after your workouts. Dehydration can make it hard to get the most out of your workout, and in extreme situations, can even be dangerous to your health. However, drinking too much water at the wrong time can also hinder performance.

So what's an exerciser to do? How do you know how much you need to drink, when to drink it, and when you might need something other than plain water, like a sports drink? Obviously, people differ a lot in body size, how much they sweat, the type and amount of exercise they do, and the climate in which they exercise. All these factors make one-size-fits-all recommendations on drinking water ineffective or even dangerous. An approach used by competitive marathoners in hot, humid weather isn't going to make much sense for you if you're jogging or walking for 30 minutes on a treadmill in an air-conditioned gym (or vice-versa). Therefore, a competitive athlete could benefit greatly from an assessment of individualized fluid, electrolyte and energy needs by a Registered Dietitian with experience in sports nutrition.

Do you need to worry about drinking during exercise?
The good news is that staying hydrated during exercise really isn't complicated for most people. If your typical exercise session is around 60 minutes or less, and doesn't involve vigorous activity outdoors in hot, humid weather, you probably don't need to interrupt your exercise session for a drink unless you prefer to. A healthy, average-sized person can produce as much as 32 oz of sweat during an hour of moderate to vigorous indoor exercise. That may feel and look like a lot of sweating, but it shouldn't be enough to cause problems unless you've been seriously short-changing yourself on fluid intake prior to starting your exercise. You can tell whether that's a potential problem by checking your urine color before exercise. If it's dark yellow with a strong urine smell, it's a good idea to have a cup or two of water 30-60 minutes before you start exercising. If it's clear to light yellow, it should be fine to just rehydrate gradually after your exercise session without worrying about stopping to drink during the middle of it.

Continued ›
Article created on: 11/13/2003