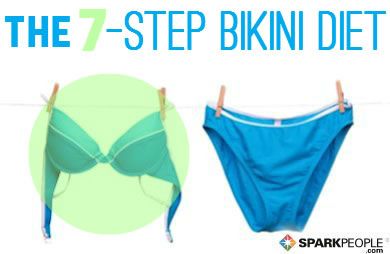 Pool parties, beachfront vacations, and water park adventures…ahhh the joys of summer are almost upon us! To celebrate the causal, relaxed pace of the season, SparkPeople is happy and excited to introduce The Bikini Diet, a fun and simple way to control portions, shed a few pounds, and feel fit and energized.

There is no weighing food, no carrying around measuring cups and spoons, no special foods to purchase or prepare. The Bikini Diet can be used at home with the family, at the neighborhood cookout, or when dining out with friends. So bring that itsy-bitsy, teeny-weeny, yellow polka-dot bikini back into your life—it's a wonderful tool when it comes to healthy eating.

Bikini Tip #1: Start with a 9-inch plate.
You may not be surprised to learn that as our waistlines have increased, so have the sizes of our plates. Get our your plate and measure its diameter with a ruler—don't eyeball it. If your plate is bigger than 9 inches, put it back on the shelf and get a new one!

Bikini Tip #2: Visualize a bikini on your nine-inch plate.

The bikini top has two bra cups that each cover one-fourth of the plate.

A serving of meat, legumes, or tofu should fit on one of the bra cups. Notice that a 10-ounce steak will not fit, but a 3-ounce steak will.
Place your choice of bread, rice, pasta, or starchy vegetable (such as corn, potatoes, peas, or lima beans) on the other bikini bra cup, also covering one-fourth of the plate.

The bikini bottom covers the lower half of your plate and will hold your vegetables and salad. You can select a large portion of one vegetable or salad, or smaller portions of several.
Continued ›
Article created on: 6/1/2005