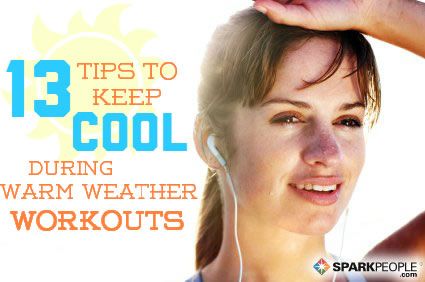 You waited all year for summer to arrive, dreaming of all the activities you could do if only the weather was nice. But now that warm weather has arrived, the extreme heat and humidity can make it difficult to spend any time outdoors—let alone exercise. While exercising in the heat is generally safe for most people, taking a few extra precautions will help you stay cool and prevent problems associated with the heat.

Danger Signs to Watch For
Normally, your body cools off as sweat evaporates from your skin. But when heat and humidity rise, that sweat can't evaporate as quickly. The combination of hot weather, high body temperature and exercise can be dangerous and even deadly.

Heat exhaustion can occur when your body gets too hot, resulting in physical symptoms like weakness, muscle cramps, dehydration, dizziness, confusion, rapid heart rate and headache. Staying hydrated and getting out of the heat can help prevent and treat heat exhaustion. If left untreated, heat illness can worsen, causing symptoms like confusion, unconsciousness, vomiting, troubling breathing, and skin that feels hot and dry (a sign that the body isn't sweating). These are signs of heat stroke, which is deadly and requires immediate medical attention.

But you don't have to give up exercise just because it's hot outside. These 13 tips will help you beat the heat.

1. Get your doctor's okay. If you are new to fitness or taking any medications, check with your health care professional before exercising in the heat. Newcomers to exercise will be more sensitive to the heat, and some medications can impair your body's ability to regulate temperature.

2. Wear "wicking" fabrics. While cotton is comfortable, it doesn't wick away moisture very well. Choose a loose-fitting polyester/cotton blend instead, or synthetic fibers designed especially for wicking during exercise.

3. Protect your skin. Apply sunscreen with SPF 15 (or higher) to prevent sunburn—even on cloudy days. Use an oil-free formula that won't interfere with your body's ability to cool itself down and select a sweat-proof variety to prevent sunscreen from irritating your eyes. Clothing with tight weaves, sunglasses, and a lightweight hat with a brim can also help block the sun's harmful rays.

4. Drink often. Hydrate your body before, during and after your workout by carrying cold water and drinking it often. Switch to a sports drink with electrolytes if you will be exercising for more than an hour.

Continued ›