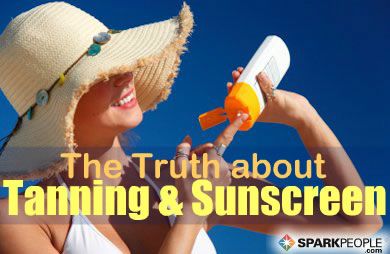 More than 1 million new cases of skin cancer are diagnosed each year in the United States and over 10,000 people will die from the disease each year. This number hits even closer to home when you consider that almost one in five Americans is expected to develop some type of skin cancer in his or her lifetime, according to the American Academy of Dermatology (AAD).

Once only a concern during the summer months, tanning is now a year-round skin danger with the thinning of the ozone layer and the abundance of artificial tanning salons. The two primary types of ultraviolet (UV) radiation are UVA rays (which deeply penetrate the skin and cause the most genetic damage) and UVB rays (the "burning" rays). The National Institutes of Health and the World Health Organization report that both UVA and UVB rays can cause cancer.

Damaging UVA rays and UVB ultraviolet rays slip through your windows and even a healthy jog around the block can wreak havoc on your skin, as the cellular damage from UV radiation accumulates over time. But the prime culprit behind most cases of skin cancer is sun damage from tanning.

What is Tanning?
Many people assume that a tan protects them, when in fact a tan is actually a sign of skin damage. Tanning is the skin's reaction to UV radiation from the sun or an artificial tanning bulb. When skin is exposed to UV rays, it tries to protect itself by producing a brown pigment called melanin, which darkens the cells of the outer layer of skin (epidermis). Tanning is your skin's imperfect defense mechanism against further damage, and darker tans cause the most permanent damage.

UV rays damage the DNA of your skin cells and even though your body repairs a lot of the damage successfully, over time the leftover damage can lead to cellular mutations that cause skin cancer. Ongoing, unprotected UV exposure can also age the skin, causing wrinkles, sagging and brown spots. UV radiation is also a major cause of cataracts, a clouding of the lens of the eye.

Some people have the mistaken impression that tanning the skin is healthier than getting sunburned, but both cause DNA damage to the skin cells, which isn't immediately apparent. According to the National Institutes of Health, by the time a person sees and feels sunburn (about six to eight hours after sun exposure), it is too late. Permanent damage is a delayed effect that takes years to show up, and damage from tanning accumulates over time. Sunburn has been definitively linked to melanoma, a deadly type of skin cancer. Some research shows that experiencing just one sunburn can more than double your risk of developing melanoma.

Continued ›
Article created on: 6/5/2007