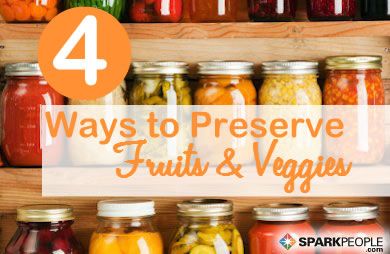 Summer is the season for fresh produce—from your garden, the local farmers market, or nearby farms. It can be so tempting to buy in bulk—after all, you've waited all year for the perfect strawberry or tomato—and when you grow your own, you usually end up with a surplus of fruits and vegetables! Luckily, there are several healthful ways to preserve your food so that you can savor the goodness of these fruits and vegetables long after the harvest is over.

Home preservation is a very economical choice, but it has fallen by the wayside in these modern times when foods of all kinds are available in supermarkets year round. However, you can potentially cut hundreds of dollars from your grocery bills by buying (or growing) fresh foods in bulk and then preserving them yourself!

Here's a rundown of the four most common ways to preserve foods: canning, freezing, drying and pickling. This article will provide you with the basic information you need to get started. When doing so, always start with fruits and vegetables picked from your own garden or purchased from nearby producers when the foods are at their peak of freshness—within six to 12 hours after harvest for most varieties.

Canning
There are two primary methods of canning: a hot water bath and pressure canning. Whichever method you use, be sure to use jars with lids made specifically for that technique. Glass canning jars, which are reusable, come in various sizes (most are single pints or quarts), so choose one that best suits your canning needs. Do not use jars larger than specified in the recipe you follow, as an unsafe product may result.

While most people think of canned foods as salty, all that sodium is optional when you do it yourself. Just make sure that you use "canning salt" not table salt if you plan to salt your foods because regular table salt can make your vegetables soggy. Another tip: Wipe down your rims before you apply the lids and rings as a tight fit is vital for a safe seal. For canning recipes, methods, and techniques broken down by fruit and vegetable type, check out "How to Can Anything" at www.PickYourOwn.org.

The hot water bath canning method is for foods that are acidic (pH below 4.6), such fruits, pickles, sauerkraut, jams, jellies, marmalades, and fruit butters. If you are making jams or jellies, it is important that you sterilize the jars, lids, and rings for 10 minutes in boiling hot water before using them. Most fruits and vegetables will last up to 12 months when canned using this method.
Continued ›
Article created on: 7/14/2009