Jewish Music to Inspire Your Hanukkah Workouts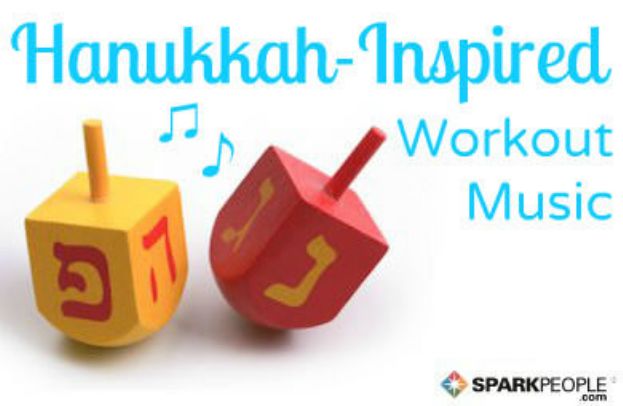 Hanukkah or the Festival of Lights is a Jewish holiday celebrated for eight days and nights. In Hebrew, the word "Hanukkah" means "dedication," and unlike other date-specific holidays, it begins at sunset on a day between late November and late December depending on the Hewbrew calendar.

Hanukkah is a time of joy and family celebration, fun and tradition including many delicious foods. While the festivities can draw you away from your healthy lifestyle, it can also be a time to stay dedicated to them.

We create workout lists to help you keep your workouts fresh and to help you stay motivated as you work toward your goals. Members of our SparkJews SparkTeam offered some suggestions for inspirational songs to keep you moving throughout the holiday.



Candlelight by The Maccabeats
Light One Candle by Peter Yarrow
Chanukah Oh Chanukah by Tzlil V'zemer Boys Choir
Dreidel by Erran Baron Cohen
Siman Tov, Mazel Tov/ Heiveinu Shalom Aleichem by Jay Levy
Hava Nagila by The Voices of Israel Singers
Youth by Matisyahu
Not By Might, Not By Power by Debbie Friedman
Hinei Mah Tov by Hal Aqua, Steve Brodsky & Saul Rosenthal
Yismechu Hashamayim by Susan Colin
Hora Ca Din Caval by Shtreiml
Rock to the Rock by Miraj
Ya'alili by 8th Day
Hallelujah by The Pop-Allstars
Mayim by Bobby Morganstein
Od Avinu Chai by Reim Duo
Yerusahalayim Shel Zahav by Shuli Natan
Arbaim by Ofra Haza
To Life (L'Chaim) by Anthony Newley
Im Ein Ani Li Mi Li by Isaac Bitton
Lo Yisa Goy by Jeremy Gimbel & Rachael North
Al Shlosha D'varim by The Baal Shem Tones
Lo Alecha by Steve Meltzer
And The Youth Shall See Visions
Oh! My Papa by Eddie Fisher
What are your favorite upbeat Jewish workout songs? Does inspirational music help you stay motivated and get you moving?



You will earn

5

SparkPoints

Like what you read? Learn more

about SparkPeople,

or

sign up

for your free account today!
Got a story idea? Give us a shout!