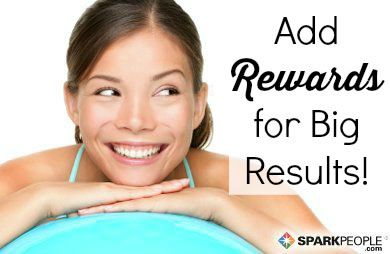 Everyone likes a pat on the back every once in a while. And there's no better time to get one than when you're out of your comfort zone, challenging yourself to improve, nervous about whether you can succeed.

Most people approach changing their health habits from a position of "pain". They constantly nag themselves, berate themselves and expect nothing but perfection, no matter how much progress is made. Tools of the trade are guilt, doubt, shame and self-flogging. Instead of celebrating the 24 pounds they've lost, they see the six they still haven't lost. Sound familiar? To people used to beating themselves up, it may seem like the best way to get motivated. But consider this: if you attempted to motivate an employee like that, how long do you think they'd stick around? How successful would they be?

Let's do it differently this time. Try to approach your goals from a position of "possibilities" instead. Find ways to use regular rewards to pat yourself on the back and give a word of encouragement. Instead of focusing on what you do wrong, try paying more attention to what you do right. While straight talk and brutal honesty are often good for getting your butt moving, for sustained motivation, the positive approach will keep you from burning out.

Rewards create a feeling of doing something you want to do, not just what you're forcing yourself to do. Even the smallest of rewards can work wonders as you travel from milestone to milestone, pound to pound, and mile to mile.
Continued ›
Article created on: 11/10/2003