SparkPeople Blog Most Recent Post
Have the holiday parties started yet? I've already got a couple of invites and I'm looking forward to celebrating with my friends and family. But I know if I want to have a few extra treats this season, I'll need to make sure to keep up with my normal exercise routine. Even if you don't have time to make it to the gym, you can torch major calories with this week's DVD giveaway from
Billy Blanks
, which will have THREE winners!
Read More ›
On SparkPeople.com, members log thousands of food items daily on our Nutrition Tracker. SparkRecipes now has more than 485,000 recipes. That's a lot of info on what people like you are
really
eating when they're working to get healthy and stay that way. We looked back at the top cooking trends of the year, based on what members like you are searching for on the site. Keep reading for a wealth of recipes and meal ideas that will help you reach your healthy cooking and eating goals in 2014.
High-Protein Foods
: Protein is huge right now. You know that it's crucial to weight loss, thanks to its ability to fill you up, ward off hunger, and rebuild muscles after your workouts, and you're looking for creative and delectable ways to get enough of it each day. Beyond the usual recipes, try
homemade protein bars
,
protein pancakes
&
protein powder pancakes
.
We like:
No Bake Protein Bars
Peanut Butter Fudge Protein Bars
Protein Pancakes

Drinking Your Vegetables
: Getting in your five servings of fruits and veggies daily can be tough when you're busy. One of the easiest ways to load up on
fruit
is with a smoothie. Toss in a banana and some berries or melon, and you're easily halfway to your goal. But a lot of you are catching on that vegetables can be sneaked into a smoothie, too. you're trying
spinach smoothie
and
vegetable smoothie
recipes. (trust us, you can't taste the veggies.)
Read More ›
Hello, SparkPeople members!
I'm here to share with you the launch of our
SparkAmerica
campaign. This is one of my favorite projects we've ever launched, so I took some time to try my best to give you a behind-the-scenes look at what we're trying to do with this campaign. I'd love to hear any feedback or questions in the comments on this post!
Setting the Stage: How to Think about SparkAmerica
First, I want to set the stage for how you can think about this project. As you know, we like having different types of challenges on the site as a way to motivate members to reach their goals. Examples of challenges can include: eating more fruits and veggies, submitting a crockpot recipe to win a prize, learning a new exercise, and many more.
This emphasis on challenges fits well with the underlying SparkPeople brand and program that integrates these two areas:
The best of all areas of health and fitness
The best of behavior change – including goal-setting, motivation, leadership, fun, and more
We have seen that the integration of these two main areas has been key to our success in helping to transform the lives of tens of thousands of people over the past decade – where challenges are a great way to emphasize setting goals, getting motivated, having fun, showing leadership, and more.
As you read about SparkAmerica below, just keep in your mind that SparkAmerica is really just a giant challenge we're building into the site in several fun ways. In fact, when I tell the full history of SparkAmerica, I love sharing how this concept originated from a small challenge started by members in the SparkPeople community!
What Is SparkAmerica?
Now that you understand that SparkAmerica is simply a new type of challenge on the site, I want to share that we think this challenge could become so BIG that it grows into a national and international grassroots movement that is led by SparkPeople members!
Here's how we are describing SparkAmerica to many large partners coming on board:
SparkAmerica: A National Movement to Spark America's Health and Health Leadership
"We are bold enough to believe we can change America, but humble enough to know we need help—continued help from our many millions of visitors...and
help from visionary leaders and organizations across America."
–Chris Downie, Founder, SparkPeople
We've all seen the statistics: 68% of Americans are overweight or obese. 79 million Americans have pre-diabetes. Only 22% of us report regular physical activity. $495 billion in lost economic productivity due to health-related issues per year.

At SparkPeople, we believe our nation's health problems are just as much a leadership issue as a health issue. By looking at the situation from this perspective, we have developed an innovative solution that has never been done before.

SparkAmerica is a campaign championed by SparkPeople and our 15 million members that aims to improve the health of all Americans in a sustainable way.
**
One of the big points of this language builds on what I mentioned earlier: that the underlying SparkPeople program integrates the best of health and fitness with the best of goal-setting, motivation, leadership, and more. In other words, SparkPeople + our amazing members may truly be ideally suited to lead this movement!
We've been incredibly excited that many visionary leaders and organizations are signing on to be partners with SparkAmerica in some way. I'll be sharing more about this with you soon.
But, I'll let you in on a secret. I strongly believe that
our most important partner in this campaign is YOU
and every other current and future SparkPeople member. After watching so many people transform their lives on the site over the past decade, I KNOW that individuals working together are the real key to building a grassroots movement. And I know that with many of the new features and programs we're launching as part of SparkAmerica that we now have the right formula to bring this all to life right now in a way that will help motivate you to reach your goals, possibly help the people most important to you (your friends, family, co-workers, and social network). And then, if we have enough individuals working together on this, that is what really could make an impact on one community at a time, scaling up to cities, states, many other countries, and the world.
Read on to see how we'll make this happen...
What Programs Are Included in SparkAmerica?
As you know, we love SparkPoints! We originally developed this rewards program because we want it to be fun and motivational for people to take one small step at a time to reach their goals—and ultimately reach goals you may have never thought possible.
1.
The comprehensive SparkPeople weight-loss and fitness program
One of the best parts about this new SparkAmerica campaign is that the most basic thing you need to do to participate is to just take one step at a time to reach your goals on the site. We will then take your SparkPoints and fitness minutes you earn as part of reaching your goals and do something very fun and exciting with those points and fitness minutes that I'll describe in the next section.
2.
The 60-Second Daily Check-In
A new program we are launching along with SparkAmerica is something we're calling the 60-Second Daily Check-In. Here is the thinking behind that option: Whenever we get together with SparkPeople members in person, they tell us that they share the site with all of their friends. They say that many of their friends will tell them that SparkPeople is great and they become SparkFriends. But, they also say that some of their friends aren't looking to participate in a comprehensive program like SparkPeople. So, for a long time, we've wanted to strip out the best of what we offer (tracking tools; articles & videos from experts; and our supportive online community) and build a very simple program that anyone can use to reach their goals—even if they don't want to track their foods or lose weight, for example. This program is essentially a slightly modified version of the SparkPeople.com Start page that emphasizes easy fitness-minute tracking instead of daily food tracking.
Since this
SparkAmerica
challenge is all about encouraging
everyone
to take action, we aggregate everyone's SparkPoints and fitness minutes from both programs and bring them together. Next, I'll show you what we're doing that is fun and innovative!
SparkAmerica Leaderboards & Challenges
This section is where all of this comes together into something new and exciting that nobody has ever attempted before.
Several years ago in our hometown of Cincinnati, Ohio, we did a small beta test called SparkCincinnati. It ended up being so fun that we knew we wanted to make this a national and international challenge at some point. Now is the time!
Here is how the SparkAmerica leaderboards will work: A key part of the challenge is that we'll have members select their "favorites" from many different categories including city, state, employer, favorite sports teams, favorite celebrities or athletes, non-profits, universities and schools, and more. One key new point about these SparkTeams like your favorite city and state is that you don't need to be active in the actual SparkTeam in order to join or support it. Instead, you are simply indicating that this Team is one of your favorites that you support (additional participation in SparkTeam community is completely optional).
Next, the SparkPoints and fitness minutes earned by members will be aggregated and applied to all of their selected Teams. We will then rank the Teams in each category and publish ongoing leaderboards. This framework will become a platform for countless types of challenges all over America in a way never done before. SparkPeople has seen that this type of friendly competition is a great way to motivate people to reach goals.
Another fun feature we launched to help you feel even more connected to your favorite Teams is the "Team Bonus Points" feature (Step 3 on your SparkPeople
Start page
). As you earn SparkPoints throughout the day, you will earn Bonus Spins so that you can give extra points to your favorite Teams to help them rise on the leaderboards. Our goal with this feature is to have a simple and fun way to connect you with your real-world affinities as a way to stay motivated to reach your goals by helping support your teams.
Some examples of SparkAmerica Leaderboard Challenges will include:
Healthy Leader Challenges ranking individual fitness minutes and SparkPoints
City Challenges
Sports Team Fan Challenges
Corporate Challenges
Fans of Celebrities & Athletes
School and University Challenges
Mom Challenges (where Moms across America come together to help the children of America to end childhood obesity)
Health and Fitness Professional Challenges
Rallying Cry Challenges that everyone strives to reach together (an example could be for all SparkPeople members to reach 10 billion fitness minutes in 2014)
In addition to many types of ongoing leaderboards, we will also do many shorter-term challenges like:
Challenges between two cities during the week that their sports teams play each other
Short-term goal challenges around some part of the SparkPeople program
How to Get Involved
The great part about SparkAmerica is that just by using SparkPeople.com as a way to help you reach your goals, you are involved with the challenge. But here are simple ways you can take this involvement to the next level:
Select your favorite SparkTeams. Be motivated by the fact that reaching your goals will help your favorite teams rise on the leaderboards.
Use the site to reach your goals.
Spread the Spark (more on that below) about this to anyone you know. Now your friends can participate on SparkPeople using either the existing SparkPeople.com program, or the new 60-Second Daily Check-In if they want a simpler experience.
Share SparkPeople content with your social networks (Facebook, Pinterest and more). Our healthy and motivational stories could be that small "spark" that changes someone's life!
Here are some examples for how you might Spread the Spark:
SparkTeams: Help your favorite Teams (cities, sports teams, employer, etc.) rise on the leaderboards by spreading the spark to anyone you know who also is a fan of that Team. This can be a fun and simple way to introduce your friends to SparkPeople
Companies/Organizations: If you work at a company or are involved in any other type of organization (like a church, school, non-profit, etc.), you can consider starting a SparkTeam for that organization and then being the "SparkAmerica Champion" for that organization. With the launch of the 60-second daily check-in, SparkPeople now has something to offer to anyone in an organization!
You! We realize that sometimes members will heavily use SparkPeople.com for a while to reach a weight-loss goal and then they might stop using the site. With more emphasis on simple ways to stay engaged with SparkPeople that go far beyond weight loss, we hope that members will stay more engaged with the site for longer periods of time. The important part about this is that this simple consistency—even if it takes only 60 seconds per day—can build your momentum over time to reach goals you might have never thought possible!
Note to International Members
Our goal is to build out this challenge one step at a time. So, the first step is to launch in the U.S., our home country. But we are very passionate about bringing this challenge to many countries around the world. Our first step is to provide a leaderboard for all other countries. A next step will be to build out those leaderboards into specific country challenges like SparkCanada, SparkUK, etc. Another next step will be to reach out to possible large partners in other countries for help. Please remember we're still a small team trying to do our best to help as many people as we can, so stay tuned for more steps for additional countries. Our real goal is to Spark the entire world!
We welcome your questions and feedback about SparkAmerica. Please comment below with any thoughts or questions about whether SparkAmerica makes sense to you, what you like about it or anything else!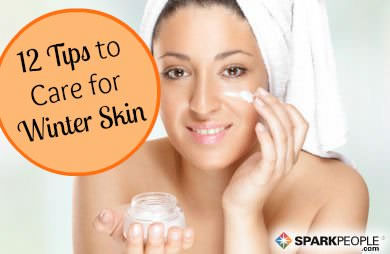 A dozen derm-approved tricks for smooth, soft, sexy skin all season. Get advice from these skincare experts: Dr. David Bank, dermatologist in Mount Kisco, New York Dr. Doris Day, dermatologist in New York City and Dr. Howard Murad, dermatologist in Los Angeles and founder of Murad, Inc.
Expert Tips1. Skip the bubbles.
Foamy lather feels luxurious but tends to strip away natural oils. Opt for a mild, fragrance-free cream cleanser with less than 1 percent sodium lauryl sulfate.
2. Exfoliate gently.
Use a facial wash with no more than 5 percent salicylic or 10 percent glycolic acid two to three times weekly. For sensitive skin, dilute with an equal amount of water.
3. Soothe your scalp.
Banish dryness and prevent irritation with a five-ingredients-or-less hydrating shampoo and conditioner. Fewer ingredients means less chance of inflammation. If dandruff is an issue, switch to a shampoo containing either zinc pyrithione or selium sulfide.
Read More ›
Every December, we editors here at SparkPeople love digging through all of our content from the past year to see what our readers (you!) liked the most. It is so fun and rewarding to look back on what we've done throughout the year, and compiling this annual list helps give us a better idea of the exact kinds of topics you want to see on our site—which helps us create more high-quality and relevant content for you!
2013 was a year of healthy snacks, fun workouts, controversial health topics, and more. Check out these top 15 headlines of the year to see if there's anything you might have missed (starting with number 1). Happy reading, and here's to even better headlines in 2014!
Read More ›
Lisa Walton (
LUCKEGIRL40
)Weight Lost:
78 pounds
Hometown:
Papillion, NE
Occupation:
Disaster Recovery Analyst
What was life like before your weight loss?
I have had a weight problem most of my life. I can still remember the first time my mom looked at me and told me I needed to lose weight. I was only about eight years old at the time, so I decided to put my leotard on and run around the house for a while. I took the scale to my mom and showed her that I had "lost" weight. She told me that that's not how it works. My mom was concerned about me and would continually try to get me to lose weight over the years. She tried everything, including bribes. I heard time after time that I wouldn't be able to get a good job or get a boyfriend if I continued to be heavy. I was very stubborn and tried to prove my mom wrong. I tried diet after diet and would experience temporary success only to jump back up to a higher weight again. I got married to my high-school sweetheart when I was 21 years old. Soon, he picked up where my mom left off with the lectures about my weight. I wanted to feel like my husband could accept me for who I was. After that, my weight skyrocketed. I got all the way up to 240 pounds when I was pregnant with my first child. At 5'3", I was pretty big. I lost some weight after giving birth, but began a cycle of yo-yo weight loss and weight gain for a few years. At a doctor's visit in July 2010, I felt crushed when I looked at the scale and it read 220 pounds again. I was almost back at my pregnancy weight.
I felt awful. I couldn't stand looking in the mirror. I continued to feel my jeans getting tighter and tighter. I was grumpy with my kids and my husband. I constantly thought about how other people viewed me as a fat person. I felt self-conscious when I would sit in chairs and worried about whether I was crowding the people next to me or if the chair was going to hold my weight. I thought about my weight most of the day every day. It was miserable. I didn't feel like I was worth the time of day. One day, I sat on the floor during a very crowded meeting, and I had a hard time getting up off the floor. I realized that the problem was getting out of control.
What was your 'light bulb moment' that made you get serious about losing the weight?
My grandmother was diagnosed with Type II diabetes when she was about 60 years old. She also had macular degeneration and high blood pressure. In May 2010, my grandmother was diagnosed with an aggressive cancer, and she passed away on June 1, 2010 at age 81. I was very close to her, and it hit me very hard when she died. I decided that I was going to use her death as the motivation I needed to start my weight-loss journey. I wanted something positive to come out of her death. I take after her in a lot of ways, and I don't want to develop high blood pressure or diabetes. I was also at my highest weight at the time of her death, and I couldn't stand myself anymore. I needed a change. I needed to be able to look myself in the mirror and be happy with what I saw. I needed to be able to not dread putting on my pants.
Tell us a bit about your weight-loss journey:
Read More ›