SparkPeople Blog Most Recent Post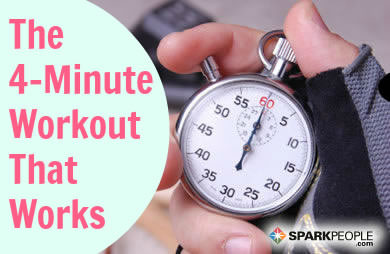 Tight on time?
Don't give up on your workout today. If you have a mere four minutes—that's just 240 total seconds—to spare (and who doesn't), then you do have time to squeeze in a super effective workout that provides major health, fitness and weight-loss benefits.
What is this 4-minute miracle workout?
Read More ›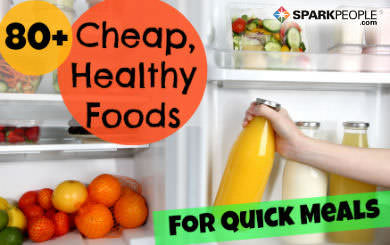 People often ask me what foods they should be eating. I think they expect that as a dietitian, I'll tell them they have to eat pricey, trendy health foods to lose weight. No way! I'm passionate about spreading the word that you can lose weight and get healthy as a family while sticking to a budget. That's why I'm so excited to share today's blog with you! It's a great resource for those of you who are new to healthy cooking or who don't know what to put in your cart at the supermarket.

What a great feeling! You're driving home from work and automatically know that you have the ingredients in your cupboard, refrigerator and freezer to whip up a meal for your family in mere minutes. No need to waste time or money with another trip to the grocery store or fast food joint. Ah! Sit back, relax and enjoy the music.

The foods picked for this pantry list are ideal choices for weight loss--lower in calories, yet packed with nutrition. They are also commonly available, budget friendly, familiar to most, and liked by many. Their flavors and textures mesh well for tasty food combinations. These "mix and match" marvels will have you making magic in the kitchen in minutes.

I've divided my list into food groups for easier shopping and included serving suggestions, too.
Read More ›
If you've recently started tracking calories and watching portion sizes, chances are you've been surprised that your morning cereal is really three servings instead of just one. Or that the salad from your favorite restaurant you thought was a healthy option really isn't. It's easy to convince yourself that your diet is fairly healthy until you really start measuring and tracking your food throughout the day. That's why I'm not totally surprised by a new survey that says most Americans consider their diets to be at least "somewhat" healthy.
Read More ›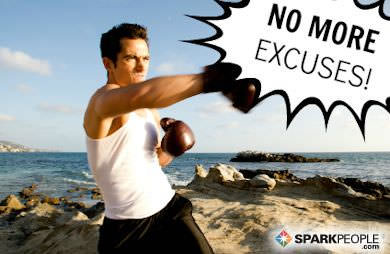 It's pretty clear that progress towards any important goal goes a lot better when you can maintain a positive state of mind. Positive goals, positive (but realistic) expectations, and positive self-talk all help us stay motivated and survive the inevitable setbacks and disappointments we experience.
But there are also plenty of times when "happy talk" just doesn't get the job done. We all do things that are just plain...well, let's just say they aren't very well thought out. When that happens, it doesn't always make a lot of sense to just pat yourself on the back and say, "Don't worry, you'll do better next time."
In order to learn from our mistakes and avoid repeating them, we also need to take an honest look at what went wrong, and point out to ourselves exactly how and why we are contributing to our own problems. And we need to do it in a way that will help us remember this lesson
before we act
the next time the problem comes up.
In my line of work, we call this
Toughlove
, and there's definitely an art to it, whether you're delivering the toughlove to yourself (OK for amateurs) or to someone else (recommended only for seasoned experts with martial arts skills and/or a good lawyer). Done poorly, toughlove can and usually does cause more problems than it solves. But done well, it can be very effective, so it's definitely worth learning how to do it to yourself the right way.
Probably the best way to illustrate the art of toughlove is by looking at a very common problem that often responds better to a little self-administered toughlove than to happy talk…
Read More ›
Music is important to many people. It can pick you up when you're feeling down, motivate you when you need a little push, and inspire you to go the extra mile during a workout. We love to share our favoriate
workout music list suggestions
here on dailySpark, and we frequently receive requests for Christian exercise music. So I've compiled a list of my top 100 Christian workout songs.
There are many genres of Christian music, and even if you don't consider yourself to be religious or spiritual, you may discover that in addition to "clean lyrics," many of these songs are uplifting and encouraging in both their titles and words, making them motivational for just about anyone.
Listening to uplifting music can help anyone feel better and more positive about life. It can provide motivation to move forward with your healthy lifestyle goals, too. So whether you are feeling depressed, stressed, discouraged, or angry, this list of songs with positive messages can turn your focus back on all that is good in your life.
Read More ›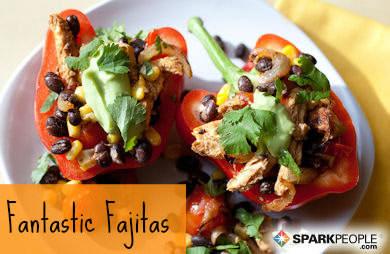 Fajitas are one of those foods that you hear and smell before you see, especially when you order them at a restaurant. The onions and peppers sizzle amongst strips of meat, their intoxicating smells travel through the restaurant, and finally a skillet overflowing with food is presented to you, along with a platter of beans, rice, a stack of flour tortillas and all the trimmings.
Fajitas come from the Spanish word "faja," which means sash, skirt--or girdle. It referred to the type of meat originally used in the dish, skirt steak. When most of us eat fajitas as served, we'll likely need a girdle to get into our pants!
The fajita platter at a popular fast-casual chain has 850 calories, 36 grams of fat, and 2,440 milligrams of sodium (more than a day's worth!). Wow.
At its most basic, a fajita is grilled meat wrapped in a tortilla. The vegetables are a welcome addition, but most restaurants douse them in oil and salt.
Read More ›