SparkPeople Blog Most Recent Post
Last week SparkPeople launched a new feature that we're excited to share with you. On select Fridays, we will be hosting live On-Air Hangouts on Google+ called "Take 5 with SparkPeople." (
Learn more about Google+ Hangouts here
.) Each Hangout (basically a live, interactive video chat) will share five tips related to popular and timely healthy living topics--and we'll answer your questions live on the air as well. "Take 5" will air at noon EST and will last about five minutes. (We picked the time and length so you could easily take a break and join us without disrupting your day too much.) You don't need a G+ page to watch, but you'll need to check out
our
G+ Page for info on these Hangouts and to watch live.
If you can't watch live, not to worry: Each video is uploaded to
SparkPeople's YouTube channel
after the Hangout is over, so you can watch at your convenience. We will also be sharing an abbreviated transcript of each "Take 5," then sharing the videos on our blog. We're excited to connect with our members in this new way, and we look forward to answering your questions!
If you missed the first installment, here's your chance to watch.
As I shared in
this blog
, I'm a morning person--an annoying, jump-out-of-bed-perky-and-ready-to-go kind of morning person. I wasn't always like this. During and after college, I worked second shift and loved sleeping until noon and staying out late. However, it was terrible for my health, and that's when I gained more than 40 pounds.
When I started working for SparkPeople, I became more of a morning person, but it wasn't until my yoga studio started offering an early class that I truly learned to love the predawn hours and the freedom that morning workouts afforded me.
Now I'm sharing my best tips for becoming a morning person and making mornings easier--just in time for Daylight Saving Time.
Why does it matter? Because mornings matter. Self-control renews daily, and it's strongest in the mornings. Starting your day with a healthy choice, such as a workout, will reaffirm your self-control. The longer you wait in the day to do your workout, the more likely you are to let life get in the way. Here are my five best tips.
Read More ›
Remember the group of SparkPeople members who ran the Ragnar Relay together as a part of the documentary
From Fat to Finish Line
? Last year
we shared their story with you
after they appeared on the
Today
show.
Now that same group of runners, who were chosen to participate in the documentary based on their mutual interest in running and 50+ pound weight loss, is featured in the April issue of
Runner's World
.
Read More ›
In the animal welfare movement, some advocates are replacing the word "mutt" with "blends" or "mixed breeds." "All come with positives and negatives," says Diana M. Knight, VMD, at South Orange Animal Hospital in South Orange, New Jersey. "And many people believe that mutts are hardier because of their lower incidence of genetic disease. What it comes down to when finding the perfect pet for your family is your lifestyle."
Golden Retrievers
Golden retrievers are laid back and tolerant of tail and ear pulling by small children. "As with any dog, children should be supervised by an adult," says Dr. Knight. "These dogs need active families. Otherwise, they will get into mischief."
Read More ›
The
2010 U.S. dietary guidelines
recommend that all Americans eat more fruits and vegetables as part of a healthy diet. Government guidelines aside, you surely grew up with your mom telling you to eat your vegetables. Or maybe you even hear it now from your doctor.
When you're new to adopting a healthy diet, you may wonder: What's so good about fruits and vegetables anyway? What kind of benefits will I see if I eat more? Here are four good reasons to be like Bugs Bunny and chomp away on more fresh produce.
Read More ›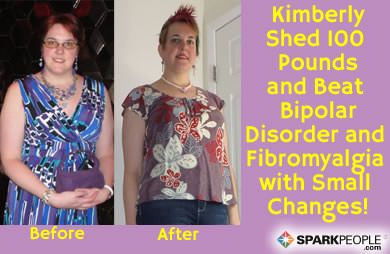 Name:
Kimberly Pinney
Username: KIMBERLY0916Amount of weight lost:
100 pounds
Hometown:
Logan, OH
Occupation:
Student
Age:
38
Kimberly Pinney transformed her life and her body by making one small healthy choice at a time until they turned into habits that helped her lose 100 pounds and take control of three serious medical conditions: bipolar disorder, IBS and fibromyalgia.
Read More ›
A round-up of the most interesting and thought-provoking stories of the week.
13 Annoying Gym Pet Peeves That Make You Just Want to Quit Working Out
Peeves are just part of the workout process, especially when you go to a gym. Here are 13 of the most annoying habits. (Our top picks: People who talk or text while hogging cardio equipment, and people who wear heavy perfume/cologne.) What's your gym pet peeve?
Huffington Post Healthy Living
Hark! There Is a Brand-New Menu Item at Chipotle and It Looks Delicious
Great news, vegetarians: Chipotle is launching tofu nationwide. Yum!
Time
4 Suspension Training Sins
Do you use the TRX or other suspension equipment? Are you using it properly? Find out!
ACE Fitness
Eat Plants And Prosper: For Longevity, Go Easy On The Meat, Study Says
You don't have to cut out meat and cheese entirely, but to lower your risk of dying of cancer and other causes, you should limit it during middle age, according to a new study.
NPR
10 Unhealthy Foods to Give Up For Lent — and the Calories You'll Save
Did you commit to give up certain foods for Lent? See how many calories you'll save by making these small changes. (Not participating in Lent? You could still tackle these goals and improve your health.)
Fit Sugar
A Yoga-Tabata Mashup Workout
Like yoga? Like HIIT and Tabata training? You'll love this short mashup of the two. It's a not as intense as most Tabata intervals, but it is a quick whole-body workout and stretch session.
Shape
Birth by C-Section May Raise Obesity Risk
According to a large review of studies, birth by C-section has been linked to adult weight issues.
NYT
Dr. Yogi: Physicians Integrate Yoga Into Medical Practice
Doctors are learning how to use yoga instead of drugs to treat various health issues.
NPR
Cellulite, Stretch Marks, and a Love Your Body Challenge
Fitness expert Molly Galbraith, a regular contributor to SparkPeople's blog, challenges you to learn to love your body. She starts by sharing real photos of what fitness experts really look like.
Molly Galbraith blog
The Food That Helped One Woman Live to 116
The oldest person in the world just turned 116! Find out what she credits for her longevity.
Women's Health
Which stories topped your "must-read" list this week?