SparkPeople Blog Most Recent Post
What is one food that was eaten thousands of years ago, is still eaten today in probably the exact same form, and is just as good for you today as it was then? Honey! Some refer to honey as liquid gold because in the good old days honey was the only opportunity many people had to eat something sweet, so it was considered a great and rare treat.
General Health Benefits
Honey offers benefits to the entire body. A tablespoon of honey only has a little more than 60 calories. Honey is fat-free, sodium-free, and cholesterol-free. No wonder health conscious people add honey to their tea rather than sugar or a sweetener substitute. Honey is comprised of 80% carbohydrates, 18% water, and a 2% mix of vitamins, minerals, and amino acids, so honey adds a mighty health wallop.
Help Ditch the Cough
Honey is a cough suppressant. In a 2012 study, the journal
Pediatrics
recommended that when children between the ages of one and five years take two teaspoons of honey 30 minutes before bed, they coughed less, which made falling asleep easier. Although the exact reason honey helps is unknown, most believe that honey coats and soothes the throat, especially the nerve endings that might cause the "itch" creating the cough. Honey can also be used to treat upper respiratory tract infections.
Sleep
Honey can also help people who have trouble falling asleep. Honey can help create a release of serotonin. Serotonin helps improve a person's mood, which in turn makes
sleep
come easier, and honey even improves the quality of sleep a person gets. Another sleep benefit of honey is that some of the amino acids in honey include tryptophan, which is the same amino acid in turkey that tends to make it harder to stay awake after the big Thanksgiving meal.
Allergy Relief
Honey has anti-inflammatory properties that sooth coughs and other
allergy
symptoms. Although the scientific evidence is harder to prove, the anecdotal proof is evident. Additionally, naturopathic doctors have been prescribing honey for people with allergies for years. One belief is that the pollen has antibodies that when introduced to the body helps decrease, over time, the body's reaction to pollen.
Energy Drinks
With only 17 grams of carbohydrates in a tablespoon, and because it offers unprocessed sugar, honey can be a benefit as an
energy drink
. The fructose and glucose of honey enters the blood stream directly, which means drinking a honey-based energy drink right before a workout pays dividends immediately, and it continues to offer an assist during longer, more involved workouts.
Cancer Fighter
Some of the properties found in honey are also found in anti-carcinogen meds and other foods. Yearly, there are more and more studies that indicate that honey has a role to play in the prevention of cancer, and in the prevention of the formation of tumors.
Cuts and Burns
Who knows why the first Egyptian found this out, but honey is beneficial for people who are suffering from cuts and burns. Honey has antiseptic properties that keep wounds clean and free from infections. It is believed that honey is able to take moisture from the air and to promote healing while keeping bacteria away. Honey has even been recognized as a successful treatment for athlete's foot, yeast infections, and arthritis pain.
Hangovers
In the unlikely event that a person would drink too much and wake up with a hangover, honey has been found to be one of the more effective and reliable home remedies. Honey helps sooth the stomach, and it even allows the liver to expel remnants of alcohol faster. A simple recipe for a hangover cure is to take eight parts orange juice, seven parts natural yogurt, and 1.5 parts honey and blend them together.
Honey is one of the best natural remedies and natural preventatives a person can find. Like most foods, it is most effective when taken in moderation. Whether you're suffering from a cold or allergies, or if you want to ensure that you're doing all you can to fend off cancer, honey offers many benefits.
Hey, Sparkers! If you've been following along with us this month, you might know that we ran a "Streak Into Summer" challenge on our Facebook page from June 1
st
-June 21st. We're happy to say that this format was incredibly successful—over 2,000 of you participated in the challenge! WooHoo! We've been getting tons of requests for more Facebook challenges, so we're delivering a brand new one for July: the Bodyweight Blast Boot Camp Challenge! Here's how it's going to work:
Read More ›
There's no question that owning a pet can be great for your health. Our pets melt away stress, make great workout buddies, and are constant sources of unconditional love. So, it's only fair that we return the favor and treat our four-legged companions with as much love and care as possible. Our friends at
Nature's Recipe
believe that all pets deserve to live long, vibrant lives. That's why they focus on providing real, delicious pet food at a real value. We are proud to partner with Nature's Recipe to nourish the relationship between you and your pet with the Make It Real™ 30 Day Challenge. Take our month-long pledge to get happier and healthier together, with fun activities to do each day that will bring you and your furry friend closer than ever.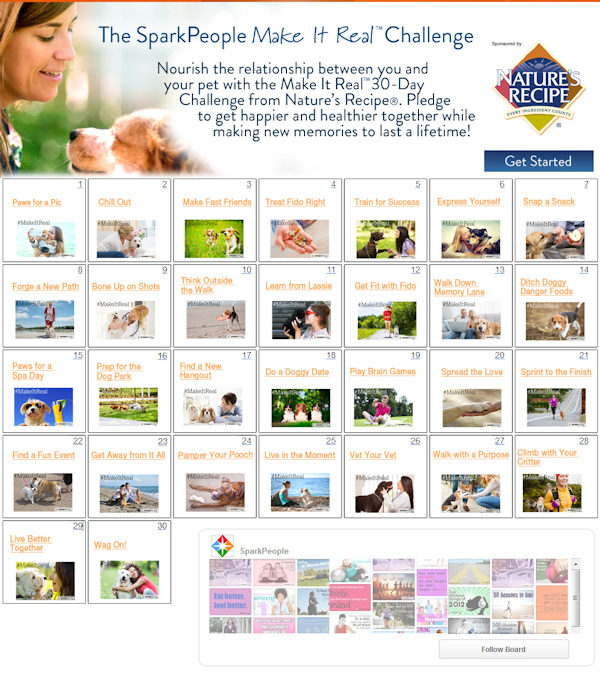 What can I expect from the
Make It Real™
Challenge?
30 Daily "Mini Challenges"
Each day, you'll get a "mini-challenge" to complete to help you strengthen your relationship with your pet and renew your commitment to the health and happiness of your companion. Some days will include fun interactive activities with your pet, and others will have you complete a task to help you become a better, more informed pet owner.
Yep, you read that right! You can earn 5 SparkPoints for each daily challenge you complete. Just visit the challenge page and click the "Earn Your SparkPoints" button to tell us that you completed that day. It's just that easy!
We will be using the hashtag
#MakeItReal
on Facebook, Twitter and Pinterest throughout the challenge. Ask questions. Tell stories about your pet. Tell us how the challenge is going for both of you and what you've learned. Encourage your pet-owner friends to join you! When you use the
#MakeItReal
hashtag, we'll be right here to support you and cheer you on! We also encourage you to use it on your own social media pages to connect with others who are completing the challenge. Be sure to follow our
We Love Our Pets pinboard
, too, for more tips and motivation as you go along.
Open to Anyone: Invite Your Friends to Join!
While members can earn SparkPoints for participating, this challenge is open to anyone!
Share the challenge page
with your friends by posting it on Facebook, sending an email link, and more. You do not have to be a member to participate. Anyone can sign up for daily challenge emails just by entering their email address.
Sounds great! How do I sign up?
Go to our
Make It Real™ Challenge page
and sign up by clicking the "Get Started" button to enter your email address. After you've signed up, you will receive one email per day for the next 30 days with a reminder to complete your daily challenge (and get your SparkPoints). Note that once you sign up, you should expect to receive your first challenge email
the following day
at 8 am EST.When does it start?
RIGHT NOW. The challenge is open and ready for you to join—and you can start or join at any time. The sooner you start, the sooner you'll be on the path to a stronger bond with your furry friend!
What are you waiting for?
Sign up right now
to get started today—and get ready for 30 days of fun with Fido. (Be sure to follow us on
Facebook
,
Pinterest
and
Twitter
, too.) Let's do this!
Will you be participating in our 30-Day Make It Real
™
Challenge? Let us know in the comments if you (and your pet) are up for the challenge!
The family that gets active together, stays together. Bringing the family together for a day or an afternoon of movement is both fun and offers an opportunity to stay connected even when schedules are hectic. Plus, you'll be instilling great health and fitness values in your children. Make a commitment to unleash your inner child and spend valuable quality time with those you love by trying some of these family-friendly activities.
Zoo Adventure Walk
Lions and tigers and fitness, oh my! Consider taking your family to the zoo for an educational and fun way to get your move on. Track your steps and the distance covered during your zoo adventure by wearing a pedometer or using an app on your phone. Keep the kids engaged by encouraging them to count the number of steps between animal exhibits and the number of different animals they encounter. Plus, the fun doesn't have to stop when you leave the zoo! Back at home, take turns acting out all the different animals.
Obstacle Course
Earn the title of Parent (or Grandparent) of the Week by creating an obstacle course in the backyard or at a local park. All you need is outdoor chalk, a hula hoop, ball, bucket or trash can, cones and a towel to build a fun and challenging circuit. Do each station once, then repeat the entire circuit for a total of ten times through.
Jumping Jacks

10

Hula hoop Try to keep the hoop moving for one minute.
Push-Ups 10-15
Hopscotch Set up the classic game with chalk or tape.
Basketball Bounce the basketball 10 times before throwing it into an empty bucket or trash can.
Toe Touch Hops Reach to the sky, reach down to touch your toes, then swing arms up and jump hop to the sky. Do this 10 times.
Cone Drills With a set of at least five rubber cones, have everyone weave in and out of the cones before running back to the first cone. Repeat this 10 times. If you don't have cones, be creative by using water bottles or washcloths.
Beatle Bug Sit-Ups Start on your back and then bring knees and upper body together like a bug. Stay in this position, then repeat 15 more times.
Bike Ride
Hop on two wheels and go for a family bike ride around the neighborhood or local park.
Jump Rope
Grab a jump rope and spend some time in the driveway as everyone takes turns jumping. Compete to see who can jump the most consecutive times and challenge each other to try new tricks.
DIY Slip and Slide
Spray a large piece of tarp with water and a little baby oil, set the hose at the top of the tarp and you're in business. Let everyone take turns running and sliding as far as they can along the tarp. (Note: If you live in an area with water usage concerns, use a low flow of water.)
Volleyball
Set up your own volleyball fun using a clothesline and ball. Choose teams and play on!
Fire Fly Run
Mason jars and a setting sun are all you need for this fun nighttime activity. Hit your local park or another open space where the fireflies will be out in numbers. Run around as everyone tries to spot and catch the fireflies—just remember to let them go after you catch them.
Flashlight Tag
Arm everyone with a flashlight and head to the backyard to run around as you try to ''tag'' people by shining a flashlight on them.
Dance Party
Gather everyone outside or in the living room for a dance party. Play each family member's favorite songs while you all do crazy moves and express yourself through dance.
How do you get your family moving? Share you favorite family activity in the comments!About the Author
Kim Truman is an all-around trainer and nutrition coach based in Dallas, Texas. She is well-known for her enthusiastic and motivational coaching style, as well as her high-energy workout programs. Discover more about Kim and her mission at
www.kimtrumanfitness.com
.
Whether you have been walking for years or are just getting started with it, making your walking time more enjoyable can help you stay more motivated to stick with it over the long term, which is the key to lasting results!
Try these five simple tips to help you take your walk from good to great:
#1: Step in the right shoes.
This one may sound super obvious, but so many of us are walking around in shoes that are either the wrong size or aren't designed to support our unique needs. If your feet are in pain after you finish a walk, chances are you are in need of a sneaker makeover! The right footwear could be what's missing from your routine and could help turn your walking time into a more pleasurable experience that you'll actually look forward to.
If you regularly experience pain or tenderness in your feet, you may have issues with plantar fasciitis, overpronation (your feet rolling inward as you step), flat feet or even high arches that need to be addressed by either a specific type of shoe and/or orthopedics. Depending on what kind of issues you are experiencing, you may need the expertise of a podiatrist or orthopedist to best advise you on what type of shoe or orthopedics you should be wearing. Please don't wait until the pain is unbearable to make an appointment - do it today!
It's also important to find the right fit. Your sneaker size is typically (though not always) a half to one full size larger than your formal shoe size. If you aren't sure what your specific sneaker size is, take the time to get fitted properly in an athletic store. And don't forget that even the perfect sneakers wear out over time and mileage, so be sure to replace them as needed (like when you start to notice the support or tread wearing out in your shoes) to keep a spring in your step over the long term.
Read More ›
Life is full of ambiguity and challenges. Few challenges in life can be as complex as proper nutrition. Your body is your greatest possession. You owe it to yourself to find out all you can about staying healthy. Most diets imply giving up something. However, the diet we will discuss is about taking advantage of something. You will learn how to take advantage of fats by incorporating healthy fats in your eating habits. By making small changes, lasting results will come.
Don't Throw Out the Sweets
This sounds counter-productive, but throwing out all the unhealthy food is the first step to failure. Humans have an affinity for sugar, which causes those pesky sugar cravings. When you can't get to sugar, your body craves the most-caloric foods: fat. If you snack on candy or other concentrated sweets now and then, it's okay. Just limit yourself to one or two high-sugar items a week.
Don't Go Fat-Free
Your body needs fat to survive. Fats are used by the body in many different chemical processes, which are required to survive. For example, your skin contains fats to help prevent bacteria and elements from entering the body.
Reduce Saturated Fats
Saturated
fats
are those that are solid at room temperature, as well as a few tropical oils. When you cook, use fats that exist as a liquid at room temperature. This includes olive, vegetable, canola, and peanut oil. These make excellent bases for creating a home-made dressing, which can be used on salads, breads, pasta, or anything else you eat.
Snack on Nuts
Nuts are rich in
Omega-3 Fatty Acids
, which promote heart health. Nuts contain huge amounts of proteins as well. This gives your body a source of energy without the high caloric values of common snacks. However, avoid purchasing nuts processed with additives, such as salt, sugars, or even electrolytes.
Have Fish Once a Week
Fish contains high levels of beneficial Omega-3s and other healthy fats. Furthermore, the Omage-3s reduce low-density lipids and triglycerides—bad forms of cholesterol. Some fish lack high values of these nutrients, so stick to Salmon, Tuna, Herring, Mackerel, and Lake Trout. Also, do not deep fry your fish. What's the point of eating healthier foods if it's swimming in pure fat?
Travel South of the Border
Mexican food contains many antioxidants in addition to being lower in unhealthy fats.
Avocados
, pinto beans, and fresh fruit and vegetables all promote healthy fats in your body. You can even purchase avocado oil for much of your cooking.
Make Specialty Butters
When you use butter for your food, you are actually using an unhealthy fat. However, you can reduce the amount of unhealthy fat by making home-made specialty butters. Take a typical stick of butter, add some seasonings to it, and let it set in the fridge for a few days. The flavor imparted in the butter will be pronounced, which results in using less butter for your foods.
Ditch Boxed Food
Processed foods contain an extraordinary amount of substitutes, fats, and preservatives. These substances encourage and reinforce cravings for unhealthy foods. When you shop for food, avoid going down the center aisles of the store. Fresh food is kept on the store's perimeter for freshness, and fresh food has more healthy fats than processed items.
Eat Your Eggs
You have heard of the dangers of egg yolks for cholesterol. However, whole
eggs are very beneficial
when eaten whole and in moderation. Try to limit yourself to less than six eggs per week. This will actually give you some of the healthy fats from the eggs without worrying about the excess cholesterol caused by overindulgence.
With the above steps in mind, you can incorporate more healthy fats into your diet. Don't feel like you have to use all of these tips at once--start with slow changes to allow for natural integration of healthy fats into your diet.