SparkPeople Blog Most Recent Post
This one-mile indoor power walking workout will help you stick with your walking routine no matter what time of day or night it is--or what the weather is like outside!
We'll use a mix of moves that can be done easily in a small space to help you prevent joint strain. We're keeping it simple to help you squeeze in some extra steps anytime, anywhere. Just a heads up, we'll be jumping right into this walk to make this mile short and sweet, so please be sure you are warmed up first. And be sure to stick around for the cool-down to find out more about our upcoming #5MileChallenge with SparkPeople and brand new DVD,
"Walk On: 5 Fat Burning Miles"
.
Read More ›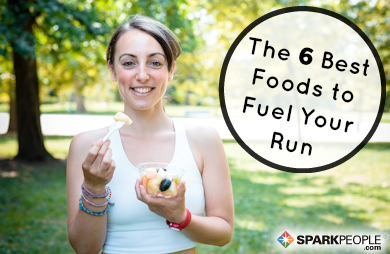 Running is a fantastic activity to help maintain a healthy heart and weight. But the real magic happens when you refuel after your run! To get the most out of running, it's crucial that you eat healthy foods filled with vitamins, healthy fats, plus carbs and proteins that aid in muscle repair and development. Incorporate the following foods into your diet to reap maximum running rewards.
Read More ›
Editor's Note: We are thrilled to be teaming up with Jessica Smith, Certified Personal Trainer and YouTube fitness star, to bring you the #5MileChallenge! Read on for Jessica's explanation of the challenge, and get ready to lace up your walking shoes on June 1st. See you on the road (or track, or trail, or even in your living room with a walking DVD!).
Whether you are just starting to build your fitness habit or are a more advanced exerciser, a regular walking program offers so many incredible
health and fitness benefits
. That's why I am so excited to be teaming up with SparkPeople to bring you this fun #5MileChallenge!
Our goal is to help you stay more active when you are not already working out, or to get you moving more often to spark up a new exercise habit. Even if you have been exercising routinely for years, it may not be enough to
combat the ill effects of hours of sitting
, which is why adding more steps to your day is beneficial for everyone (just check out these
scary sitting stats
!).
Read More ›
When it comes to healthy, glowing skin, what you put into your body can be even more important than what you put on it. "Everything you eat becomes a part of not only your inner being, but the outer fabric of your body as well. The healthier the foods are that you consume, the better your skin will look," says
Samantha Heller, MS, RD
, a clinical nutritionist at NYU Medical Center in New York. While there are many nutritious foods available, the following list will give you the maximum skin benefits for your bite.
Read More ›
It happens to the best of us…perhaps you set a goal to run a 5K, resolved to get back to running, or were coerced into signing up for some crazy race by your adventurous best friend (it sounded like a good idea at the time!). Feeling motivated, you do what most people do--just get out there and start pounding the pavement--and that's when it happens… your body begins to complain. It usually starts as a quiet whisper, some lingering stiffness or low-grade soreness, and before you know it, the whispers become screams.
As you curse your body in a fit of frustration, you recall running pain-free for hours as a child. What changed? We grew up and got desk jobs with long commutes, that's what. Sadly, our bodies have become tight, hunched, and ill-equipped to handle the motion of running due, in large part, to our lifestyles. But it doesn't have to be this way.
Luckily, there's a workout that can help you become a more efficient runner. Designed by
Coach Alison Heilig
, Fit Blogger for
AcaciaTV
and RRCA-Certified Running Coach at
Miles To Go Athletics
, the following routine is designed to help you start running longer and stronger in no time. Add it to your running regimen three days per week to up your running game!
Read More ›
This year, let's do Mother's Day the healthy way. We love delicious, leisurely brunches just as much as the next person, but how did long lines and too many pancakes become the best way to honor all that mom does? Why not show mom you love her by treating her to a healthy outing, instead? No matter where you live, there are plenty of active activities that will get your blood pumping while you spend quality time with the woman who always remembered to cut the crusts off your PB&J. (Or, if you're a mom yourself, suggest that your kids take you out for one of these fun and healthy events this Sunday.)
Kayak or Canoe
If the weather cooperates, seek out the nearest body of water and rent a two-person kayak or canoe. Gliding down a river or through a lake as you admire the great outdoors will be so enjoyable you won't even notice that you're exercising your arm muscles and core. You'll burn over 200 calories in under 30 minutes with this fun warm-weather activity. Plus, there's no better place to talk about life and love and dreams than out on the quiet water.
Fitness Class
Between TRX, barre, Zumba, hula hooping, SoulCycle and others, there's probably a fitness trend that has caught your eye. Indulge your curiosity and try something new together this Mother's Day. Grab mom, pick out a class she's always wanted to try and head out for a morning workout. If you're not into paying for a class, try an at-home video like this
17-Minute Barre Workout
or the
20-Minute Fat Blaster
, instead. After you get your sweat on, whip up a batch of smoothies to reward yourself and spend some time laughing about those crazy Zumba moves.
Bike Ride
Hop on two wheels and spend an afternoon looping through your local bike trail together. Even on a leisurely ride, you'll still burn major calories without even realizing. In just 30 minutes riding casually, you can burn almost 200 calories. Pick a scenic trail for maximum enjoyment.
Park
Your local park is a great place to spend an afternoon and is especially fun with the family. Challenge your family to a basketball game or see who can swing the highest. You're all sure to feel like kids again as you work your way across the monkey bars. Make a whole day of it by packing a
healthy picnic
!
Hike
Break out your hiking shoes and water bottle and hit a trail in the woods together. Hike up hills and over uneven terrain to challenge yourself, or find an easy trail where you can work to spot wildlife or identify birds. Thirty minutes on the trail with hills will burn up to 170 calories. Pack some homemade,
no-bake protein bars
for a mid-hike break to enjoy your surroundings and your company, of course.
Golf
Skip the golf cart and carry your own clubs for an extra challenge at the golf course. Walking from hole to hole is a great workout for your legs, and you'll have plenty of time to catch up on life events as you stroll together. If your long game is a little rusty, head to the driving range for an afternoon in the sun competing to see who can make the ball fly farthest. After exerting so much energy, you'll enjoy that lunch at the club even more.
Run
Many cities host Mother's Day races, so check your local events guide to see if you can sign up together. If you're not in prime racing form, why not make Mother's Day the first day of training? Pick from one of the many
exciting or wacky 5Ks
out there and draw up a training schedule. Not only will you be building up your endurance and fitness levels, but at the end you get to share another special day with one another. Don't know where to start? Try
one of these flexible 5K training plans
.
Garden
Sounds leisurely, but any real gardener will tell you that working in the yard can be a full-body workout. Between squatting, raking and digging, a typical day of gardening will challenge all your muscle groups. Plus, the end result will yield beautiful plants and vegetables that mom can enjoy all year round. Get some ideas for gardening in the city, easy vegetables to plant and more in our
Gardening Guide
.