SparkPeople Blog Most Recent Post
The
2010 U.S. dietary guidelines
recommend that all Americans eat more fruits and vegetables as part of a healthy diet. Government guidelines aside, you surely grew up with your mom telling you to eat your vegetables. Or maybe you even hear it now from your doctor.
When you're new to adopting a healthy diet, you may wonder: What's so good about fruits and vegetables anyway? What kind of benefits will I see if I eat more? Here are four good reasons to be like Bugs Bunny and chomp away on more fresh produce.
Read More ›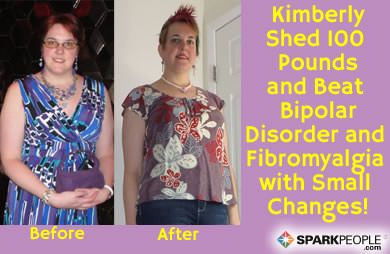 Name:
Kimberly Pinney
Username: KIMBERLY0916Amount of weight lost:
100 pounds
Hometown:
Logan, OH
Occupation:
Student
Age:
38
Kimberly Pinney transformed her life and her body by making one small healthy choice at a time until they turned into habits that helped her lose 100 pounds and take control of three serious medical conditions: bipolar disorder, IBS and fibromyalgia.
Read More ›
A round-up of the most interesting and thought-provoking stories of the week.
13 Annoying Gym Pet Peeves That Make You Just Want to Quit Working Out
Peeves are just part of the workout process, especially when you go to a gym. Here are 13 of the most annoying habits. (Our top picks: People who talk or text while hogging cardio equipment, and people who wear heavy perfume/cologne.) What's your gym pet peeve?
Huffington Post Healthy Living
Hark! There Is a Brand-New Menu Item at Chipotle and It Looks Delicious
Great news, vegetarians: Chipotle is launching tofu nationwide. Yum!
Time
4 Suspension Training Sins
Do you use the TRX or other suspension equipment? Are you using it properly? Find out!
ACE Fitness
Eat Plants And Prosper: For Longevity, Go Easy On The Meat, Study Says
You don't have to cut out meat and cheese entirely, but to lower your risk of dying of cancer and other causes, you should limit it during middle age, according to a new study.
NPR
10 Unhealthy Foods to Give Up For Lent — and the Calories You'll Save
Did you commit to give up certain foods for Lent? See how many calories you'll save by making these small changes. (Not participating in Lent? You could still tackle these goals and improve your health.)
Fit Sugar
A Yoga-Tabata Mashup Workout
Like yoga? Like HIIT and Tabata training? You'll love this short mashup of the two. It's a not as intense as most Tabata intervals, but it is a quick whole-body workout and stretch session.
Shape
Birth by C-Section May Raise Obesity Risk
According to a large review of studies, birth by C-section has been linked to adult weight issues.
NYT
Dr. Yogi: Physicians Integrate Yoga Into Medical Practice
Doctors are learning how to use yoga instead of drugs to treat various health issues.
NPR
Cellulite, Stretch Marks, and a Love Your Body Challenge
Fitness expert Molly Galbraith, a regular contributor to SparkPeople's blog, challenges you to learn to love your body. She starts by sharing real photos of what fitness experts really look like.
Molly Galbraith blog
The Food That Helped One Woman Live to 116
The oldest person in the world just turned 116! Find out what she credits for her longevity.
Women's Health
Which stories topped your "must-read" list this week?
I remember the days when I had time to drive to the gym for a workout multiple times a week. Now as a busy mother of four, those days long gone! However, that doesn't mean my fitness level has to suffer. I'm still able to squeeze in a good workout in the morning before the rest of my family wakes up. By investing in a few
key pieces of equipment
, I've been able to create quality, low-cost workouts without ever leaving the house—and you can, too!
Read More ›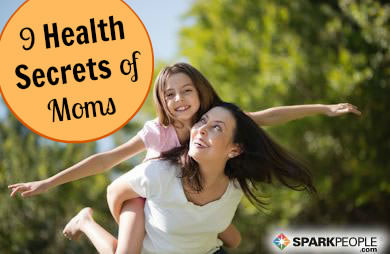 Family Circle
polled hundreds of women across the country on everything from how often they have sex to how much they work out. Here, we uncovered the honest truth—and found a few celebrities who share the same secrets!
Sure, smoking is bad for you. But one in six American women still light up. Are you one of them?
89%
> Nope.
8%
> Yes, I smoke more than I'd like to admit.
3%
> Yes, once or twice a year.
Kate Hudson's been snapped on vacation holding a cigarette, but even a once-in-a-while drag is too much. "Smoke contains toxins and the greater your exposure is, the worse your lung cancer risk is," explains Susan Blum, MD, author of
The Immune System Recovery Plan
. "Plus, the cadmium in cigarettes may disrupt your thyroid function." Quitting can be tougher than getting your son to take out the garbage without being asked in the middle of winter. But it's possible! Consider a method you haven't tried before, like a prescription (Zyban, an antidepressant, helps reduce nicotine cravings), OTC aids (including the NicoDerm CQ patch or Nicorette gum and lozenges) or even alternative therapies (such as hypnosis and acupuncture).
Read More ›
Name:
Donde Moore
Username: DawnDMoore40Amount of weight lost:
56
Hometown:
Marquette Heights, IL
Occupation:
Assistant Manager
Age:
43
Donde Moore found the support she needed at SparkPeople to lose 56 pounds before her wedding. She longed to be a beautiful bride and achieved her goal by carefully tracking her food and exercising at home. She still uses the free resources at SparkPeople to maintain her weight without breaking her budget.
Read More ›