SparkPeople Blog Most Recent Post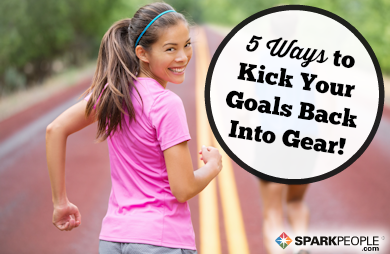 At this point, the novelty of the New Year has worn off. Hopefully you're still going strong with your healthy living goals. However, if motivation is starting to wane, don't despair! You aren't destined to fall back into old habits, or fail at those goals you set just a few months ago. There are simple ways to get back on track and refocus so that this becomes
YOUR
year of permanent change. Are you ready to get started?
Read More ›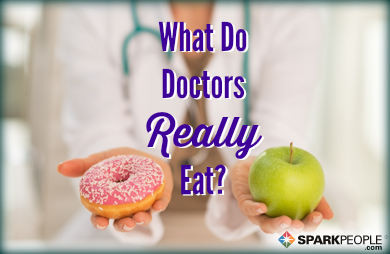 Fact: Doctors love to eat. It is a truth that I learned early on in my medical training and one that has followed me through my career. To survive long shifts and a revolving door of patients, I quickly learned that a solid meal is key, but that doesn't always mean we have time to sit down for a nice meal of quinoa and kale. For doctors, food is energy, plain and simple, and that means carbs, fats and proteins that can be procured and eaten quickly on breaks.
As the treadmill of my life as a surgeon cranked up to full speed, I adopted these poor eating habits to cope with my increasingly hectic schedule. Sporadic eating throughout the day led to overeating at dinner, and bribing nurses with glazed croissants ended with indulging in one or two sweet treats myself. I gave little thought to nutritional value or savoring the taste of what I was eating and thus, as my practice grew, so did my waistline.
Suddenly, 20 years had passed since my days as an eager intern, and my weight was up--along with my cholesterol, triglycerides and blood sugar. Who knew I couldn't just tell my patients how to be healthy without following the same advice myself?
But then I realized something great: It was not too late to make a change. I could save my patients and myself at the same time. Yes, there is a donut shop on the first floor of the hospital, but I don't have to frequent it. While there are bays of elevators taking me up to the 8
th
floor to see patients, I don't have to use them.
In the end, it is about finding the right balance.
The secret to healthy living is not a fad diet or some short term sacrifices; It is about making good choices, most of the time. I am not perfect, but my weight is down, my blood sugar levels are normal and my cholesterol is under control. I don't count calories, but I do exercise five days a week, alternating cardio and weight training.
Read More ›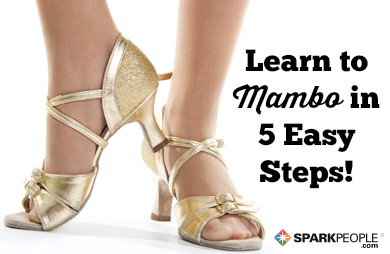 Dancing is one the most enjoyable exercises you can do to be healthy and ecstatically happy while getting fit and losing weight! Dance is fun and exciting, and you're always learning something new and interesting. All you need is your two feet and your favorite music. The best part is that there is no prior experience necessary! The more you dance and the longer you do it, the better it feels and the more skillful you become. Not only can dance workouts can burn up to 1,000 calories in one hour, but dance also builds stamina, strength, agility and flexibility. Dance also helps to lower blood pressure and cholesterol, promotes a healthy immune system, and can even help you sleep better and reduce the symptoms of depression. Try it and see for yourself how good you feel after! Here are some simple and fun dance moves for everyone to try at home.
Read More ›
Hi, SparkPeople!
Sometimes, you see something that makes you feel happy, inspired, or strong. It could be a delicious healthy meal you made, or the view from the top of that hill you just ran up. Images are powerful motivators, and we wanted to make a tool that would allow our members to easily capture, save and share their healthiest life snapshots to help them reach their goals alongside a community of like-minded people.
Enter our newest app: pep!
pep lets you record and share the images that make you feel proud and inspired. You can add custom filters, stickers, text and more to your pictures to get just the right look before sharing them within your community right within the app. See what other health-minded people are posting and motivate each other with just one snap of a picture! Best of all, the photos you take within pep will automatically feed over to your SparkPeople account, so your SparkFriends will be able to see them, too.
pep is currently available for iOS devices. If you click on the App Store button below, you can download pep right away and get started finding your friends and building your motivational community.
Try the app and let us know what you think! If you have an idea about how we can make the app better, let us know in the comments; we always love to hear what you think.
SparkCheers!
The SparkPeople Team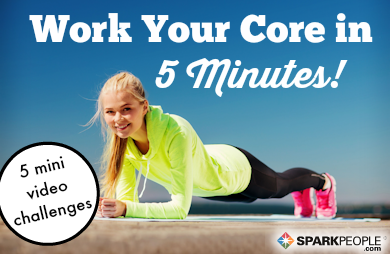 Want to work more on your core strength, but aren't sure where to start? We've got you covered! Strengthen your core at home in just 1-5 minutes per day with this quick video series--no gym or equipment required!
We've created this 5-Minute Abs series for you to use as you see fit. If you're just easing into core work, you can do one video each day for a fun fitness boost, or do all five videos consecutively for a mini core workout that will seriously challenge you. Follow along with each video and post how you did in the comments. We'd also love to hear your feedback about the video series, and are open to hearing ideas about other workouts you'd like to see in this format. Have fun!
Read More ›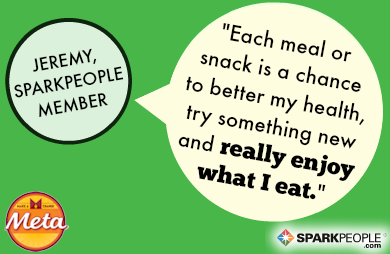 Making significant healthy lifestyle changes—and maintaining them for the rest of your life--might seem next to impossible at first. But don't worry! At SparkPeople, we believe in taking small and manageable healthy steps that eventually become lifelong habits. Our sponsors at Meta also believe that small changes can lead to good things, and they even have a name for it: the Meta Effect. When you make a healthy choice like taking the stairs or eating a Meta Health Bar for a snack, you may continue to make good choices to keep the streak going.We've talked to several people who have changed their lives through this step-by-step approach--and now, they're sharing their secrets with you in this success story series! Learn how Jeremy changed his life one bite, one step, and one motivational mantra at a time. Go, Jeremy!
Read More ›