SparkPeople Blog Most Recent Post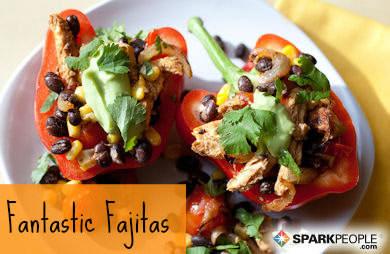 Fajitas are one of those foods that you hear and smell before you see, especially when you order them at a restaurant. The onions and peppers sizzle amongst strips of meat, their intoxicating smells travel through the restaurant, and finally a skillet overflowing with food is presented to you, along with a platter of beans, rice, a stack of flour tortillas and all the trimmings.
Fajitas come from the Spanish word "faja," which means sash, skirt--or girdle. It referred to the type of meat originally used in the dish, skirt steak. When most of us eat fajitas as served, we'll likely need a girdle to get into our pants!
The fajita platter at a popular fast-casual chain has 850 calories, 36 grams of fat, and 2,440 milligrams of sodium (more than a day's worth!). Wow.
At its most basic, a fajita is grilled meat wrapped in a tortilla. The vegetables are a welcome addition, but most restaurants douse them in oil and salt.
Read More ›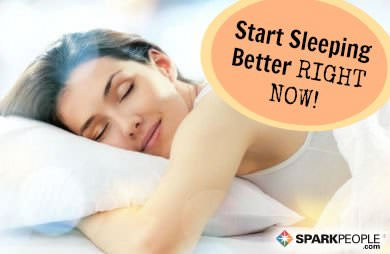 I'm a married woman, but there's a guy I've been chasing after for months: the Sandman. I want him desperately some nights -- and then other evenings I push him away. It's completely my fault that he's turned his back on me in bed. Our always-too-short encounters are rarely satisfying because I'm constantly thinking about an errand I forgot to run or a form I need to fill out for my son's school. (Even Overstock.com and Candy Crush Saga come between us.) Yes, in terms of sleep time, I could -- and should -- do better.
And I'm not alone. More than 91 million women don't get the recommended seven to nine hours of shut-eye each night. Those missed zzz's can pack on pounds, steal your good looks, and make you just plain grouchy. That's why
Family Circle
went to its Facebook page in search of readers so heavy-eyed that they agreed to let sleep experts take a peek into their bedrooms to see what's really robbing them of 40 winks. Here they share what all moms should (and shouldn't) be doing for sounder sleep.
Read More ›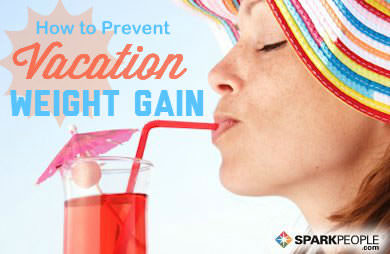 Hello, vacation! You're ready to kick back and relax, maybe sip a few margaritas by the pool. Heaven, right? Until you step on a scale and realize you've toted home more than just kitschy souvenirs. About two-thirds of frequent travelers say that exercising and eating healthy while on the road is stressful, according to a
TripIt survey
. So what's a weight-conscious jetsetter to do? Follow these 10 simple strategies when you're planning your next getaway.
Read More ›
We talk a lot about giving up bad habits and starting good ones, but which ones are the most important? Which will have maximum impact on your life?
Here, we've rounded up eight habits we believe to be the most powerful you can adopt, gleaned from the survey we did of our "success stories." These are the essential and proven truths that will lead to sustained weight-loss, and health. These habits helped our successful members keep their motivation levels high throughout the first two weeks and beyond. Here they are, in no particular order of importance.
Read More ›
Many people want to have flat abs, but have trouble getting them. Attaining visible abdominal definition depends on a low body fat percentage that isn't realistic for many and your genetics plays a part of it as well, but that doesn't mean you can't work towards a goal of having a slimmer tummy. While you can't spot train or target where you lose fat, you can work on those muscles to help you achieve flatter abs and a strong core overall.
Read More ›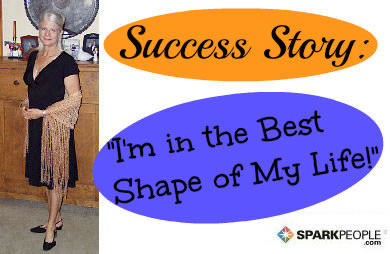 Carol Reinhard (
CAROLJEAN64
)Weight Lost: 57 poundsHometown: West Des Moines, IAOccupation: Retired
I was in the midst of therapy for depression. I broke my leg, the complications from which left me inactive for several months. I gained weight as a shield as I dealt with complex and frightening issues in therapy. I had little energy. I did not feel attractive to my husband and felt like a grandmother to almost anyone more than 10 years younger than me. I didn't want to be old when I knew I wasn't. I somehow inherently knew that combining good eating and physical activity was what I needed to complete the road to good emotional, physical and mental health that I started in therapy.
I made some great progress in therapy and decided to give my husband my weight loss goals as a birthday gift with the goal of being at my wedding weight by our 38th wedding anniversary eight months later. I made it with one day to spare. My first week I lost six pounds, and I gained only one week. I lost about 1.75 pounds per week.
Keeping a food journal has been so important in maintaining my weight. For me, it was all about portion control, portion control, portion control.
Interestingly enough, I came to SparkPeople
Read More ›