SparkPeople Blog Most Recent Post
You have a race coming up—congratulations! Whether it's a 5K or a 50K, you have a lot to be proud of! To make sure your race goes off without a hitch, start here.
When it comes to race day, there are plethora of do's and don'ts to set yourself up for success. While there are a variety of expert opinions on how to approach a race, it ultimately comes down to figuring out what works for
you
—and trust me, I have had plenty of personal trials and errors from which anyone can learn. Here are some of the common nutrition and fitness mistakes even experienced runners make that can be detrimental during the race itself.
Read More ›
On the tail of
our recent announcement
about the new, free Diet & Fitness Tracker app, we are very excited to share that a brand new version of the SparkPeople's Healthy Recipes app is here, too!
Today we launched our new and improved recipe app for the iPhone!
Now you can take the best features of
SparkRecipes.com
—top-rated recipes, cooking videos, nutrition facts and more—wherever you go. With the free Healthy Recipes app, it's easy to plan healthy meals and shop for nutritious and delicious foods that will help you reach your goals.
Read More ›
Good morning everyone!
A few weeks ago, we
announced some major upgrades
to our Diet & Fitness Tracker app—as well as a new price: free! So far the reviews and comments have been overwhelmingly positive. Thank you for downloading the app and sharing your thoughts with us.
Last week, we were happy to find a story from
Health magazine
that put some of the most popular weight-loss apps to the test. We are proud to say that SparkPeople's app was ranked in the top three and got some great praise from testers and experts alike:
Read More ›
Is anyone else overwhelmed by the number of leftover hard-boiled Easter eggs? While hard-boiled eggs are a great (quick!), protein-packed snack, those get boring fast. Here are seven super recipes that highlight the humble egg, plus another six ideas for using hard-cooked eggs in new ways.
Read More ›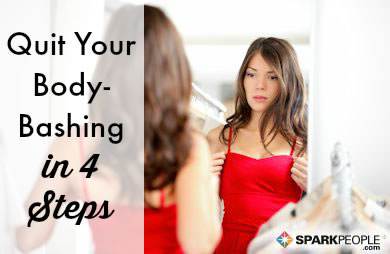 Fat talk. We've all done it. We have all looked in the mirror at one time or another and said negative things about our physical appearance.
In fact, we probably do it so often that we don't even notice it anymore.
We pinch our bellies and grumble about our thighs rubbing together and look at the dimples on the backs of our legs in disgust for years. We say it in our heads, we share it with our girlfriends, and even when our partners complement our bodies, we argue with their assessment. We do it so often that it seems totally normal.
But it's not.
We aren't made to be filled with self-hatred, self-loathing and negative self-talk; yet somehow it has become completely acceptable to be our own worst enemy.
So how can you stop this kind of talk? How can we go from bashing our bodies on a regular basis to thinking more positively and replacing those negative thoughts with loving ones? Start with these four strategies.
Read More ›
Good morning everyone! I hope today is a lovely spring day in your region!
We wanted to give our members a quick SparkPeople Radio update. We launched SparkPeople Radio about a year and a half ago as a fun experiment—a new way to Spread the Spark and reach both our members and a new audience with the SparkPeople message. We've had some great hosts along the way—Lily, Karen and most recently, Bettina, as well as some awesome guests, from your coaches or inspiring members to outside health and fitness experts from around the country.
Read More ›