SparkPeople Blog Most Recent Post
Hey, Everyone!
You might have noticed something a little different about your SparkPeople Mobile app recently! Our goal for this most recent update was to make the app easier and more fun to use--and we think we achieved that!
If you haven't seen it yet, we think you'll love it; go check it out. You can download SparkPeople Mobile at the Google Play Store. If you're an iPhone user you'll have to wait a few more days - we've submitted it to Apple & we're waiting for them to release it to the app store.
Read More ›
Enjoying a healthy lifestyle doesn't mean reducing pleasures. In fact, one of the healthiest things you can do for yourself is simply adding a tasty drink to your daily routine. Black tea's numerous health benefits are scientifically sound, and along with the drink's rich taste and varied styles, you can't go wrong with a morning or evening cup! Here are the greatest health benefits that black tea has to offer!
A Reduced Risk of Stroke
Drinking more than 3 cups of black tea a day can reduce the risk of stroke by nearly 21%. Researchers found that this effect worked across all genders and ages and is due to the tea's helpful effects on the heart and arteries. While many things factor into the risk and severity of strokes, adding black tea into your diet is a simple, tasty, and effective way of preventing a terrible occurrence.
Prevention of Cavities, Plaque Formation, and Gingivitis
Black tea contains many beneficial substances including polyphenols. Polyphenols help your mouth by suppressing the bacterias and sugars that can eventually lead to tooth decay. They also slow down the production of plaque so that your teeth remain shiny and smooth. This also leads to a decreased risk of gum problems such as gingivitis. As with all oral benefits, your breath will remain fresher throughout the day as well!
Cancer-Fighting Antioxidants
The previously mentioned polyphenols are a group of strong antioxidants that differ from those found in fruits and vegetables. Their main claim to fame is fighting destructive free radicals in the body. By hindering their growth, your body has a better chance of preventing cancers and tumors from forming or spreading. This is especially helpful for those who regularly consume tobacco or alcohol. While black tea cannot cure a preexisting cancer, it still remains one of the simplest and most affordable ways to add daily health and pleasure into your life.
Prolonged Relaxation
Black tea relaxes with its ritualistic preparation, smooth taste, and pleasant fragrance. However, it also reduces stress significantly through its unique chemical compounds. While caffeine may be the most known substance found in black tea, you also get helpful compounds such as L-theanine which can improve the production of serotonin to improve your mood. Along with this, black tea reduces the amount of cortisol (the stress hormone) in your body. While excessive caffeine and a lack of sleep can increase cortisol production, black tea contains comparatively little caffeine and has been proven to reduce the overall amount of cortisol released throughout the day.
A Steady Energy Boost
Coffee contains a lot of caffeine which can be difficult for those suffering from heart palpations or anxiety. However, the small amount of caffeine in black tea is the perfect amount for a mild boost without excessive stimulation. A little caffeine allows your brain to become more activated without an increase in heart rate or restlessness. This makes black tea a perfect companion for long workdays, early mornings, and even as a pre-workout drink.
To get the most benefits, drink your black tea straight without any added milk, sugar, honey, or other fillers. Most of these simply add more carbs and sugars. Try different blends of teas as well since some have smokier flavors while others are richer and deeper. By adding black tea into your diet, you will reap numerous health benefits in the tastiest way imaginable!
With summer in full swing, we imagine many of you have been putting the grill to work. We recently shared some
easy grilling recipes
and hope that you have been enjoying at least some of them! Of course, no grill-out is complete without a side dish or two, right? Lucky for you, we've rounded up a variety of healthy salads, slaws, veggies and more, all of which are amazing complements to grilled meats. Be forewarned: these delicious, healthy side dishes might just take the main stage!
















Garden Potato Salad
Low-fat, protein-powerhouse cottage cheese sneaks its way into the dressing of this simple summer side.
100 Calories, 0g Fat, 22g Carbs, 4g Protein


Macaroni Salad with Bacon, Peas and Dijon Dressing
Tangy dressing contrasts well with the smoky bacon, sweet bell pepper and red onion.
189 Calories, 6g Fat, 26g Carbs, 7g Protein
Rainbow Fruit Salad
This fruit salad showcases the best flavors of summer--mango, blueberries, bananas and kiwi, just to name a few. Try it as a side with grilled chicken or even for dessert.
98 Calories, 1g Fat, 25g Carbs, 1g ProteinLight and Creamy Coleslaw
This creamy and delicious coleslaw is hiding a secret--it's very low in fat!
52 Calories, 2g Fat, 8g Carbs, 2g Protein



Slow Cooker Boston Baked Beans
Make this picnic staple right in your slow cooker.
170 Calories, 1g Fat, 37g Carbs, 7g Protein
Crunchy Coleslaw
This crunchy coleslaw is a healthier version of that summer favorite: Ramen noodle salad. Two servings of vegetables in every portion!
70 Calories, 6g Fat, 6g Carbs, 1g Protein
Cauliflower or Mock Potato Salad
Cauliflower takes center stage in this ''mock'' potato salad. You won't even miss the heavy potato version.
126 Calories, 7g Fat, 14g Carbs, 5g Protein
Garlic-Herb Potato Packs
Whether you make these on the grill or in the oven, these quick-fix potato packs are mom's best friend. No mess, no clean-up and just five minutes to prepare.
165 Calories, 2g Fat, 34g Carbs, 4g Protein
Grilled Avocado Boats
If you've never grilled an avocado, you're truly missing out. Top a creamy, grilled avocado with spicy salsa and Mexican cheese for a unique summer treat.
181 Calories, 16g Fat, 9g Carbs, 3g Protein
Greek Penne Pasta Salad
The classic cookout side dish gets a healthy Greek makeover. Veggie lovers will adore the edamame, tomato and onion.
190 Calories, 8g Fat, 28g Carbs, 7g Protein
Grilled Vegetables with Pineapple
Add a bit of sweetness to your vegetable kabobs with chunks of summer pineapple.
137 Calories, 7g Fat, 17g Carbs, 2g Protein
Grilled Corn with Lime Butter
Take your grilled corn to the next level by adding a hint of lime.
98 Calories, 3g Fat, 17g Carbs, 3g ProteinWhat is your favorite grill-out side dish? Which of these recipes are you most excited to try?
The next time you get an upset stomach, you might be relieved to know that you don't have to down spoonfuls of gross pink fluid or chew chalky tablets. In case of bellyache, stock your fridge with one thing: Ginger. Hundreds of years ago, people sailed all over the globe in search of this natural soother of upset bellies. Ginger has been proven to reduce nausea and vomiting, even in chemotherapy patients. But that's not the only reason you should start consuming more of this spice.
Read More ›
As the weather gets hot and steamy in the summer, you probably wear lighter clothing, shift what you eat and make sure to apply sunscreen frequently. What often gets overlooked is what to drink. Staying well-hydrated not only quenches your thirst, but it can also help keep you energized, control hunger and enable you to stay the course to lead a balanced, active life. To help you better hydrate this summer, here are three simple tips to keep in mind.
Read More ›
Barre, the ballet-inspired workout that focuses on isometric strength training, continues to gain new fans around the country due to its quick results and unique, graceful movements. Get a taste of this increasingly popular way to work out with this routine developed by
BarreAmped
creator and fitness instructor Suzanne Bowen. The total-body barre workout can be done anywhere you have a ledge or some other support for balance. These six effective moves will have your muscles shaking and working. Grab your mat, some light hand weights and a stopwatch, then warm up for five minutes and try it for yourself!
Up & Back with Arm Sculpt
To begin, hold on to something sturdy for balance and grip a light weight in your left hand. Extend left leg forward while keeping the right knee soft and hips squared. Take your left arm straight back behind rib cage as you feel your triceps contract.
On your inhale, hinge at the hips, bend your left leg and move the torso to face down as you reach the left leg straight back and your left arm forward. Exhale and return to start move. Continue for one minute.
Make it easier:
Decrease range of motion, hand weight size or duration.
Make it harder:
Increase time to 90 seconds and, with each move, pause and pulse arm and leg 10 times.
Troubleshoot:
Be careful not to lock out the standing knee. Make sure that the leg is moving straight. When you hinge to move the leg back behind your body, bend the knee and press it back.
Works:
Quads, hamstrings, glutes, shoulders and triceps.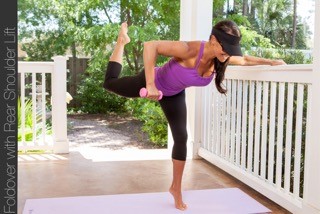 Fiddler with Rear Shoulder Lift
From the last rep of "Up and Back" above, hold that hinge. Bend your elbow and face palm to the back, keeping the arm in line with your shoulder. Bend your left knee and point toes, then lift your right heel. Pulse left knee and elbow up in tiny moves up and down for one minute.
Make it easier:
Drop right heel down, drop the weight and stay more upright.
Make it harder:
Hinge more parallel to the floor, dip down a little lower in the right knee and increase duration to 90 seconds.
Troubleshoot:
Keep hips square, right knee soft and core tight so that you don't move the lower back at all.
Works:
Glutes, hamstrings, calves, rear deltoid, lower back.
Wide Second Middle Shoulder Lift
Holding support with right hand and weight in left hand, which is in front of hips, step out into a wide plie position and raise heels up. Stand up, keeping your heels lifted and raise your left arm to shoulder height. Move down and up slowly within this full range of motion. Repeat for one minute.
Make it easier:
Keep heels down, decrease duration.
Make it harder:
At the end of the 60 seconds, keep arm lifted, bend knees to the lowest point and pulse for 30 more seconds.
Troubleshoot:
Ensure that knees and feet are tracking by making sure not to turn your feet out too much. With the heels up, keep the weight on your big and second toes, and less on the pinky toes. Keep your heels below the knees.
Works:
Quads, inner thighs, calves and middle deltoids.
Turn around and repeat the first three exercises on the other side.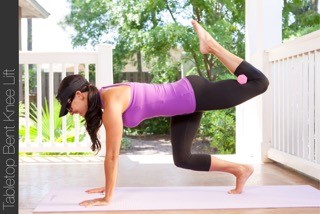 Tabletop Bent Knee Lift
On a mat, bring your hands below the shoulders and your knees underneath the hips. Place weight behind the front knee, securing it so it does not fall out. Tuck your back toes under and lift knee off mat as you raise the front of the leg up. Keep your core tight and pulse the front bent leg up for one minute.
Make it easier:
Keep back knee down on the mat and/or do not use a weight behind the knee.
Make it harder:
Move front knee in a full range of motion (all the way down and all the way back up) for 30 seconds, then pulse at the top for 30 seconds.
Works:
Shoulders, arms, chest, glutes, hamstrings, quads, abs and lower back.
Troubleshoot:
Keep everything in the upper body lifted and engaged. Do not let your neck or lower back sag. Core should be lifted to ensure that movement is in the leg lifting, not the lower back.
Repeat on the other side.
Single Straight Leg Stretch
Lie face up on the mat, draw legs up, keeping them as straight as possible, and feel your abs lift. Raise shoulder carriage and keep your head in line with the spine as you gaze up and ahead. Inhale. On the exhale, lower your front leg down as your bring your back leg up, keeping both legs straight. Inhale and exhale to change legs. Repeat for one minute.
Make it easier:
Lower your shoulder carriage and your head down to the mat. Keep knees soft or slightly bent and decrease the range of motion.
Make it harder:
Speed up the leg motions while maintaining control and stability through the core.
Troubleshoot:
This move requires flexibility in the hamstrings and strength in the abdominal muslces. If you feel a strain in your neck, try pulling the abs in more. If your neck is still straining, lower your head and shoulders to the mat, but stay very connected to your core. As you build strength, attempt to lift the upper torso and head back up. Also, try not to tuck your chin, but instead keep your head in line with the spine.
Works:
Abdominal wall and hip flexors. Stretches hamstrings.

Mermaid Bridge with Chest Lift
Lying face-up on the mat, bring your knees together and your feet apart, keeping your feet close to the hips. Holding a light weight in each hand, bring your arms straight above the chest with palms facing knees. Inhale. On the exhale, press your hips up and lower arms down to either side of the shoulders. Inhale as you lower the hips back down and lift your arms. Repeat this move for one minute.
Make it easier:
Rather than creating the mermaid shape with the legs and feet, keep legs parallel and hip-distance and keep your heels down.
Make it harder:
At the end of the minute, keep hips up, then lower and lift the arms for an additional 30 seconds.
Troubleshoot: I
t will be tempting to lift the lower body so high that the upper back begins to leave the mat. To avoid this pressure on your neck, be careful to keep you upper back in contact with the mat throughout the move. Also, as you lift your heels to create the mermaid shape, make sure that you are not turning your ankles out too much. In barre exercises, always consider alignment.
Works:
Chest, lower back, inner thights and glutes.
About the Author
Classically trained at the prestigious Lotte Berk Method in NYC, Suzanne Bowen is the creator of Suzanne Bowen Fitness #SBF, an efficient mind-body technique that combines cutting-edge cardio, intelligent strengthening and dynamic stretching. Students flock to Suzanne because of her encouraging, no nonsense, straightforward teaching approach that provides targeted and overall results while guiding people to be the best they can be. From her training in modern and classical dance, Pilates, yoga and deep stretching, Suzanne has also developed the highly successful BarreAmped program that is licensed to over 50 studios worldwide and continues to grow under her tutelage. ''BarreAmped'' (Classic Barre) and ''BarreAmped Boot Camp,'' her newest DVDs, epitomize the best of her Barre targeted workouts and are available on Amazon and
www.suzannebowenfitness.com
.