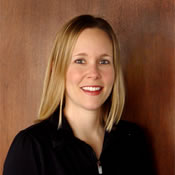 SparkPeople Community Director and Fitness Coach

Jen Mueller left her first career in corporate finance to earn a master's degree in health education. She is a busy mom of three and holds a number of fitness certifications (including ACE's Health Coach and Advanced Health and Fitness Specialist). She is passionate about helping people reach their health and fitness goals. In her spare time, Jen loves training for marathons (crazy, huh?) and spending time with her family. Jen enjoys blogging about raising healthy children and how small behavior changes can impact health and quality of life.
Read More of Jen's Blogs:
When it comes to losing weight and living a healthy lifestyle, everyone has to do what works best for them. I can give all kinds of reasons why a balanced diet and regular exercise is the way to go. But in the end, everyone has to find a style of eating and activity that they can live with for the rest of their lives. It's not my place to judge whether or not someone is right or wrong if they choose to go about weight loss in a different way.
Read More ›