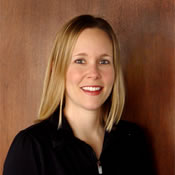 SparkPeople Community Director and Fitness Coach

Jen Mueller left her first career in corporate finance to earn a master's degree in health education. She is a busy mom of three and holds a number of fitness certifications (including ACE's Health Coach and Advanced Health and Fitness Specialist). She is passionate about helping people reach their health and fitness goals. In her spare time, Jen loves training for marathons (crazy, huh?) and spending time with her family. Jen enjoys blogging about raising healthy children and how small behavior changes can impact health and quality of life.
Read More of Jen's Blogs:
Summer is a great time of year to get outside for some fresh air and physical activity. Unlike the dark mornings and evenings of winter, summer provides plenty of daylight hours for a walk, run or swim in the pool. But as the temperature climbs, there could be days when it's just too hot to safely exercise outside. Does that give you an excuse to skip your workout? Not a chance!

There are lots of ways to exercise indoors, which can help you stay safe, cool and comfortable. Then after the hard work is done, you can relax with a cold drink, feeling proud that you stayed consistent with your workout routine. Here are some ideas to get you started.
Read More ›