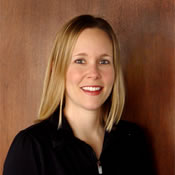 SparkPeople Community Director and Fitness Coach

Jen Mueller left her first career in corporate finance to earn a master's degree in health education. She is a busy mom of three and holds a number of fitness certifications (including ACE's Health Coach and Advanced Health and Fitness Specialist). She is passionate about helping people reach their health and fitness goals. In her spare time, Jen loves training for marathons (crazy, huh?) and spending time with her family. Jen enjoys blogging about raising healthy children and how small behavior changes can impact health and quality of life.
Read More of Jen's Blogs:
I'll admit that I'm very particular when it comes to the foods my kids eat. I've learned not to be too restrictive, because it's important how to teach them to make their own choices and how to incorporate treats and other foods they love into their diets. My oldest is 8, and so far, I think we're doing pretty well. My kids don't feel deprived that they don't eat fast food on a weekly basis, and they don't mind when I add kale or other leafy greens to their favorite smoothies.

I always assumed that school would be a place that would support my healthy eating efforts. What I've found is actually quite the opposite: by far, school is where my kids get the most junk food.
Read More ›