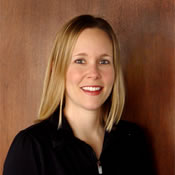 SparkPeople Community Director and Fitness Coach

Jen Mueller left her first career in corporate finance to earn a master's degree in health education. She is a busy mom of three and holds a number of fitness certifications (including ACE's Health Coach and Advanced Health and Fitness Specialist). She is passionate about helping people reach their health and fitness goals. In her spare time, Jen loves training for marathons (crazy, huh?) and spending time with her family. Jen enjoys blogging about raising healthy children and how small behavior changes can impact health and quality of life.
Read More of Jen's Blogs:
I remember the days when I had time to drive to the gym for a workout multiple times a week. Now as a busy mother of four, those days long gone! However, that doesn't mean my fitness level has to suffer. I'm still able to squeeze in a good workout in the morning before the rest of my family wakes up. By investing in a few key pieces of equipment, I've been able to create quality, low-cost workouts without ever leaving the house—and you can, too!
Read More ›