Spring Cleaning Your Life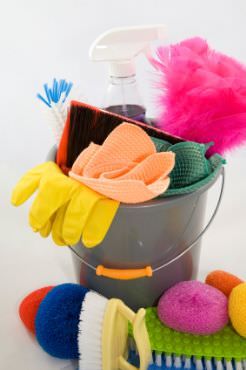 Just a few short days ago we ushered in one of my favorite seasons of the year. Spring to me is like a rebirth of sorts. For many, me included, this is the one time of year I rummage through the rooms, closets and garage to find items no longer needed and freshen up those still in use. I take the blankets off the bed, flip the mattresses and do a thorough cleaning of each room from top to bottom. It's a cathartic ritual to clear myself of the material clutter that keeps me from appreciating the simplicity in my life.

It is also a time I like to take inventory of where I am in my life's journey. How am I managing with my eating, exercise, stress management, sleep, etc. It is a journey in letting go of things that are no longer necessary-guilt and perfection being two big ones I can think of off-hand, while working to clean up those they have been tucked away for a while--self-esteem and positivity.

This year ranks as one of the most stressful years of my life, but what I am discovering is that I am a much stronger person than I ever gave myself credit. I am learning to dig deep within me to de-clutter all the negativity and to find the positive side of life. It isn't always easy, however with the support and encouragement from my great friends, I am literally getting through each day one minute at a time.

Five weeks ago I lost my mother-in-law to liver cancer and my world was turned upside down. Giving myself permission to grieve is not a sign of weakness, but one of release, much like a spring shower. Just like we have to sweep the cobwebs out of the corners of our home, same is true with those in our life. Learning to release those things that keep us suppressed allows us to move forward.

Letting go of all the clutter in my life allows me to focus on the important things. The trivial things are just that---trivial. But when I put the focus on those things that have meaning in my life, it helps me move in the direction that was meant to be.

So I hope you will take some time to clean and de-clutter not only your home, but your life as well. Your life does not have to be immaculate or spotless in order to make progress. You just have to accept that there are many things in life we can control and many that we can't.

HAPPY SPRING!

Does this time of year usher in the need to re-evaluate your life? Do you take time to clean up the clutter in your life, not only physically but mentally as well?



You will earn

5

SparkPoints

Like what you read? Learn more

about SparkPeople,

or

sign up

for your free account today!
Got a story idea? Give us a shout!