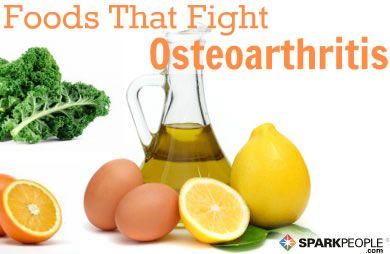 Unlike other forms of forms of arthritis, your risk of developing osteoarthritis is largely related to lifestyle factors like diet, weight, exercise, and previous injury. In fact, dietary and lifestyle changes can have a huge affect on the prevention and management of osteoarthritis. But where do you begin? There exists only preliminary research on the effects of nutrition on osteoarthritis, but these results are promising. At the same time, there are many claims about dietary supplements, foods, and other substances that have no research to back them up. This article will help you separate the facts from the fiction when it comes to fighting osteoarthritis with dietary changes. Keep in mind that nutrition is just one of the many factors affecting osteoarthritis, and you should always create a prevention or treatment plan along with your doctor's recommendations.



Fighting Osteoarthritis with the Right Food Choices


According to preliminary nutrition research, the following nutrients and substances in foods may benefit osteoarthritis.

Vitamin C may help reduce the progression of osteoarthritis. Vitamin C is involved in the formation of both collagen and proteoglycans (two major components of cartilage, which cushions the joints). Vitamin C is also a powerful antioxidant that helps to counteract the effects of free radicals in the body, which can damage cartilage.

Vitamin C is found in citrus fruits, strawberries, peppers, kiwi, cantaloupe, green-leafy vegetables, cauliflower, tomatoes, potatoes, and pineapple.
While most adults need between 75 mg (women) and 90 mg (men) of vitamin C each day, osteoarthritis experts suggest consuming 200 milligrams of vitamin C daily. Use the following chart as a reference guide to meet your needs.
| | |
| --- | --- |
| Vitamin C Sources | mg |
| Acerola cherries, 1 cup | 820 |
| Red bell pepper, 1 cup | 280 |
| Guava, 1 medium | 165 |
| Broccoli, 1 cup | 120 |
| Orange, 1 medium | 120 |
| Green bell pepper, 1 cup | 120 |
| Cauliflower (cooked), 1 cup | 100 |
| Papaya, 1 medium | 95 |
| Strawberries, 1 cup | 90 |
| Kale (cooked), 1 cup | 85 |
| Cabbage greens (boiled), 1 cup | 80 |
| Orange juice, 3/4 cup | 75 |
| Cantaloupe, 1 cup | 70 |
| Kiwi, 1 medium | 60 |
| Grapefruit juice, 3/4 cup | 60 |