SparkPeople Blog Most Recent Post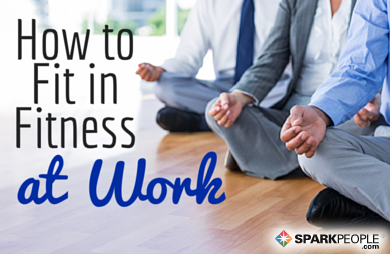 Having trouble staying fit while managing your career? A good workout doesn't require fancy machines or hours of free time. Lose weight, boost your metabolism and increase your energy with these six smart office exercise tips.
NOTE: To avoid injury, consult your doctor before beginning a new exercise routine.

Take Advantage of the Commute
For many, the morning commute conjures up images of congested roads, angry drivers and fickle stoplights. If your office isn't too far, why not leave the car keys behind and rev up your lungs? A refreshing morning jog or bike ride has numerous health benefits. While it may be a struggle at first, a cardiovascular routine reduces bad cholesterol, improves stamina, and cuts down on the risk of heart disease. It will also leave you feeling energized and focused throughout the day. If your workplace is too far, consider taking public transit part of the way and jogging the rest. Still on the fence? Even small changes like parking further away or taking the stairs instead of the elevator can make a difference.

Use Your Lunch Break Wisely
Instead of squandering your one hour browsing the web, use it to get in shape. If your office has a fitness center, sneak in a quick session of weight training or work up a sweat on the elliptical machine. If you missed your morning jog, now's your opportunity to make it up. If it's raining or there are no gyms close by, do some calisthenics (bodyweight exercises) at your desk. These include push-ups, sit-ups, squats, and jumping jacks. Studies also show that a midday workout refreshes the brain, keeping you productive through the rest of the day.
Read More ›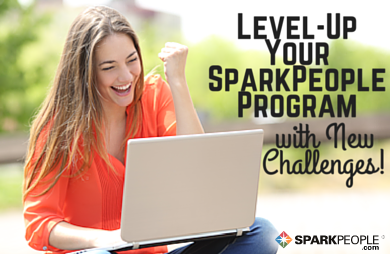 Hi, Everyone!
This morning, we rolled out a new version of our member Challenges feature, which is available from both your Start page and the Challenge Central dropdown in our Community header. (If you remember,
we gave you a sneak peek
about a month ago.) We are very excited about this new Challenge format! We took what members loved most about our older challenges--including daily and weekly guidance on working toward a particular goal--and added in an easier-to-use interface, plus new features like a Team Wall. You can take any of the following Challenges to start with (we will be adding plenty more after launch!):
Read More ›
Cinnamon awakens the senses and makes people think of pumpkin pie, spiced coffee, and the aroma of the holidays. However, cinnamon doesn't just have a pleasing smell; many often fail to recognize how much of a positive impact cinnamon may have on health. Cinnamon carries many benefits, which include antioxidant and microbial properties. Take a look at how cinnamon can make you healthier.

Cinnamon and Diabetes
Cinnamon has been widely used throughout human history for a myriad of medical treatments. Among these ailments, cinnamon has been shown to improve the prognoses of those with diabetes. In October 2013, a comprehensive analysis of cinnamon and its effect on diabetes was conducted, reports the National Library of Medicine. Throughout the two-year study of 543 patients, the levels of fasting plasma glucose, total cholesterol, low-density lipoproteins, and triglycerides decreased with the assistance of a cinnamon supplement.
Read More ›
Foam rollers are excellent, inexpensive tools that can be used both for muscular warm up and recovery. Most gyms have a few of them available in the stretching area, but if you are an at-home exerciser you may want to consider investing in one of your own (they usually run between $7-$20—
here's a link to the one I purchased on Amazon
).
Studies have shown that foam rolling (also known as self-myofascial release) can actually help reduce stiffness, pain, and even improve your range of motion (aka performance) during your workout. Think of it like this—when you first grab a pair of jeans out of the dryer and put them on, they are super stiff and hard to move in, so you do your squatting ritual to help ''break them in'' and fit comfortably again, right? Utilizing a foam roller can help loosen up your stiff, sore muscles again so you can move comfortably and efficiently. Try rolling as often as you like—before or after a workout, and/or on your recovery day.
Read More ›
Some people loathe running in the hottest months of the year. For those springtime, fall and winter running enthusiasts, it might seem like a chore to survive a run during the searing summer heat. However, there are steps you can take to mitigate the sun exposure and make summer running an enjoyable experience.
Continue reading to learn all the essential tips you need to make summer running a successful venture.

Plan Your Run for Cooler Times in the Day
During the scorching summer months, it makes little sense to run at the hottest times of the day. Skip the afternoon run, and opt for an early morning run instead. Typically, running just before sunrise is the ideal time to get in a workout at the coolest part of the day.
Not only will this help you beat the summer heat, but you will also enjoy a surge of energy that carries you through the rest of your day.

Dress for Warm-Weather Running Success
To survive warm-weather months, you need to gear up appropriately. Wear light-colored, breathable clothing that gives your body and skin plenty of room. Couple your running attire with a hat that will keep your face shielded from UV rays and keep you cool at the same time.
Read More ›
Back to school and pumpkin beers at the grocery say summer is coming to a close, yet no one seems to have told the sun as temperatures remain hot in most of the country. Salads are a cool and refreshing way to beat the heat and change things up at the dinner table after a summer filled with grilled meats. Plus, with minimal prep time and simple ingredients, you'll spend less time with a hot stove and more time enjoying the sunshine. The many fresh fruits and other foods available during the summer months (farmers market, anyone?) allow you to add flavor and variety to your salads--no boring meals here! Hold on tight to the last bit of summer by enjoying a few of these summer-friendly salads in the coming weeks.
Summer Salad with Peaches and Goat Cheese
Sweet summer peaches and tangy goat cheese top the season's freshest vegetables in this crowd-pleasing salad.
Summer Salad with Chicken and Berries
With berries reaching their peak sweetness levels, now is the perfect time to incorporate them into a salad. Let a range of fresh berries shine in this filling lunch dish.
Coach Nicole's Favorite Summer Salad
Add your favorite dressing—balsamic vinaigrette works great—to this filling and effortlessly delicious salad.
Spinach-Berry Salad
Fresh and juicy strawberries mingle with tender spinach, goat cheese and crunchy almonds in this salad that even kids will devour.
Cool Cucumber Salad
Cucumber, red onion and a simple dressing are all you need to create this fantastic dish, which happens to pair well with grilled meats.
Caprese Salad
Simple flavors combine in this timeless salad that is sure to win fans at your next backyard BBQ.
Easy Watermelon and Feta Salad
Watermelon is a favorite summer dessert, but it makes a lovely addition to a dinner salad, too. Here, creamy citrus dressing and crunchy celery pairs with the sweet melon.
Peach-Tomato Salad with Basil and Feta
Sweet, juicy peaches, tangy tomatoes, fresh basil and feta come together in a salad that is sure to make your taste buds do the happy dance.
Israeli Salad
When the ingredients are fresh, salads can be simple, yet impressive. This traditional Israeli salad is perfect as a side, lunch salad or as a filling for your pita.
Spinach and Pear Salad with Dijon Vinaigrette
Up your salad game with this spinach and pear salad topped with a homemade Dijon vinaigrette.
Waldorf Salad
The classic Waldorf salad gets a healthy makeover thanks to the addition of low-fat yogurt.
End of Summer Salad
A hot summer afternoon is the perfect time to enjoy this sweet and savory watermelon salad.
Do you eat more salads during the summer months? Which of these recipes will you try first?

Click here for even more summer salad recipes.