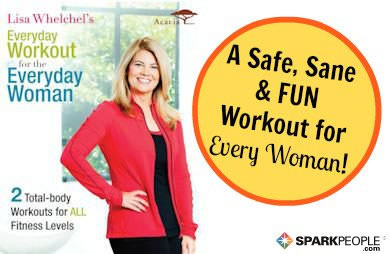 Is it just us, or are workouts getting more and more intense lately? It seems like you can't turn on the TV or open a magazine without hearing about the latest ''extreme'' workout fad that promises to get you six-pack abs and boundless energy. Although those type of workouts might appeal to some people, they're definitely not for everyone. What ever happened to sane, safe exercise programs for the average person just trying to stay healthy and fit?
Enter
Lisa Whelchel's Everyday Workout for the Everyday Woman
. Lisa Whelchel is a busy mom of three, an author, motivational speaker, and former TV star from
The Facts of Life.
As an average woman who struggles to fit exercise into her busy days, Lisa's DVD is a breath of fresh air for any woman trying to start a reasonable and sustainable fitness routine—or for any woman who just wants to mix things up a bit! You can learn more about what to expect from the DVD in the YouTube video below:
Read More ›
The holidays are supposed to be a happy time—but all too often they can leave you frazzled and exhausted. When your schedule starts to stress you out, decompress with these three tips.
Seasonal Stressor:
"I'm coordinating four Christmas parties and a bake sale. It'll take a miracle to pull them all off."
Merry Maker: Wrap some presents.
When you are feeling overwhelmed take a short break and do a mindless chore that lets your thoughts wander. Preforming monotonous tasks can boost creativity and problem-solving ability according to a study from the University of California, Santa Barbara.
Read More ›
Spending so much time at work can make you worse for wear—and not just mentally. Sitting improperly can up your chances for shoulder, wrist, back and neck injuries. Worse, you may not recognize your body's warning signs, such as muscle stiffness, aching and fatigue, says Jean Duffy Rath, Dip MDT, a physical therapist in Syracuse, NY. That's why it's important to change your workstation to fit your needs. "You wouldn't drive without first adjusting your car seat—you need to do the same for your desk chair," says Dr. Duffy Rath, who suggests readjusting weekly. Here's exactly what to do to minimize pain at a desk job.
Read More ›
Mia Padilla-Schubert (JADEDCUP)Weight Lost:
113 pounds
Hometown:
Rancho Cucamonga, CA
Occupation:
Artist and Stay at Home Mom
What was life like before your weight loss?
I gained weight slowly after I got married. During my second year of marriage, I had a tubal (ectopic) pregnancy, and my weight gain really picked up. After trying to get pregnant for 10 years, my doctor found I had thyroid cancer. I lost a bit of weight after undergoing surgery and radiation treatments. One year later, I became pregnant. I watched what I ate and had a healthy baby girl! However, all of this was still not enough to make my changes stick. Using the excuse that I was a busy mom, I regained the 30 pounds I had lost plus an extra 60 pounds on top of that. At age 36, I was the biggest I had ever been, weighing in at 275 pounds.
I was achy all the time. My hips hurt and I couldn't sit in any seat for more than 20 minutes. It was humiliating to have to ask for extenders for the belts on plane trips. I had to lean into the center of my car to get my door to close all the way. My arms would go numb all the time from the pressure on them. I couldn't go on many rides anymore at fairs or amusement parks. I couldn't walk very far and had a hard time keeping up with my toddler.
What was your 'light bulb moment' that made you get serious about losing the weight?
One day after a parade, I had to roll over on to my knees to get up from where I had been sitting. My in-laws had to help me. I realized that I couldn't do it anymore. I just couldn't go on living the way that I had been. I was going around and taking my daughter to all sorts of places, but I couldn't actually do anything with her once we got there. I was always watching, never able to do. I was afraid that I would spend my life watching her grow up, always from the sidelines.
Tell us a bit about your weight-loss journey:
Read More ›