SparkPeople Blog Most Recent Post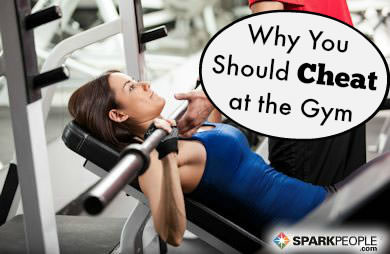 You put on your sweatpants and baggy T-shirt. Throw your hair up into a ponytail and wipe the make-up off your face. You fill your water bottle and head to the nearest elliptical. Headphones in, you tune out the world, focusing on the show you're watching or that new song you downloaded. You set your sights on the console and the clock, watching the numbers—calories, time, and distance—tick up until you've hit your goal on one (or maybe all three). Get in and get out, that's what the gym is to you. You're not there to talk or make friends. You're just there to get through your routine and go home.
But what if I told you that going to the gym could—and should—be a little more
fulfilling
? The truth is that having an affair at the gym happens more than you might think. It can change your mind and your body—and how you feel about yourself. If you've been going through the motions lately, feeling uninspired or tied down, then break free from monogamy and bring the excitement back with an affair!
Read More ›
Easter is synonymous with bright pastel-colored candy eggs, marshmallow chicks and creme-filled chocolates--which aren't exactly the most waistline-friendly treats. But you can still partake in the goodies without derailing your healthy habits. If you're looking for some alternatives to the usual fare, here are some small tweaks you can make to lighten up your Easter baskets this year (while still having fun)!
Read More ›
Making significant healthy lifestyle changes—and maintaining them for the rest of your life--might seem next to impossible at first. But don't worry! At SparkPeople, we believe in taking small and manageable healthy steps that eventually become lifelong habits. Our sponsors at Meta also believe that small changes can lead to good things, and they even have a name for it: the Meta Effect. When you make a healthy choice like taking the stairs or eating a Meta Health Bar for a snack, you may continue to make good choices to keep the streak going.We've talked to several people who have changed their lives through this step-by-step approach--and now, they're sharing their secrets with you in this success story series! Meet Rebecca, a fan of walking, Pilates and playing with her grandchildren. We love her realistic outlook and positive approach to healthy living!
Read More ›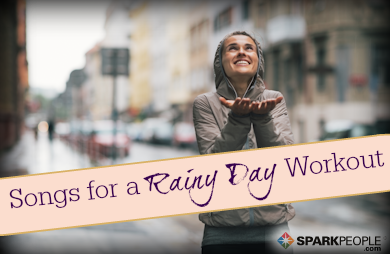 Ah, rain. Some people love it—The smell! The soothing sound!—while others despise it—Wet shoes! My hair!—but no matter your opinion, we can all agree that the rain has inspired some pretty killer songs. With beach season coming just after these April showers, spring is the perfect time to take your training to the next level and we've got just the tunes to get you moving. Embrace spring's rainy days with this eclectic rain-inspired playlist.
Read More ›
Did you know that there are well over 300 yoga poses in the physical yoga practice? If that number seems overwhelming to you, don't worry! Learning the following five yoga postures is a great way for you to get acquainted with the practice as a beginner. Once you have a good understanding of these postures, you can start to feel more comfortable in a class or practicing on your own at home. If you do each one of these for 5 to 8 breaths, it also creates a great beginner's yoga program for you to do every day.
Read More ›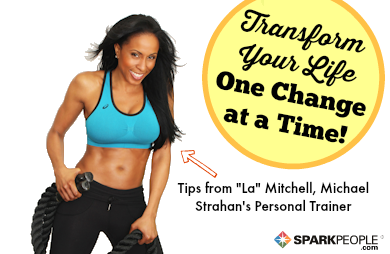 Celebrity fitness guru Latreal ''La'' Mitchell has trained big names like Michael Strahan, so she knows what it takes to get into tip-top shape! We've picked her brain to find out how to get healthy and fit in a realistic way—no fluff, no nonsense and no gimmicks.
Tell us a little about yourself! What initially inspired you to be a trainer? What's been the biggest accomplishment of your career so far?
When I was 18, I really started to develop a passion for nutrition and exercise, and I wanted to help others live their healthiest lives. My biggest accomplishment is founding the Fitness Bunch Foundation, a non-profit organization that serves to fight childhood obesity. Our mission is to help today's youth bring fitness back into their lives.
What's the biggest mistake that fitness newbies make?
They set
unrealistic goals
. You need to be realistic with yourself about how long it took you to get to where you are now and how long it will take you to get to your goal. I always tell my clients to be honest with themselves. It might not be easy, but it can be done if you take small, realistic steps.
What's a telltale sign that someone will fail to reach his or her goals?
If you're always criticizing your body or underestimating your ability to maintain a healthy lifestyle, you will make it much more difficult to reach your goals, especially if you don't have a plan or support system in place. I like to say, ''If you fail to plan, you plan to fail.''
Whenever my clients say anything negative about themselves, I make them do whatever exercise they hate the most! My goal is not to punish them, but to reprogram their thinking and make them realize how frequently they are indulging in
negative self-talk
. People don't realize that it really can become a self-fulfilling prophecy. If you tell yourself you can't do something, you won't do it. But if you tell yourself you
can
do something, you eventually
will.
Read More ›