SparkPeople Blog Most Recent Post
Big news! This fall, SparkPeople will be sponsoring several races across the country—and we're going to be there to cheer you on! SparkPeople representatives are hitting the road to attend six different national events, kicking things off in our hometown of Cincinnati at the
Susan G. Komen Race for the Cure on Sunday, Sept. 14, 2014 at Coney Island Park.
Chris Downie (SparkPeople Founder, CEO and author of
The Spark
) will also be with us at the Cincinnati race to autograph your book, answer questions and do what he does best: provide motivation! We are excited to take our show on the road to support fellow health enthusiasts as they come together to reach their goals.
Read More ›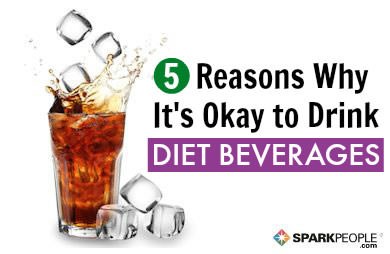 If you're feeling confused by all of the headlines about diet beverages, you're not alone. There's a growing amount of misinformation about diet beverages. Here are some of the facts that we tell our patients who ask about drinking these popular drinks:
1.
They help satisfy your sweet tooth.
Diet beverages can help fulfill our innate desire for sweet – but without adding calories. In fact, University of North Carolina researchers
8
found that drinking diet beverages didn't increase appetite or desire for sweets. Diet soda drinkers in their study actually ate
less
dessert.
2.
Diet soda doesn't raise blood sugar levels
.
That's a big deal for the 29 million Americans who have diabetes, not to mention the 86 million more with pre-diabetes. No wonder that the American Diabetes Association
9
recommends that people with this disease consume foods and beverages sweetened with low- and no-calorie sweeteners.
Read More ›
You often hear people talk about how having kids changes your entire life. I have to agree, having been through it more than a few times over. I have four children ranging in age from nine months to seven years, and although they are exhausting, they are equally wonderful. Pregnancy was never a walk in the park for me, but I tried to do all of the right things--eat a healthy diet, exercise regularly and gain a healthy amount of weight. Because of this, I assumed it would be pretty easy for me to bounce back into shape after baby arrived. While that's been true to a certain extent, there have definitely been some surprises along the way.
Read More ›
Hi, everyone! We launched a few changes to the site today that we wanted to let you know about:
An improved and cleaner design for our Message Boards and Team Message Boards
An improved and cleaner design for our SparkPoints, SparkMail, and some other pages
Moved ''Today on SparkPeople'' from the right side of the site to the top right of the site, in a new dropdown
Added a link on the very top right of the site to your Account Settings, SparkPoints, and SparkPage
We hope you like these changes! We made them to help new members easily navigate the site. We also think they are great additional features for our current members. About a month ago, we surveyed our SparkTeam leaders about the Board changes to the Community Team, and we got some great input that was incorporated into the design. This included creating more of a visual separation between posts. Additionally, we heard a lot of feedback that the ''Today on SparkPeople'' features were important to you, so we now have them available on every page of the site. SparkGuy, Coach Jen, and the rest of our team truly do appreciate the feedback and support of our members, and we love using this feedback as a tool to help us continually upgrade and improve your SparkPeople experience.
If you can't find something or have any other feedback, please post a comment below. Thanks!
The SparkPeople Team
One of the questions that I am often asked by my patients at the Anschutz Center for Health and Wellness is this: ''Can I drink diet soda and still lose weight?'' The follow-up question is usually: ''Is it true that diet beverages can make me feel hungrier?''
That's when I know that they are seeing some of the same confusing headlines about diet beverages that I often see in the local and national news media, and even more frequently on the web.
What I love about my job is that I get to try to find answers to some of these puzzling nutrition questions. To that end, my colleagues and I just completed a study that asked the question: what effect do diet beverages have on weight loss? We were surprised by the answers, which makes me think that you may be, too.
Read More ›
As summer starts winding down and back-to-school shopping begins, lunch boxes and supplies might be on your list. What can you do to help ensure that your kids eat the healthy food you pack instead of trading it for chips and cookies--or even throwing it away? There are lots of cool accessories to make lunchtime more exciting. Looking for ideas to turn boring carrot sticks into a food they won't want to turn down? Here are some of our picks to brighten up lunch and make healthy eating fun!
Read More ›