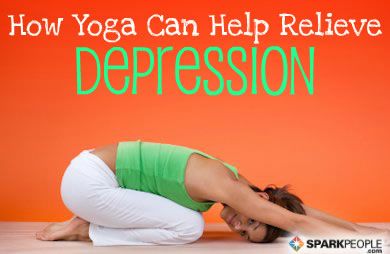 I struggled with bouts of depression and anxiety in my teens and early 20s. It was in the middle one of those battles, during my junior year of college, that I discovered yoga. A friend saw a flier for an eight-week yoga session at the campus rec center. Since I hated sweating and would only run if I were chased, I thought yoga sounded like a good form of exercise.

The room, usually populated by step aerobics and dance classes, felt cavernous with only a few dozen students in it. The class was 90 minutes long, in the late afternoon. I don't remember much about it now, but I remember that the "nap" I took during final relaxation left me feeling peaceful and calm and offered a rare respite from my roller coaster of emotions.

The class ended, and I continued practicing. I couldn't explain why, but yoga made me feel better. Since 2007, I have practiced yoga regularly, and my depression has been held at bay, along with a lot of my anxiety.

I'm not alone in finding solace in a yoga practice. Today, more than 20 million people practice yoga, according to a 2012 Yoga Journal study, and more people are taking up the practice to improve their health and relieve stress than to get fit.

Yoga was created to help people sit quietly, to tire the body so the mind could rest, and as such can be a useful therapy for those coping with depression, anxiety and other mental health conditions. The yoga and mental health connection is strong:

In January 2013, the journal Psychiatry compiled the findings of 16 surveys on the efficacy of yoga in treating certain psychiatric disorders. Researchers found that yoga can acutely help with mild depression and can work in conjunction with anti-psychotic drugs in people with schizophrenia. It also can be of benefit to adults who suffer from sleep disorders, which tend to piggyback onto depressive issues.

A 2010 study published in the Journal of Alternative and Complementary Medicine found that practicing yoga just three times a week increased levels of chemicals in the brain that help combat anxiety and depression.

Yoga may also protect against future depression, according to a study published in a 2013 issue of the International Journal of Yoga. Women aged 45 to 80 who practiced yoga found that the longer they had done yoga, the more likely they were to be emotionally healthy and reportedly happy.
If you're interested in starting a yoga practice, talk to your doctor and check out our beginner's guide and find out which type of yoga is right for you.

Continued ›
Article created on: 7/15/2013