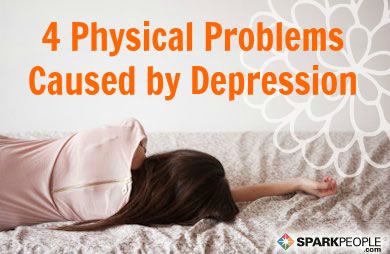 As if chronic depression isn't difficult enough, research shows that people with long-term or untreated depression are more likely to experience additional health concerns than the general public. The reasons for this are easy to imagine:

Depression can cause isolation and sluggishness, making you less likely to exercise; it can decrease one's appetite, making you less likely to eat healthfully; and it can interfere with normal sleep patterns, which can cause a range of health issues in and of itself.

Newer evidence reveals that depression impacts the body, too. Physical effects of depression range from increased discomfort from chronic pain to a higher risk of dying from a heart attack. Being depressed can even make the discomfort of chronic pain or illness more difficult to deal with.

That's why it's so important to seek help if you're experiencing symptoms of depression. Often, relief from depression will boost your physical well-being, too.
Even if you're already dealing with depression, keep an eye on these related health issues that are linked to the condition. Some are exacerbated by depression. Others are the result of long-term depression. In some cases, it's not clear whether depression causes the health concern or vice versa, but being aware of these associations can help you escape their effects.



4 Health Problems Linked to Depression


Chronic Pain
The link between chronic pain and depression is unclear, and there is some controversy about which comes first. What has been proven is that chronic pain can exacerbate depression and severe depression can make you more susceptible to pain.

Researchers have found a link between higher levels of cytokines, molecules that facilitate intercellular communication, and depression. Cytokines can trigger an inflammatory response and, therefore, pain. While additional research is needed to clarify the relationship between pain, inflammation and depression, exercise, talk therapy and medication can help.

Heart Disease
Depression is considered a risk factor for heart disease, an increased risk of having a heart attack, and higher chances of death after a serious cardiac event. Unfortunately, even milder forms of depression have been associated with ischemic heart disease, which is caused by diminished blood supply to the heart muscle.

Scientists aren't sure exactly how this occurs, but one clue may be found in the inflammation caused by depression, which can lead to thickening and stiffening of arterial walls—a precursor to heart disease. The good news is that early diagnosis and treatment of depression, particularly in women, can prevent these negative effects.

Continued ›
Article created on: 6/27/2013