6 Fun Fitness Finds to Inspire Your Spring Workouts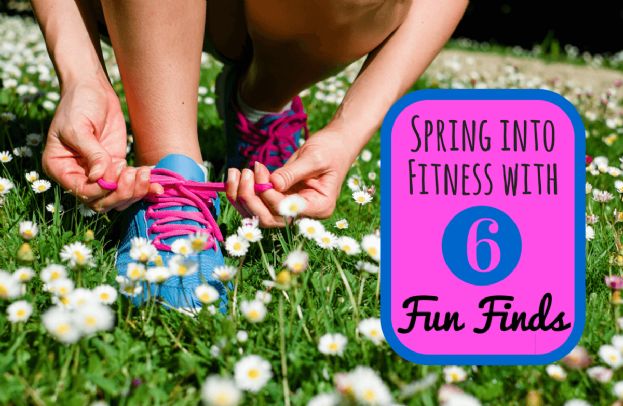 The cold winter is finally behind us! I know everyone is with me when I say Bring On Spring! Here in Cincinnati, we've had a couple 70-degree days giving us a taste of the warmer season to come. Granted, they were followed up by snowy days, but we'll take it!

Spring is such a great time for fitness. No matter how dedicated you are to exercise (or not) the change in weather seems to encourage everyone to get outdoors and get active. Even if you're not getting out yet (maybe it's still cold in your region), I'm sure you're noticing a heightened level of energy thanks to sunnier days.
For even more inspiration, here are some of the cool finds that are helping me stay fit and happy this spring. You just might find the right thing to put a little pep in your step, too!

For a fitter, healthier spring, add one of these fresh picks to your wish list!

A Yoga Mat with a Message

Imagine seeing an affirmation like that each time you rolled out your mat to work out or practice yoga! I fell in love with the positive messages printed on Affirmats yoga mats ($66), which are non-slip and made of biodegradable jute. I actually love this surface. It's soft yet grippy—a very different texture than other yoga mats I have tried. Affirmats releases different styles and affirmations throughout the year, so if they don't have a mantra you love now, check back. This would be such a positive reward (or inspiration to start a yoga or Pilates practice)!

A Rainy Day Workout DVD

Don't let wet weather keep you from your workouts! I've been enjoying the Walk On: Strength and Balance DVD by Jessica Smith this winter, and plan to keep it in my rotation this spring as a fun low-impact option. Jessica is a regular SparkPeople contributor and a fun-to-follow fitness instructor. This beginner friendly walking DVD features two 30-minute segments you can do from the comfort of your own home. One workout includes weight training (with dumbbells) so you get the best of cardio and strength-training in one—and the scenery here will make you think of summer!



A No-Bounce Sports Bra

A good sports bra is a must for a comfortable, confident workout. The Champion Women's Show Off Sport Bra (starting at $19.49), pictured in black, comes in sizes S to XL. Features include moisture-resistant fabric, an easy hook-and-eye closure and patented concealing, shaping cups. Choose from a wide variety of versatile colors.




A Little Workout Motivator

One of the best ways to motivate yourself to get active this spring (or any season) is to use a fitness tracker. This FitBit Charge HR tracks your heart rate, steps, distance, calories burned, floors climbed and heart rate. Click here to find out which trackers can be integrated with your SparkPeople account.





Comfy (and Tummy-Concealing) Leggings

Ladies, a comfortable, higher-waisted pant that camouflages your tummy is here! I really enjoy Lululemon's Wunder Under leggings (sizes 2-12). They not only work for your workouts, but they are fashionable enough for everyday wear, too. I love that I can wear them to work and then go straight to the gym, or go from the gym straight to dinner with friends. You can wear the high waistband over your tummy (this would be great during or even after pregnancy, for the mamas out there), or roll it down to whatever height you prefer. Yes, this brand is pricey compared to a lot of others, but the quality is strong, the fit is flattering and you'll get a lot of use out of these.

A No-Slip Workout Headband

Sweaty Bands aren't new, but I just started splurging on them for my workouts. Even with a ponytail, I have lots of loose and shorter hairs that fall into my face during a workout, so I still need a headband. I've tried so many different kinds, from the cheap drugstore ones (which are decent for the price) to the high-end grippy ones. I actually like the Sweaty Bands style the best. They fit really well and don't slip—ever! And they come in a huge variety of fun colors and patterns, usually ranging from $15-$20 each. I hand-wash mine in the shower after my workouts and hang them to dry.

Sometimes, treating yourself to a little workout goodie can re-energize your commitment to fitness. Other times, it's fun to save ideas as future rewards for reaching new milestones. Whatever works for you, I hope you're finding new ways to keep your fitness routine energized all season long.

What are you most looking forward to (fitness-wise) this spring? What's keeping you excited and motivated to work out right now?

We hope you love these products a much as we do! SparkPeople may collect a small percentage of revenue from links on this page.





You will earn

5

SparkPoints

Like what you read? Learn more

about SparkPeople,

or

sign up

for your free account today!
Got a story idea? Give us a shout!