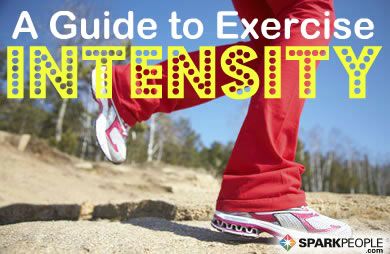 One of the most common mistakes new exercisers make is not measuring the intensity of their cardio workouts. Guidelines say that aerobic exercise should be "moderate" or "challenging," but what does that feel like? You might make the mistake of working too hard (which can lead to injury and burnout), or not working hard enough (which can lead to frustration from a lack of results).

When following an aerobic exercise program, there are three main ways to measure your exercise intensity: Target Heart Rate (THR), Rate of Perceived Exertion (RPE) and The Talk Test. This guide will examine each of these three measures in detail so you can choose which works best for you.



Target Heart Rate


Target Heart Rate (THR) is the most commonly used method for measuring exercise intensity—mostly because it's easy to do and it's also precise. Your THR is actually a zone or range that your heart rate should fall within to ensure that you are training aerobically. Training below your target zone may not be intense enough to burn sufficient calories or improve your cardiovascular fitness; while training above your zone means you're working anaerobically (without oxygen) and inefficiently, which is also too intense for many people, especially beginners.

A Target Heart Rate range is listed in percentages, typically between about 60% and 85% of your maximum heart rate. But how hard you should work depends on your fitness level. In general, beginners should work at a lower range and advanced exercisers should work at a higher range. Keep in mind that some people have exercise restrictions due to injury, health conditions or medications that will affect your recommended intensity level, so always check with your doctor first.

Use the following as a guide for determining your intensity level:
Beginner or low fitness level: 50% to 60%
Intermediate or average fitness level: 60% to 70%
Advanced or high fitness level: 75% to 85%
When starting an exercise program, aim for the lowest part of your target heart rate zone (50 percent of your maximum) during the first few weeks. Gradually build up to the higher part of your target zone (75 percent). After six months or more of regular exercise, you may be able to exercise comfortably at up to 85 percent of your maximum heart rate. However, you don't have to exercise that hard to stay in shape.
Continued ›
Article created on: 3/3/2008