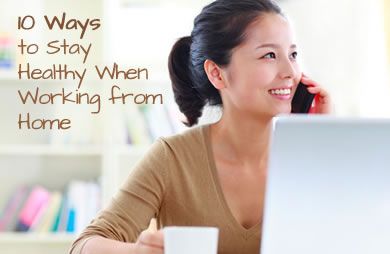 Working from home may seem like a dream. You have no boss popping up behind you. No employees to interrupt you with the latest office gossip. No donuts to avoid. But, working from home—with all of its perks and pluses—also presents some unique challenges when it comes to maintaining a healthy lifestyle. From temptations in your fully-stocked fridge and pantry calling you, to the mindset of always being ''at work,'' to having a schedule that's almost too flexible, working from home can make staying healthy difficult in some ways. Here's how to stay fit when your home doubles as your office.

1. Choose your ''office chair'' wisely. One of the great perks of working at home is that you can work where you want to, as long as you have a laptop (which many work-at-homers do). At a desk? At the kitchen table? On the couch? In bed? Outside on the patio? Yep, you can pretty much set up shop anywhere. But, you're still sitting on your duff, and possibly more inclined to stay sitting because you have few work-related reasons to stand up and move. Plus, where you're sitting at home is probably more comfortable than a typical office chair and, therefore, more appealing to sit in for hours on end. So, choose to sit in a chair that's less comfortable and requires better posture than a recliner chair. Sitting on an exercise ball is a great way to make your workday a little more active. You could even consider investing in a treadmill desk or a standing desk, where you don't sit at all!

2. Set a timer. For those who don't have a treadmill desk or a standing desk, make it a point to stand up and walk around at least once every hour. Studies have shown that sitting for long periods may decrease your metabolism, hurt your heart health and even increase your risk of cancer. One easy way to sit less is to set an automatic timer on your computer or phone to alert you once every hour. As soon as you hear that alarm, stand up and get moving for a couple of minutes. You can do jumping jacks, walk the stairs in your home, stretch, do some yoga poses, take the dog outside—whatever you like to do. Just move! Making it a priority to get up and move once an hour will help your health and your weight-management efforts, and it'll even give you a mental and emotional boost to help you get more done.

Continued ›
Article created on: 10/16/2012