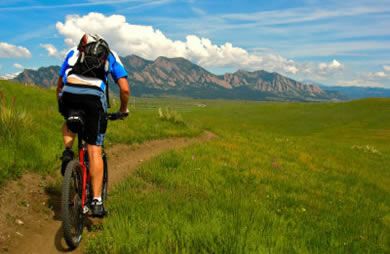 They say that people love a winner. Well, I love losers! In October 2004, NBC introduced the reality show called "The Biggest Loser." Today, after completing its fifth season, it is a fan favorite. The show features individuals, couples, and — coming next season — families, who sign on to get fit and lose weight. These individuals are assigned to weight loss teams (and trainers) and then compete to see who can lose the most weight and the title, "The Biggest Loser." Although there's only one winner in the end, all participants change their bodies and their lives and become winners by becoming losers, too.

The transformations that occur on the show are nothing short of extraordinary. The biggest losers of all typically drop more than 100 pounds by the end of the 12-week period and many go on to lose even more. Physically, mentally, and emotionally, these folks morph into totally different people thanks to their newfound lifestyles. As a personal trainer myself, it gives me great satisfaction to see them succeed and to recapture a healthy body, mind and spirit. It is not just a physical transformation, but a mental one as well.

Perhaps one of the greatest things about the show is that it offers so many lessons, whether you're striving to live a healthier lifestyle, make exercise a habit, or reach a healthy weight. Here are eight realizations that I think are worth noting:

1. You shouldn't go it alone. Do you think that the contestants would be as successful if they went at it alone? In season five, for example, the Blue Team was a serious force to be reckoned with. Roger, Mark, Jay, and Dan seemed to never lose a challenge or a weigh-in. Did you notice how they supported and encouraged each other to push harder, work out longer, and stick to their diets? The support and camaraderie they exhibited definitely helped them succeed as often as they did.

Lesson: There is strength in numbers. Doing everything by yourself can be lonely and discouraging. But having a buddy — or a team of supporters — can help you to stick to it when the going gets tough. Instead of just going solo on the treadmill or bike, consider taking a group fitness class or joining a team sports league. When you need a word of encouragement, post on the Message Boards or join a SparkTeam here at SparkPeople!

Continued ›