Stuff We Love: 4 Essentials for Spinning Class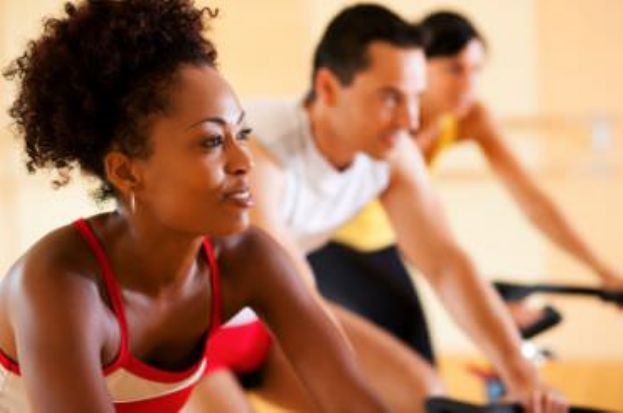 I have had a strong and unwavering love of Spinning ever since I took my first class 10 years ago. Soon after, I completed my certification to teach Spinning and I've been teaching at least once class per week for the last several years. And this time of year, Spinning is a great workout when you don't want to go outside, but don't necessarily want to trudge on the treadmill for an hour.

I teach at a gym where a lot of serious cyclists train. They take Spinning mostly when the weather is too bad to train outdoors, and you can easily pick them out of the crowd with their cycling shoes, padded bike shorts and cycling jerseys, water bottles (or often, sports drinks), watches, and bandanas. It can be intimidating for any newcomer to the class. But technically, you don't need anything special for Spinning. Standard workout clothes, a hard-soled pair of athletic shoes, and a water bottle will do just fine. But there are a few extras you could consider purchasing in order to make your ride more comfortable—and get more out of it. Want to know my must-haves for Spinning?


Gel Seat Cover ($15-$30)
As often as I ride, it's important to stay comfortable. The saddle (seat) on a Spinning bike can be very uncomfortable for most people. They say that you get used to it after a few weeks of riding, but I for one never got "used to" the hard saddles on the Spinner bikes. One solution is to wear padded cycling shorts; these are super comfortable and can be worn in Spinning and when biking outdoors, but they're also pricey ($40-$100 a pop). And if you ride many days per week, you'd need several pairs (think: $$$). So I invested in a gel seat cover. I keep it in my bag and tote it to and from class. My first ($25 from Spinning.com) lasted for several years' worth of 5-times-a-week Spinning classes. When that one wore out, I bought a less expensive version from Target that's hung in well for the last few years. Compared to that hard, uncomfortable bike seat, using a gel seat is like sitting on a cloud! This is the best investment I've ever made!


Cycling Shoes ($85-$300)
Cycling shoes are a bigger investment, but you can find great deals on a good pair of shoes. I've seen people buy them for as little as $40 during end-of-season (or online) sales. If you go to Spinning regularly (or ride outdoors), clipping in to your pedals makes a world of difference. Cycling shoes make a huge difference in your Spinning classes, and they last a really long time because they don't get worn down from impact the way running shoes do. They connect your foot directly to your pedal (no more pesky cages around your shoes) and with that better connection, you're able to pull up more strongly, which means greater speed, smoother pedal strokes and better hamstring engagement. That adds up to one great workout. Most Spinning bikes are compatible with SPD or LOOK cleats (cleats are usually a separate purchase from the shoe itself, around $20), so check your facility first to see which types of pedals they have. My shoes by Pearl Izumi cost $125. I've worn them indoors and out for more than five years now, and hope to continue wearing them much longer!


Heart Rate Monitor ($50-150)
I can't imagine working out without my heart rate monitor. Once you get one, you'll wonder how you went so long without it. It's always important for you to monitor your intensity level during exercise, and Spinning is no exception. Most Spinning classes put large emphasis on specific heart rate zones, so a monitor will help you know exactly how hard you're working so you can adjust if you need to. I recently upgraded to a Garmin Forerunner watch with a heart rate monitor. It was pricey, but it does so many things (measures my running pace and distance, too) and I'm completely happy with it. You can find a great heart rate monitor without all the bells and whistles for less money though. Here's a guide to shopping for one.


Reebok Compression Shorts ($20)
These are my new favorite workout shorts. You can't beat the price—or the fit. They stay put with no bunching or chafing, and I can wear them for running, strength training and of course, Spinning! These are great for riding b/c they don't, well, ride up. While you can wear any kind of bottoms for a Spinning class, shorts of Capri pants are best. Avoid long pants that could get caught in the pedals when you ride.

Now tell me: Are you a fan of Spinning classes? Have you invested in any of these items? If so, did they make a difference for you?



You will earn

5

SparkPoints

Like what you read? Learn more

about SparkPeople,

or

sign up

for your free account today!
Got a story idea? Give us a shout!