These days,
high intensity interval training
is hot. More and more exercise researchers are discovering that steady state cardio still does a body good—but pushing your body during shorter bursts of high intensity effort can achieve similar—if not better—results in less time. Sure you have to work harder but I prefer to think of it as working
smarter
, taking a 60-minute indoor cycling class, for example, and getting all of the same health and fitness benefits in just 20 minutes. Who's not up for that?
Read More ›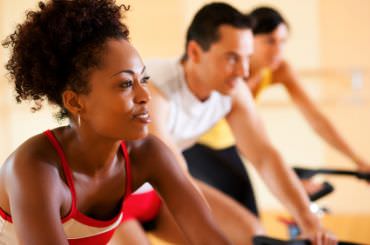 I have had a strong and unwavering love of
Spinning
ever since I took my first class 10 years ago. Soon after, I completed my certification to teach Spinning and I've been teaching at least once class per week for the last several years. And this time of year, Spinning is a great workout when you don't want to go outside, but don't necessarily want to trudge on the treadmill for an hour.
I teach at a gym where a lot of serious cyclists train. They take Spinning mostly when the weather is too bad to train outdoors, and you can easily pick them out of the crowd with their cycling shoes, padded bike shorts and cycling jerseys, water bottles (or often, sports drinks), watches, and bandanas. It can be intimidating for any newcomer to the class. But technically, you don't need anything special for Spinning. Standard workout clothes, a hard-soled pair of athletic shoes, and a water bottle will do just fine. But there are a few extras you could consider purchasing in order to make your ride more comfortable—and get more out of it. Want to know my must-haves for Spinning?
Read More ›
As long as I can remember, I was into fitness. I was an active child, athletic and competitive, always trying new sports. Even as a teenager, I loved lifting weights, trying challenging workouts and pushing myself physically. I remember when I was about 17 years old, I read a small blurb in a fitness magazine that talked about this workout called Spinning. It mentioned that it was a major calorie burner (somewhere near 600 calories per hour, if I remember correctly), and that it was a great workout. "What is this
Spinning
thing," I wondered. Whatever it was, I was definitely going to try it.
By the time I moved away to college a few months later, I got my wish. Not wanting to gain the notorious freshman 15, while trying to maintain a good level of fitness (without the aid of the after-school sports practices I was accustomed to), I started going to the university rec center and tried Spinning for the first time.
That magazine was right. It was intense and challenging. But they didn't tell me that I'd be so sore for a few days (from sitting on that rock hard seat known as the "saddle") that I'd barely be able to sit on my cushioned desk chair in my dorm room—ouch! Despite the challenge (and the discomfort), I made it to Spinning class three times a week and I was hooked. Fast forward a few years later, and I became a certified Spinning instructor myself so that I could share my love of Spinning with others.
I believe that Spinning, which is an indoor group cycling class, is something that people of all ages and fitness levels can benefit from—I've seen it myself and in my students. If you think Spinning isn't for you or tried it and didn't like it, here are 6
reasons to try
Spinning that will change your mind.
Read More ›
You'll find veteran actress Brooke Shields on the cover of
Shape's
October issue. She looks amazing at 43 and as a mother of two children. In the interview, Shields shares her "5 Secrets" to staying fit, happy and confident. The story is full of some great info about Shields, who seems really down to earth, talking about the lack of self-confidence she struggled with in the past, and how she fits healthy habits into her busy life.
Read More ›