9 Ways to Save when Dining Out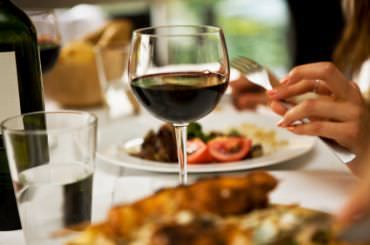 Dining out is a fun way to socialize with friends or relax after a hectic day. Unfortunately, it can be the first thing to go when our budgets tighten. Here are 9 money saving strategies to help you stretch your dollar.








Go out for lunch instead of dinner. This strategy will not only help your budget, but it can help your weight goals for 2009 as well. Many times the portion sizes at dinner are larger and more expensive compared to the same item served at lunch. Dining at lunch can provide the same great taste and atmosphere but with the added savings benefits.

Drink water instead of other beverages. Drinking water instead of soft drinks or cocktails can save money on your bill and help you meet your water needs for the day. Drinks usually have a higher price point proportionately which adds quickly to the bill. Also resist the urge to pay for flavored bottled water. Instead, ask the wait-staff to add lemon, lime or a slice of cucumber to make your water a bit more special. You can save 20% on your overall bill simply by making this one small change.

Have dessert once you get home. Many restaurants charge a very high price for a slice from a boxed or frozen dessert that can be picked up at the grocery store on the way home for much less. If you really love homemade desserts, try eating at home and then going out for dessert and coffee instead. This could save even more money and can be a fun way to change things up.

Select restaurants without tipping requirements. There are many casual dining restaurants that do not require tipping based on your overall bill. Places like Panera Bread, Chipotle Grill or McAlister's Deli provide wonderful food and great family atmosphere without the expectation of tipping a wait-staff. Visiting places like this allow you to save the 15-20% you would tip at a table service restaurant.

Use an Entertainment Book. If you enjoy trying new restaurants, you may really benefit from purchasing an Entertainment Book for your area. These books cost between $15-25 and provide over 150 dining discounts as well as many other money saving opportunities. With $1,000 worth of savings in each book it could be a wonderful benefit if you are good with coupons, willing to shop the deals and are interested in experiencing new dining and shopping adventures.

Plan to split an entrée. One of the best ways to save money AND maintain portion control is splitting an entrée. This is a fairly common practice with desserts and can be a wonderful option for your main course too. Since some restaurants charge a $5-6 "split plate charge" it will be important to check with your wait-person before ordering to find out if that will apply.

Use coupon's from the local paper or websites. Many restaurant's provide coupons in your local paper that offer money saving discount opportunities. Be sure to read all the fine print before use since these types of coupons tend to be quite specific. There are several online coupon options as well. Restaurant.com, Wow Coupons, Free Mania and Coupon Surfer are just a few.

Take the family out where kids can eat free. More and more restaurants are offering free kids meals especially during the week. Since over 75% of these types of savings are found by word of mouth, the website My Kids Eat Free might be a good place to find opportunities in your community.

Pack a picnic or plan a pot luck.Enjoying time with friends doesn't have to mean reservations at a white linen restaurant. Suggest everyone pack a picnic and meet at the park on a nice day. Offer to host at your home and have others carry in a dish to share. A progressive dinner with several other families is another cost saving and fun dinner idea.
Being creative and thinking outside the box can allow you to save money and enjoy eating away from home. What cost saving ideas have you found that I missed? Which of these new ideas is the most helpful for your family?



You will earn

5

SparkPoints

Like what you read? Learn more

about SparkPeople,

or

sign up

for your free account today!
Got a story idea? Give us a shout!