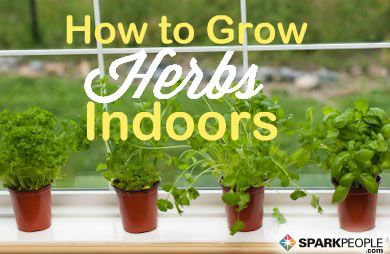 Do the changing seasons leave you a little wistful for summer's wealth of fresh produce? Then keep the growing season going all year by starting an indoor herb garden! Even if you have little experience with plants or very little space to work with, an herb garden is the perfect way to bring a bit of Mother Nature into your home, no green thumb required! And growing your own herbs is much more convenient—and affordable—than buying them at the local grocery store.

Oregano, chives, mint, rosemary and thyme are commonly grown indoors, so pick a few of your favorites to begin. If you like to cook, you'll love having fresh herbs right at your fingertips—just snip and sprinkle fresh chives on your steaming baked potato or add some pungent oregano to your special homemade spaghetti sauce.

To start your herb garden, you must have a sunny window available that receives at least five hours of sunlight per day. Most herbs hail from Mediterranean locales and need the light to thrive. Keep your home between 60º and 70º to create the ideal growing conditions.

While you can start your herbs from seed (more on that below), it's easier to buy starter plants from a local nursery or farmers market. There are several types of containers you can use for the plants, but terracotta planters are very popular. Make sure your pots have drainage holes in the bottom so your herbs don't rot. Keep a saucer or another similarly shaped item underneath to catch the excess water as it runs through. Whatever container you select should be deep enough to promote proper root development, ideally from 6-12 inches deep. You can plant multiple herbs in one container or select individual 6-inch pots for each plant.

Take care when selecting the type of soil for your herbs, as plants are very vulnerable to soil-born diseases. It's a good idea to go with a store-bought potting mix. Your local gardening center can help you select the right one for your needs. Be sure the mix is lightweight and will drain well. Pour a two or three-inch layer of potting soil into the bottom of your container and place your plant gently in the container. Finish filling it with potting mix, pressing it firmly around the plants. Leave about an inch of space at the top to make room for watering.
Continued ›
Article created on: 5/18/2010