All Entries For
recession eating
This post started as a list of ways to use hummus. Then it evolved into a bit of a foodie braindump. All these great tips and tricks have been floating around my brain for the past few months. It's time I shared these quick, affordable kitchen tips and healthy eats with you! I hope you find them useful and inspiring.
Make your own nut butter. It's so much cheaper, and there's no added salt! Toast raw nuts until they're barely fragrant, then run through the food processor. I start by running them through the slicing attachment, then put in the chopping blade and let them break down, stopping to scrape the sides of the bowl from time to time. Add cinnamon, maple syrup or dark cocoa powder for extra special treats.


Poached eggs are delicious: atop a bowl of pasta and tomato sauce, on a salad, and on a bowl of savory oatmeal. The broken yolk makes a delicious, creamy sauce. Trust me. It's life-changingly delicious, especially atop the pasta.


Shredded carrots tossed with hummus that's been thinned with a tablespoon of water is a wonderful side salad. I grate a bag of carrots (using my food processor) every week and use them in stir-fries, casseroles and salads.


Hummus is a secret weapon:



Add it to tomato sauce instead of cream or milk.


Hummus and salsa is even better than cheesy Mexican dip. Warm it for an over-the-top guiltless treat.


Use hummus instead of mayo. More flavor, less fat!


Hummus makes a great salad dressing, and you can even thin it with broth or water to make a dressing for pasta salad--great with peppers, onions, cucumbers, olives and other Mediterranean staples.

Read More ›
In a recent
IBM study
, about three-fourths of the consumers interviewed revealed they still want quality and nutrition along with value when making food purchases during these more difficult financial times. The Braun research group conducted 4,000 telephone interviews with people across the United States from all income levels. Of those 4,000 people interviewed, almost half are now shopping at multiple stores to find the best deals. A third of the respondents indicated they have changed supermarkets to save money as well. Many expressed willingness to reduce spending on prepared foods, individual serving beverages, and clothing but not on meats or poultry. When the recession ends, about 60% expect to continue shopping for the best deal.
Where are they finding the best deals?
Read More ›
Watching and hearing the news could make us all feel a tad more anxious, as more and more companies continue downsizing. When the media referred to Monday's job cuts as "Bloody Monday," such negative connotations can leave us all with feelings of vulnerability and uncertainty. Or at least for me it did.
These are daunting times. The unknown is far scarier than the known. Not knowing if and when you may receive the notice from your employer may lead many of us to
stress eating
or total abandonment of their healthy lifestyle. But we must know that giving into these unhealthy ways will not change the events. While eating chocolate and chips may give us a temporary feel-good sense, it will not change our situation.
Read More ›
Times are tough. We're all tightening our belts, some of us proverbially and some us literally. (Did you know that one can beget the other?
It's true!
)
We've got plenty of ways to keep your stomach and your wallet filled.
Read More ›
Dining out is a fun way to socialize with friends or relax after a hectic day. Unfortunately, it can be the first thing to go when our budgets tighten. Here are 9 money saving strategies to help you stretch your dollar.
Read More ›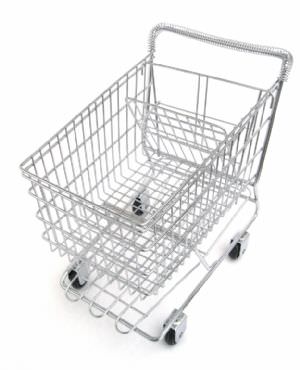 According to the
U.S. Food Cost Average Report for October 2008
, a family of four with two elementary age children can cut about $180 per month from their grocery bill simply by adopting some lower cost shopping habits.
Over the last few weeks we have looked at different ways to save money on food during a recession. We have learned that we can save money by
planning ahead
,
cooking and eating at home
, and
moving away from soda
.
Did you know that you can save money AND still include higher nutrient items in your diet? Here are some shopping strategies to help cut your budget while maintaining a nutrient rich pantry.
Read More ›
Have you ever looked at your grocery bill to see how much you spend on soda or diet soda each trip? Take a look and then multiply that number by the number of times you shop each month. Now take that amount and multiply it by 12 to give you a ball park figure of how much you spend on soda/diet soda each year. Are you surprised by the number? Are there options to save you some money?
Read More ›
Busy and hectic lives cause many people to rely on processed and ready-to-serve foods or eating out as the way to quickly get a meal together for their family. The costs of these types of meals tend to be high and the nutrition many times is inferior to home cooked alternatives. Tough financial times require many of us to dig down and find creative ways to continue living our life to the fullest.
You have heard that increased intake of processed foods and eating out have a negative affect on weight and health. These types of foods also have a negative affect on your budget when it is tight. Purchasing less processed and ready to serve foods and eating out less in favor of making more foods from scratch can be a great start to stretching your food budget further. Do you know how to make the switch?
Read More ›
Impulse buying at the grocery store is a big problem for many of us. Not only does it sabotage our efforts to eat right, it also sabotages our budget as well. The unstable economy and holiday season provide great motivation for smarter grocery shopping to save money. Do you know how?
Read More ›