SparkPeople Blog Most Recent Post
Your doctor can be a great resource to help guide you toward a healthier life. But every so often, you might need professional health advice immediately--advice that you can't necessarily get from a quick Google search. Maybe you're dealing with a chronic condition and don't have the time, energy or money to make an appointment with your physician for every little question. Dealing with a chronic illness can be confusing and challenging, and it might seem like you need a go-to person who can address all your concerns as they come up. The good news is, those people do exist! They are called Personal Nurses, and they may be available at no cost through your insurance provider. We interviewed Jessica, a Personal Nurse at Humana, to find out what these professionals can do for you. She also gave us some great tips on how to get the most out of your doctor's visits, how to effectively cope with a chronic illness, and more--so take notes!
Read More ›
Whether you're a parent who works full time, part time, or stays at home, working out can be a challenge. Finding the time amid cooking, cleaning, laundry, homework, sports, lessons, and bill-paying; finding the energy when you're short on sleep; and finding someone to watch the kids so you can get to the gym or go for a jog is no small feat! And then there's the guilt. Maybe you feel guilty because working out means even more time away from your kids, so you choose to skip the gym. Maybe they're with you all day but they cry when you drop them off at the gym child-care, so you opt to stay home instead. Whatever the reason, if you're missing your workouts because you're feeling
guilty
, read on to shake off the guilt and get fit—because as it turns out, your workouts are actually good for your kids, too!
Read More ›
Hello, SparkPeople Members!
I hope you had a great week! After a more serious topic last week about
Seasonal Affective Disorder
, I'm back this week with a lighter and fun topic: my chickens!
Have you ever seen a sleepy chicken? If not, read on and I'll show you some cute, sleepy chickens getting ready for bed.
Read More ›
In 2011, I was both shocked and honored to be named
America's Top Personal Trainer to Watch
in the first-ever contest of its kind, which was run by Life Fitness and the American Council on Exercise, and I have continued to be involved as a judge and consultant for the contest in recent years. It has expanded outside of America to search for and name the best trainers across the globe. A few weeks ago, Life Fitness crowned 2014's top personal trainers to watch and a new winner in yet another amazing competition.
I recent caught up with the
top 10 finalists
(and the winner himself)—the crème de la crème of fitness pros—to share their best exercise tips with you! From time-saving exercise techniques to the best workout you can do when you're short on time, these must-read ideas are like consulting with the most inspiring and credible fitness trainers around the world without leaving home.
Read More ›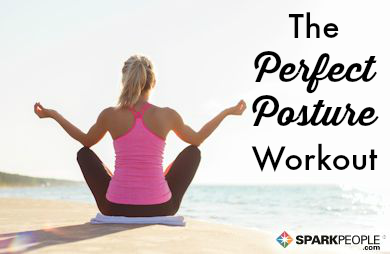 Your mom was right--standing up straight really is good for you! Better posture can also help you look taller and slimmer instantly (no Spanx required). With all the sitting and slouching we do while typing, texting and driving, maintaining good posture can require a little extra work. Join me for this equipment-free, full-length workout video designed to develop strength, flexibility and proper alignment in the postural muscles of the neck, shoulders, back and core. A mat is recommended for the floor work (though a carpeted surface should work fine).
Read More ›
Autumn is here! Unfortunately, with the darker days and colder temperatures, autumn also ushers in an unpleasant side effect for a large number of people: Seasonal Affective Disorder, otherwise known as SAD.
I have a mild form of SAD and know that it impacts me in a few ways, so I'm on a mission to help others since many people don't even realize they have this issue--and even those who do might not know there are simple treatment options. Let's see how many people we can help together!
Read More ›