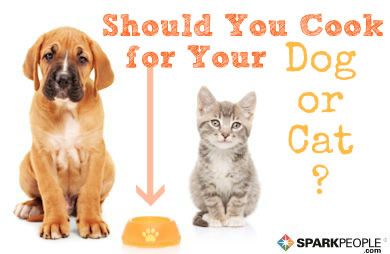 Homemade pet food has become a bit of a hot topic in the animal world as of late. The more food conscious we become as a society, the more concern we have over what goes into our pets' diets, as well. Many of us consider our pets to be members of the family, so, naturally, we want to offer them the same quality of health we want for ourselves. But is a homemade diet really the best option for your pet?

Why Feed a Homemade Diet?
People choose to feed their pet a homemade diet for a variety of reasons. Some pet owners feel that a home-cooked diet offers a fresher, healthier alternative to commercially available dog and cat food. It also gives owners free reign to determine exactly what they put into their pet's food and, in doing so, keep it free of additives, dyes and other unnatural ingredients that many commercial diets may contain. For others, it's about bringing variety into an otherwise "boring" life of eating the same kibble day after day.

In the wake of pet food recalls and product contamination scares, many people are mistrustful of larger food companies and suspicious of their marketing ploys. Some owners simply feel that a home-cooked diet may be a better choice for their pet who is suffering from a specific disease condition (such as allergies or cancer). Whatever the reason, it seems that more and more people want to jump on the homemade diet bandwagon these days.

The Reality of Homemade Diets
As a pet owner myself, I can certainly sympathize with clients who want to feed their pets food they would consider good enough for their own consumption. While I think the intention behind feeding a home-cooked diet is great, pet owners need to be aware that it's not as simple as filling your dog or cat's bowl with some chicken and vegetables and calling it good. Our pets require a specific balance of nutrients to stay healthy, and their needs differ from our own. If that balance is not met, it can lead to serious health consequences for your dog or cat.

Which Pets May Benefit from a Homemade Diet?
A homemade diet is probably best reserved for a generally healthy dog or cat, or for pets with documented food allergies. In cases of true food allergies, a homemade diet may be ideal or even recommended. Pets with suspected food allergies are often put on diet trials to eliminate specific proteins and/or carbohydrates from their diet while it is determined which foods they are allergic to. Pets who are allergic to several ingredients may be placed on short-term or long-term homemade diets. Please note that the proper steps still need to be taken to ensure these diets are complete and balanced. Any pet placed on a food trial for suspected allergies should always be monitored by a veterinarian or veterinary dermatologist.
Continued ›
Article created on: 11/7/2013