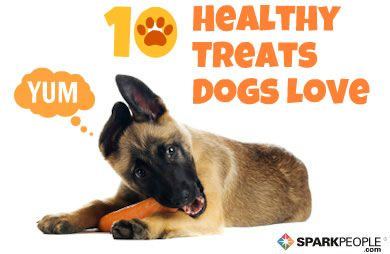 As a veterinarian, I spend my days lecturing people on which foods to avoid feeding their pets. Canine obesity is on the uprise, and most of us are aware that feeding our pets too many table scraps can quickly lead to weight gain. Overweight pets can become sluggish and are more prone to disease, which is something no one would wish upon their dog.

However, as a pet owner myself, I also know that sharing food with our furry friends from time to time can be an important part of bonding. After all, who doesn't want their dog to experience a variety of tastes rather than the same boring dog food day after day?

The truth is, as long as the majority of your dog's calories come from a balanced food source (and you scale back a little on your pet's regular meals to account for treats), sharing food with your pet can actually be a good thing and doesn't have to cause your pup to pack on extra pounds.

Here are ten foods you can feel good about sharing with your dog:

Apples. Apples are sweet, crunchy and delicious--what's not to love? They're full of nutrients, including immune-boosting vitamin C. Whenever I snack on an apple I always slice my dogs a small piece to enjoy.

Baby Carrots. Baby carrots are an all-time favorite treat for my dogs! In fact, they love them so much that I can't even snack on them any more without my pups crawling all over me. Carrots are mostly water, so they also provide a great low-calorie treat option for pets needing to scale back in the weight department. For overweight pets, I often recommend owners replace half of their daily treats with baby carrots. Another bonus? The crunch carrots provide is great for your pet's teeth!

Chicken. What dog doesn't love a little chicken from time to time? As long as it's boiled or baked with no added seasoning, the occasional small portion of chicken makes a tasty treat for your pup. Just make sure to avoid feeding your dog any pieces containing skin or bones.

Peanut butter. Peanut butter is another canine favorite! With so many peanut butter-flavored treats on the market, it's obvious dogs love it. When choosing peanut butter for your dog, just remember the same rules that apply to you also apply to your pet: all natural is best, and nothing with added sugar. Also, due to the relatively high fat content, peanut butter is probably best reserved as an occasional indulgence for your pup rather than a daily treat.

Continued ›
Article created on: 9/24/2013