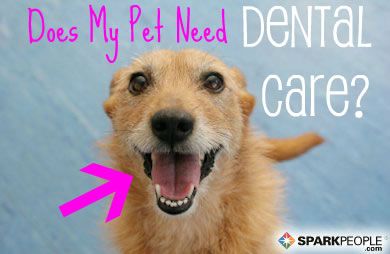 Did you know that the leading cause of health issues affecting your pet is hiding in his or her mouth? A recent study cited dental disease to be the most common health problem affecting our dog and cat population today. At least 78% of dogs and 68% of cats older than age three suffer from some form of dental disease, and numbers are on the rise.

Failing to take proper care of your pet's teeth can lead to more than just stained teeth and stinky breath; studies have shown that dental disease can contribute to systemic health and organ issues such as heart and lung disease and diabetes. Keeping your pet's mouth in tip-top shape is an integral part of overall health.

What Exactly is Dental Disease?
Dental disease refers to any condition that affects the health of the tooth or of its surrounding structures. Plaque is the soft substance that builds up daily on the surface of teeth and can be removed by brushing. Over time, bacteria from the mouth combine with plaque to form a wall of tartar referred to as calculus (which is often the yellow or brown "stain" you see on your pet's teeth).

Once calculus has formed, it can not be removed with brushing alone. What's more, the bacteria begin to irritate the surrounding gum tissue and structures, leading to conditions such as gingivitis and periodontal disease. Over time this can lead to tooth decay, loose teeth and infections, which can all be painful for your pet. Luckily, most of these problems can be prevented with routine dental care.
Continued ›