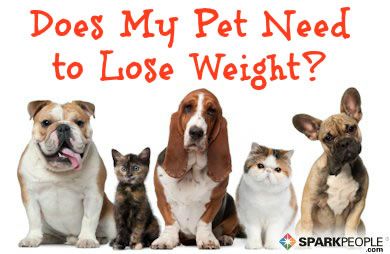 As a veterinarian, obesity is one of the most common problems I see affecting our pet population today. Not only can excess weight cause your dog or cat to feel sluggish and less than his or her best, but it can contribute to a whole host of health problems: allergies, diabetes, organ diseases, arthritis and orthopedic issues(excess weight puts added stress on the joints).

Pets are members of the family—and we want them to live the same happy, energetic lives we desire for ourselves. Helping your pet maintain a healthy weight is central to that goal. Luckily, even if your pet earned a less-than-stellar report in the weight department during his last visit to the vet, there are plenty of things you can do to help him scale back safely.

How Do You Know if Your Pet Is Overweight?
The first step in a weight-management program is to assess your pet's situation: Just how does he or she compare weight-wise? Studies show that parents have a hard time being objective about their child's weight, and it can be difficult to notice a weight problem in your pet because you see her every day. When judging body condition, I typically gauge pets on a scale of 1-5, where a 1 corresponds to being extremely thin (underweight) and a 5 is a pet that is considered morbidly obese. Ideally, you want your pet right in the middle: about a 2.5. At this level of healthy body weight, you should be able to:
Feel but not see your animal's ribs
See a slight taper in at the waist when viewing your pet from above
See a noticeable tummy "tuck" from the side.
For a visual comparison of how your pet stacks up, you may wish to view this body condition score chart (PDF) courtesy of PetMD.com and Hill's Pet Nutrition.
If you're worried your pet is looking a little rounded at the edges, it's time to take action!

As is the case with humans, weight loss for your pet results from increasing activity or decreasing calories—or ideally, some combination of both. Recognize what's really going on with your pet. If he or she truly eats a healthy amount of food but rarely goes for walks or plays, then the focus needs to be on exercise. In my experience, most cases of pet obesity are due to overfeeding, so that's what we'll focus on. For more tips to increase your pet's physical activity, check out the following stories: Get Honest about Your Feeding Habits

Continued ›