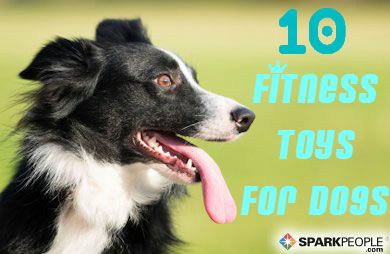 All dogs need exercise no matter what their size or breed. Regular physical activity can reduce behavior problems like chewing and excessive barking. It also helps them to stay fit and slim as they age rather than slowing down and becoming overweight. Many dogs were originally bred to work alongside humans, so most enjoy exercise, but some need a little more encouragement than others. If your dog would rather stand beside you than run around when you go to the park, you can use toys to encourage him to be active. My two dogs love to chase other pets at the dog park, but if we're hanging out in the backyard at home, they tend to stand around and stare at me instead of running. To get them moving, I've tried lots of different toys. Here are 10 of the best toys that encourage dogs to exercise.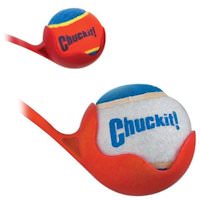 Chuckit! Ball Launcher: You can only throw a tennis ball so far unless you're a professional pitcher. For the rest of us, there's Chuckit! This ball launcher, which looks like pole with a small scoop at one end, allows you to throw a ball three times farther than normal. The scoop also lets you retrieve the ball without actually touching it, which is great if your dog tends to slobber or chew on balls. At my house, we always go for the Chuckit! Ultra Balls because they are indestructible, not something that can be said of a standard tennis ball.



Bad Cuz Rubber Dog Toy: The Bad Cuz looks like a strange creature but it's really a super durable squeak toy with the ability to bounce in a totally random way. Because of the feet on the bottom, this "ball" doesn't move like regular balls do. It keeps a dog's attention because they never know which way it's going to go. Don't leave this one lying around unattended though, some tenacious dogs can chew off the feet, which pose a choking hazard.








Hol-ee Roller: Some dogs prefer to play with bigger balls but they can be challenging to pick up if they're too big. The Hol-ee Roller solves this problem with its hexagonal cut outs that make it light-weight, easy to throw and easy for any dog to retrieve. Made of natural rubber, the Hol-ee Roller can also be used as a teething toy for puppies. This ball comes in several sizes. The smaller ones can be used to hold treats to keep a dog occupied when you're busy or leave the house.

Continued ›