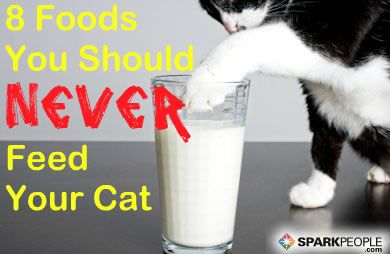 When they say curiosity can kill the cat, they mean it. One bite of the wrong food, and your cat's nine lives could be up! Unlike dogs, who can eat almost anything (and usually will), cats are carnivorous by nature with finicky digestive systems. The canine digestive tract is, like humans', six times the length of its body, but a cat's digestive tract is one-third shorter (just four times the length of its body). It is designed to efficiently extract nutrients from meat, but it can also digest carbohydrates, fats and protein from certain plants as well. Beyond toxic house and yard plants like lilies, poinsettias and aloe, there's plenty of everyday foods that can cause cats harm or discomfort. Here's a list of foods that your kitty should never eat.

1. Raw Meat
While cats are meat eaters, they should stick to cat food or the infrequent bite or two of well-cooked, unseasoned lean protein, free from bone, gristle, or other bits that could be a choking hazard. Raw meat poses the same risks of disease to cats as it does humans, and given their size, it takes far less for them to fall ill.

2. Milk or Dairy Products
Contrary to popular belief, cats should not consume milk or cheese. Most cats are lactose intolerant, and even a small amount can cause diarrhea and stomach upset.

3. Canned Tuna
All types of canned fish pose several risks to cats. The high concentration of mercury can lead to neurological disorders over time, and long-term consumption can lead to depletion of vitamin E stores.

4. Garlic and Onions
While humans might appreciate their meat cooked with these aromatic vegetables, they are actually harmful to cats and dogs. When our pets eat them, these foods can harm red blood cells and cause anemia.

5. Chocolate
Unlike humans, cats can't taste sweets. But chocolate--even in small quantities--is potentially fatal. Two chemicals, theobromine and caffeine, accumulate in animals rapidly, putting them at risk of poisoning.

6. Grapes and Raisins
Experts aren't sure exactly what causes harm to animals, but even a small amount of grapes or raisins (including juice, baked goods and wine) can be toxic and cause kidney failure in both cats and dogs.

7. Xylitol
This indigestible artificial sweetener found in gum and toothpaste can cause liver failure if ingested.

8. Other Junk Foods
Like humans, cats need a diet based on whole, unprocessed foods, but that doesn't mean they can make sound nutrition choices on their own. Processed foods, with their excess fat, sugar and/or salt, do not have a place in a cat's diet.

Continued ›
Article created on: 6/17/2013