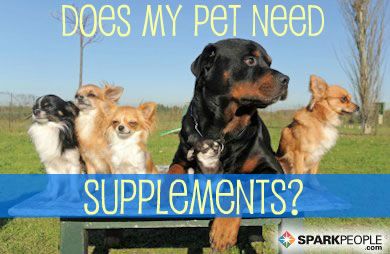 These days, it seems we are constantly bombarded by ads for nutritional supplements claiming to make us healthier, live longer or prevent diseases. Many of the same supplements available to humans are now being offered to pets.

We want our furry friends to live long, healthy lives with us, so why wouldn't we supplement their diets to achieve that goal? Unfortunately, not all supplements are created equal, and many products make false claims or contain ingredients that are potentially unsafe for your pet. With so many vendors and products to choose from, how do you determine what's best for your pet's health and avoid spending money on unnecessary (or harmful) products?

Here's the lowdown on some of the most popular pet supplements, plus tips to help you make well-informed decisions when purchasing a supplement for your pet.

Are Pet Supplements Regulated?
While the US Food and Drug Administration does oversee some animal supplements (particularly vitamin and mineral products that are added to pet food), these products aren't as tightly regulated as they could be. As a result, there are many products on the market that make false advertising claims or are patterned after similar supplements for humans but don't necessarily have appropriate scientific data to assure safety or efficacy for animals.

In 2001, the nonprofit trade organization National Animal Supplement Council was founded to help bridge the gaps in regulation and to create consistency and quality standards for companies to uphold. Supplement companies that want to belong to the NASC must comply with the regulations set by the organization.

Though organizations such as the NASC are making some headway in the quality assurance of pet supplements, lack of proper regulation is an ongoing issue. Therefore, being a savvy shopper and doing your research about pet supplements is extremely important.

How Do I Know if My Pet Needs a Supplement?
Supplements are most appropriate in cases where a dog or cat has a demonstrated deficiency or need based on a diagnosed medical or health condition. For the average healthy pet eating a well-balanced diet, supplements are probably unnecessary. Using any product unnecessarily, no matter how natural or safe it claims to be, can lead to toxicities that can be harmful to your pet. For this reason, it is always recommended that you check with your pet's veterinarian before starting any supplement, even when it comes to seemingly harmless over-the-counter products that you can buy online or at a pet store without a vet's prescription.

Continued ›
Article created on: 7/9/2013