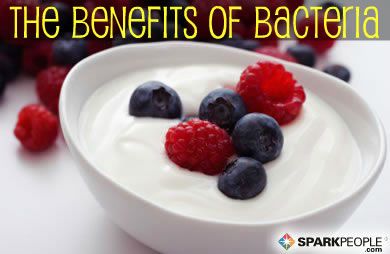 Did you know that your digestive tract contains more than 400 types of "friendly" bacteria? These little guys, commonly referred to as probiotics (which means "pro-life"), help reduce the growth of harmful bacteria and promote a healthy digestive system. That's right! Probiotics are live bacteria with clinically-documented health benefits.

Health Benefits
It appears that when the digestive system is kept healthy, other body systems greatly benefit as well. Probiotics may:
Protect against infection
Enhance and boost the immune system
Promote and improve digestive health
Alleviate diarrhea caused by antibiotic treatments
Promote urinary and genital health
Assist in the management of inflammation
Help alleviate symptoms of lactose intolerance
Improve some types of eczema in infants and children
Reduce cholesterol levels
Decrease the risk of certain cancers
It is important to note that each type of friendly bacteria has a specific health benefit to the body. With over 400 different types of probiotics identified, researchers are just starting to uncover the health roles and benefits of each.
Continued ›
Article created on: 5/3/2006