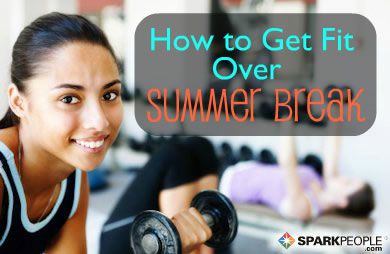 Summer break may seem like it just started, but the new school year will sneak up on you before you know it. So if you hope to head back to college looking and feeling hotter than you did when school let out, read on. It takes time to lose weight and tone up, but if you commit now and follow the tips below, you'll be on your way to an improved version of yourself when classes resume next semester.

Getting Started
You may think that the new school year is a far away, but don't delay! Summers have a way of flying by, and before you know it, you'll be buying books again and moving back in with your friends. The time to get in shape for school is NOW, so commit yourself and write down your goals, including how you would like to look and feel on the first day of school.

Next, ask yourself if that goal is realistic and achievable without crash dieting or excessive workouts. If so, great! If not, you may need a reality check. If your goal is weight-loss, remember that dropping 1 to 2 pounds a week is healthy and doable for most people. If you're someone who tends to get obsessive about your weight, consider setting a different goal, such as eating healthier, dropping a pants size or even getting more active by doing something you love for 30 minutes most days of the week.

Unhealthy habits like crash dieting, taking weight-loss pills or exercising excessively can be common among college students who want a quick fix. Although they may seem like a tempting route, these practices are usually too good to be true. We're bombarded with messages saying that we can lose tons of weight quickly and easily, but it's just not true. Crash dieting can slow your metabolism and reduce your muscle mass so that once you go back to your normal way of eating, you'll put on more weight than you lost. Weight-loss supplements can be very dangerous to health and come with a number of risks from heart attack to death. And excessive exercise? It can actually decrease your bone strength, harm your heart and depress your immune system. Doesn't sound very fun, does it?

Understanding the difference between dieting and long-term lifestyle changes is so important. Part of the process is learning to set a realistic and specific goals that are achievable in your timeframe. Then, take a few minutes and write down your vision statement with all of this in mind. Now that you've got a realistic goal and a sound plan, you're ready to work on the action steps to help you achieve it.

Continued ›
Article created on: 6/15/2010