At SparkPeople, we believe that fitness should be fun, accessible and affordable. That's why we've made more than 40 free online workout videos. But sometimes a computer isn't available, your connection can be slow, or working out at your desk isn't an option. That's why we've created the very first SparkPeople workout DVDs! Learn more about our latest DVDs below.

SparkPeople: Total Body Sculpting with Coach Nicole


Click here for details and stores.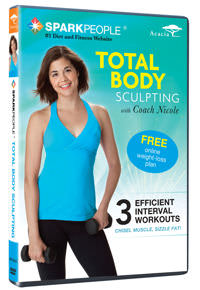 This DVD combines three fun and effective interval workouts that boost your calorie burn and activate more muscles in less time! You'll sizzle away fat and chisel lean muscle as you follow these three unique 20-minute workouts:



--A ballet-inspired barre routine

(using a chair and hand weights) featuring simple dance-inspired movements to help you sculpt a dancer's body
--A

n equipment-free fat blaster

that combines body-weight training with athletic cardio intervals;
--A heart-pumping dumbbell workout that does double duty as full-body toning and cardio conditioning

Three trainers provide modifications and progressions, demonstrating three intensity levels for every exercise so that you can successfully follow along to this DVD no matter what your fitness level!

Check out the preview below to learn more.



Click here to buy "Total Body Sculpting".
This DVD is availalbe at retail stores nationwide as well as online.


SparkPeople: 28 Day Boot Camp with Coach Nicole


Click here for details and stores.



Based on Coach Nicole's wildly successful online "bootcamps," this DVD features never-before-seen workouts that combine full body circuit training with powerful cardio intervals in four different workoutsthat vary between 12 and 30 minutes each! Mix and match them to fit into your day or follow the 28-day workout plan provided. All you need to follow along is a set of dumbbells and a mat.

Three trainers provide modifications and progressions, demonstrating three intensity levels for every exercise so that you can successfully follow along to this DVD no matter what your fitness level!

Check out the preview below to learn more.




Click here to buy "28 Day Boot Camp".
This DVD is availalbe at retail stores nationwide as well as online.


The following three DVDs are on sale now at www.SparkPeopleStore.com. (Yes, we ship internationally!) Featuring upbeat music and never-before-seen workouts created and led by Coach Nicole, here's a sampling of what you'll find in our online store!
Continued ›