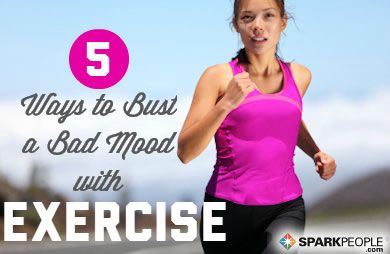 Some days, I am just in a mood. I don't know what you call it, maybe stressed, bored, lonely, angry, sad, anxious, or tired. I call it "getting into a funk." When it happens, I have allowed my circumstances to dictate my attitude and my thinking and then—bam! Before I know what hit me, I'm in a full-blown funk. While I like to exercise when a bad mood rises, others turn to unhealthy habits like emotional eating or smoking. When you're upset, stressed or otherwise not feeling like yourself, exercise—and the mood-enhancing endorphins it produces—can be the best thing for you. Don't you believe me?

The next time you feel that mood coming on, identify what you're feeling and why. Are you bored because your best friend is out of town? Are you feeling lonely since the kids have left the nest? Or maybe you are stressing over finances. Whatever it is, pinpoint it. Then use the specific ideas below to bust your bad mood with a feel-good exercise prescription.

Your Mood:

Angry


Your blood is boiling! You want to take this anger out on someone before you explode!
Mood Busting Exercises:

Kickboxing, boxing, shadowboxing, or martial arts.


Whether you follow a kickboxing video or take a group class, you'll release anger with every punch, kick and jab. Imagine the target of your anger as you do a set of 12 front kicks! Besides getting your anger out you'll blast calories with these cardio workouts. Any form of martial arts, often overlooked as a form of exercise, will also work. Besides actually making contact with pads, targets, and shields (a major stress and anger releaser!), you'll gain gaining confidence, discipline, and focus.

Your Mood:

Bored


You're stuck in a rut and want to do something interesting, but you're not sure what.
Mood Busting Exercises:

Spinning class, step aerobics, or a new fitness DVD


Beat boredom (without food) by taking a high-energy Spinning class at your local gym. Set to great tunes, you'll be surprised how quickly an hourlong class flies by. Step aerobics is another great workout when you're bored because it's always changing. You have to concentrate on the choreography—sort of like learning a simple dance that involves a step. You'll build skills and feel really accomplished when it's over! Lastly, head to the library or video rental store and pick up the first workout DVD that looks interesting to you. Do it at home or invite a friend over to try your newest exercise venture!

Continued ›
Article created on: 2/17/2009