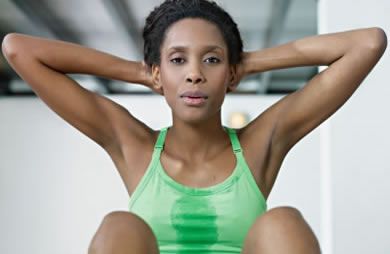 Whether you're just starting an exercise program, or you've been at it for years, there is one thing on everyone's wish list: a toned stomach. Well-defined abdominal muscles are glorified as being sexy, healthy and youthful. You may have seen one once—the rare person who seems to know the "secrets" of perfect abs. Does he know something that you don't? Is it possible for you, a regular person, to achieve the abs of your dreams?

You may be surprised to learn that you can train less and see better results—yes it's true! And you don't have to buy any special equipment. All you need is your body and the proper training knowledge.

But first, it's important to understand the anatomy of the rectus abdominis (or abs, for short). They run down the front of the torso, from the center of the ribcage to the pubic bone. It's a common myth that the abs are made up of several different muscles (such as upper and lower abs). The fact that the word "abs" appears to be plural doesn't help this case. But in fact, it is one long sheet of muscle that just happens to look like several small muscles. This is due to a unique feature called "tendinous inscriptions." These inscriptions run across the muscle and down the center, giving it that "6-pack" (but more accurately, 8-pack) appearance.

"If the abs are one muscle," you may be wondering, "then why do certain exercises seem to target different areas?" Actually, all abdominal exercises target the entire muscle, but during some exercises, you just happen to feel it in one region of the muscle a little more.

The abs are grouped with a few other muscles that are collectively referred to as the "core," which also includes your

obliques

(which run diagonally across your middle),

transverse abdominis

(a long muscle that runs horizonally beneath the rectus abdominis), and lower back (

erector spinae

muscles along the spine). Some experts also consider the hips to be part of the core. Many people focus on training the abs but forget about these other muscles, which are also important. A good rule of thumb is that every time you train your abs, you should also target the obliques and lower back as well.



When it comes to training for abs of steel, here's what you need to know:



Burn fat. You may be surprised to know that most people actually DO have strong, defined abs…they just happen to be covered by a layer of fat. This is because the abs are actually involved in balance and stabilization during all kinds of every day movements and exercises. All the crunches (or other exercises) in the world won't burn the fat on top of the muscle. To accomplish this, you need a combination of regular cardio (aerobic) exercise and a healthy diet to create a caloric deficit necessary to lose weight. Your SparkDiet and exercise program will help you achieve your weight loss goals.

Continued ›