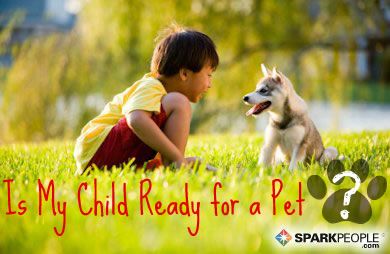 Taking care of a pet has been shown to help children develop empathy and compassion for animals, people and themselves. But how can you tell if your child is ready for the responsibility of caring for a pet?

First, you should change your thinking about what owning a pet means. In any household with children, an animal should be considered a family pet, not just the responsibility of one person, be it a child or a parent. Everyone should participate in the animal's care based on what they're able to handle for their age. Even young children can take turns feeding a pet or participating in family walks or playtime. This will teach children that animals are part of the family and require and deserve the same level of care as humans do.

But, before you adopt a dog or cat, you should make sure all your children know how to interact with animals safely.

Basic Animal Safety
If you're considering adopting a dog or cat, your children likely have spent time with other people's pets and already have expressed an interest in having a family pet. Interacting with unfamiliar animals takes special care, so make sure they're prepared to help meet and choose your new family member.

1. All animals should be approached calmly. The child should offer the animal a closed, upturned fist to smell. This will protect their fingers and prevent them from reaching over the animal, which might frighten them.

2. Make sure children understand that animals should be touched and petted gently and never poked, pulled at or chased.

3. They should know not to touch an animal while it's eating or sleeping.

4. They should always ask an adult before they approach or pet any animal.
Once your child understands how to interact safely with animals, they can get some practice by volunteering to cat sit or dog walk for a neighbor or extended family member. If you're considering adopting a dog, in particular, the book "Are You Ready for Me?" offers a way to explore the process with young children, including a quiz to test their readiness.
Continued ›