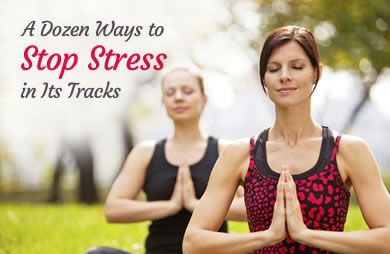 Stress. We feel it in our bodies, we talk about it with our friends, and we blame it for standing in the way of our happiness. But do we do anything about it? Most of us think that stress is an inevitable for people who live productive, fulfilling lives in the modern world.

To some degree, that's true. Each day we are pulled in a million different directions. Our careers demand constant attention to flourish in a challenging economy. Our family members need us and want us; our gadgets buzz and beep requesting our attention all day and night. Bills need to be paid, appointments need to be made, and traffic jams put us behind schedule. Somewhere in between all of this, we attempt to get to the gym or spend some time with friends having fun. Even figuring out how to fit in life's pleasures can cause be stressful.

And that's just an ordinary day. Add to that any major life event—a loved one falling ill, losing a job, kids going to college, elderly parents needing our help, weddings to be planned and paid for, moving, retirement, and on and on—and the stress piles up.

So is your life exhilarating, or just stressful and exhausting? Well, that all depends on how you look at—and handle—both the small everyday events, and the major life-changing ones. Most of us have an innate understanding that too much stress negatively impacts our health and well-being. But do we really understand the true biology of stress or why it is imperative that we learn to reduce, eliminate or manage it?

Once you understand the physiological effects stress has on every part of the body, you will be motivated to stop accepting it as a fact of life. Let's learn to eliminate or reduce the stress we have control over, and manage that which we can't control.

Your Body's Stress Response
Fortunately, our incredible bodies are designed to respond to impending danger. During high-intensity stress, hormonal changes cause your concentration to become highly focused, your reaction time to speed up and your strength to dramatically increase. How else could we explain the speed with which you respond when we see your child about to dart into oncoming traffic? Or why, under the pressure of deadlines, you can become highly focused and motivated to get the work done.

If you lived in the days of the cavemen, the stress response literally might have saved your life. Changes occurring in the body gave our ancestors the strength to fight a predator, or flee and escape harmful situations. That's the famous "fight or flight response" and explains the expression, "that which doesn't kill us makes us that much stronger."

Continued ›
Article created on: 11/22/2011