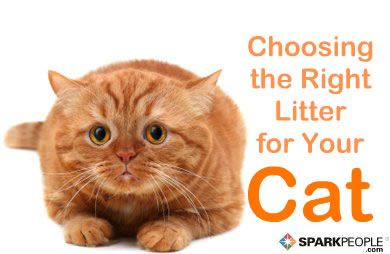 Cats are fairly low-maintenance pets. They don't need to be walked, sleep more than half the day, and (most) love staring out windows or snuggling on laps. Give them fresh water and food as needed, a few toys, and a clean litter box, and they'll love you for life.

Litter box maintenance is the most time-consuming (and least desirable) task for most cat owners. Choosing the right type of litter will not only make your cat happier and healthier, but it will make the task of cleaning the box that much less unpleasant.

A trip to the cat litter aisle used to mean one or two choices: Clumping or non-clumping? Unscented or scented? Now, there are litters made from all kinds of materials (clay, corn and paper among them) with various formulas: multi-cat, odor control, less trackable and even flushable.

The prices vary as much as the ingredients, so how do you know which one to choose? Below, we break down the most common types of litters to help you decide which is right for you and your feline.
Clay litter is the most common and most affordable litter on the market. Though natural litter enthusiasts are outspoken about the dangers of clay litter, the ASPCA Animal Poison Control Center says that health risks are low, except in houses where there might be a dog who enjoys "cleaning out" the litter box. There are two types of clay litter: clumping and non-clumping.
Clumping clay litter is usually made from naturally-occurring bentonite clay, which is considered to be inert if ingested, and/or silica, another inert substance that is a primary component of sand. (Of note, California treats silica as a known carcinogen if inhaled.) Clumping litter works by absorbing liquid waste, transforming it into easily scoopable clumps. If scooped regularly (remove solid waste and clumps daily), it provides excellent odor control and only needs to be replaced once a month.
Not recommended for kittens, who are both prone to bouts of diarrhea (which is harder to clean up with clumping litter) and who are more likely to ingest litter.

Not recommended in homes with dogs who might eat litter.

Available in scented and unscented varieties, along with multi-cat formulas, which form harder clumps.

Less expensive than crystals or natural litters.

Cannot be flushed or composted; must be thrown in the garbage.
Non-clumping clay litter is made with various kind of natural clay, often with activated carbon to absorb odors. It works by absorbing liquid waste, but it does not form clumps so it is harder to scoop. Its odor control varies by brand and type, and it needs to be replaced weekly.
Recommended for kittens.

Available in scented, unscented and dust-free formulas.

Least expensive form of litter.

Cannot be flushed or composted; must be thrown in the garbage.
(Some people are concerned about the dust that comes from clay litters. It can be ingested when cats groom themselves and even inhaled by humans and pets. If that concerns you, choose a natural litter instead.)

Continued ›
Article created on: 6/13/2013