8 Amazing Goals You Can Achieve in the Next 8 Weeks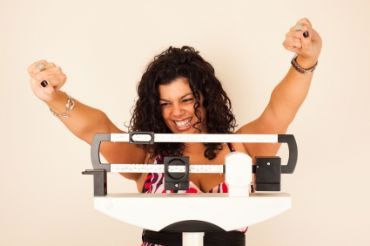 So last week when I bought my 2012 planner for work, I suddenly realized that counting this week, we have just eight weeks left in 2011. I can hardly believe it myself!

This is the slow time of year for health clubs, where the parking lots are suddenly empty and you can practically see tumbleweeds blowing across the fitness floor. I know from experience that many people feel like it's just too hard to stick to a fitness or weight-loss plan over the holidays. It's not just the delicious food that's a challenge—it's the overall hustle and bustle that often gets in the way of your good intentions, as do the shorter, darker, colder days of winter.

But just as people are giving up on their goals or planning to re-start in January, many are staying committed. It's certainly not impossible to lose weight over the holidays! I have known and met several people who stay committed to their programs year-round and continue to see fitness gains and pounds lost in November and December.

The worst thing you can do right now is tell yourself that that last two months won't matter, or that you'll wait until next year to get back on track with your healthy lifestyle. So how about you pledge right here, right now to stick with your plan or—even better—reach a new goal!

By December 31, you could:

Train for and run a 5K using our 8-week "5K Your Way" training plan for rookie runners. Thanksgiving Day races and December "winter" jogs are abundant this time of year—and also spread the wealth to many charitable causes.

Lose up to 16 pounds (about 2 pounds per week) by sticking to your food tracking and exercising. Here are my top tips to lose weight over the holidays.

Complete a 60-day workout streak if you start today with just 10 minutes of exercise, and repeat that every day for the next 7.5 weeks. Need ideas? Join our fun and supportive 4-week Daily Exercise Streak Challenge for motivation.

Master a new fitness challenge, like performing 100 pushups (or even just one!), perfecting a pull-up, or striving to do the splits! Here are some fun fitness goals and training plans to reach them.

Enjoy all of your holiday foods for fewer calories. It's about portion control and smart substitutions—not deprivation. Learn how to make over all of your favorite baked goods and holiday recipes!

Keep seasonal depression at bay. Fitness—especially walking and running outside—is the key for me to stay jolly during the holidays. Rather than letting the cold weather coop you up indoors, layer up for winter and get outside as often as you can. The exercise, fresh air, and sunshine will keep your mind happy and your mood boosted, both of which help you reach other goals.

Forgive yourself when you slip up. I don't shun sweets or holiday foods. I just eat them in moderation and make sure I'm doing what I should be doing at least 80% of the time. Not every day is perfect of fits my 80%/20% goal of healthy to not-so-healthy tasks, but I don't let one meal or one day of unhealthy eating derail me.

Look fab at a New Year's Eve party. Reward yourself for all your hard work—and show it off—with a new dress or suit. After all, if you stick with your goals for 8 weeks, you'll be slimmed, more toned and even more confident.
It's time to change your mind about the end of the year being too difficult, too tempting, or too cold for exercise. It is only those things if you believe it to be. I don't know about you, but I don't buy into it. I treat every day, every month, every holiday and every season the same. My healthy lifestyle is a lifestyle. It's a part of what I do every day. Exercise doesn't happen just during the summer just as eating healthy isn't exclusive to months without holidays. You can do it if you just set your mind to it!

Me? I'm going for a 60-day workout streak through the end of the year. Who wants to join me?

So now it's your turn. Stay on track and stay accountable by sharing YOUR goal and/or plan for the next 8 weeks below. What do you want to achieve by December 31? And how are you going to make it happen?



You will earn

5

SparkPoints

Like what you read? Learn more

about SparkPeople,

or

sign up

for your free account today!
Got a story idea? Give us a shout!