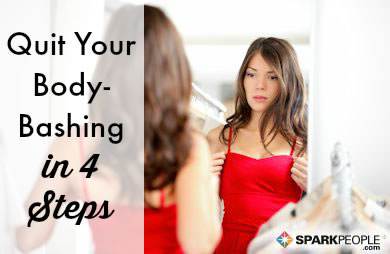 Fat talk. We've all done it. We have all looked in the mirror at one time or another and said negative things about our physical appearance.
In fact, we probably do it so often that we don't even notice it anymore.
We pinch our bellies and grumble about our thighs rubbing together and look at the dimples on the backs of our legs in disgust for years. We say it in our heads, we share it with our girlfriends, and even when our partners complement our bodies, we argue with their assessment. We do it so often that it seems totally normal.
But it's not.
We aren't made to be filled with self-hatred, self-loathing and negative self-talk; yet somehow it has become completely acceptable to be our own worst enemy.
So how can you stop this kind of talk? How can we go from bashing our bodies on a regular basis to thinking more positively and replacing those negative thoughts with loving ones? Start with these four strategies.
Read More ›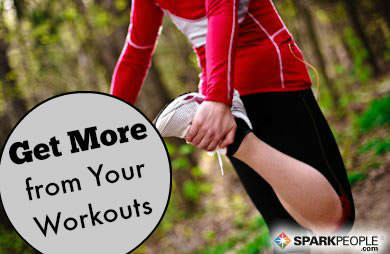 Whether you're a casual exerciser or an elite athlete, we've all been through workouts when our minds begin to interfere, preventing us from achieving our daily goals. In fact, research has proven that it's usually the mind—not the body—that fatigues first and stops us from reaching our full physical potential.
Even top Olympic athletes deal with mental distraction and fatigue during their training sessions. It is in these moments that they must learn how to effectively master their minds in order to sustain motivation, confidence, intensity, focus, and emotional control so that they can follow through on their pre-planned workouts and prepare for competition.
Read More ›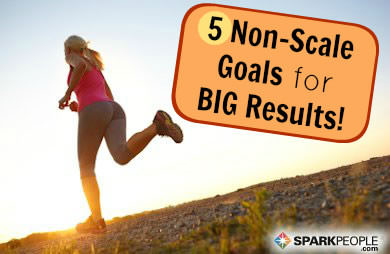 It's no secret that the majority of people who start a new exercise program do so because they want to lose weight, which is a great reason (and motivator) to get fit.
That being said, if your only motivation to exercise is fat loss, you can easily find yourself frustrated and wanting to quit when progress temporarily
hits a plateau
(which it will). That's why setting goals beyond weight loss alone is essential if you're going to stick with a fitness or weight-loss program for the long haul.
And consider this: Setting goals that don't focus on fat loss can actually help you reach your desired weight-loss goal. It's true! (Check out this
SparkPeople success story
of a woman who lost weight by resolving NOT to lose weight!) For example, if you focus on getting stronger, you will likely gain lean muscle mass, which will speed up your metabolism and help you lose more weight. Or maybe you choose to set a goal like walking with a friend several days a week, or taking your dog hiking every weekend. Those goals will keep you active and moving (which is the whole point) and don't hinge on what a scale says to keep you motivated. Over time, you'll be more consistent with exercise, burn even more calories and, of course, lose more unwanted fat.
See? You don't have to be laser-focused on the scale to be successful in changing the scale. Setting other goals can be even more motivating—and just as effective!
Here are five of my favorite types of goals that often lead to weight loss and better health (without focusing on the scale).
Read More ›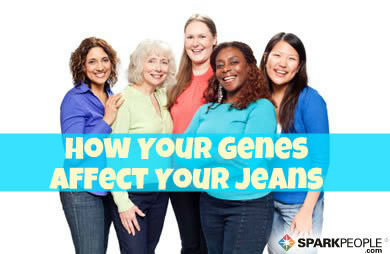 "I am just big-boned. Everyone in my family is big-boned."

"My Mom is heavy. My Dad is heavy. I'll never be anything but heavy."

"My sister has my Mom's lean body and I have my Dad's stocky body, so I will never be lean like her."

At one point or another, you've probably heard your friends or family members utter these phrases. Heck, you may have even said similar things yourself.
So just how much of a role do genetics play in your body shape and size? If you have heavy parents, are you truly doomed to be heavy forever? When your parents are tall and lean, can you get away with eating more—without consequence? If your mom has wide hips, will shopping for jeans always be the bane of your existence?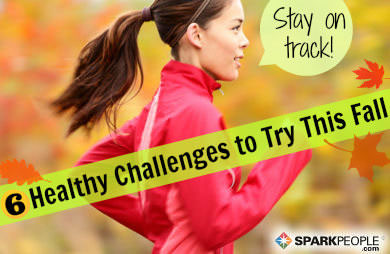 The days are shorter, the weather is colder, and the couch is looking a whole lot comfier. This time of year, attendance at the gym drops and our desires to exercise and eat right fall lower on our priority list. Between back to school, tailgating, Halloween, Thanksgiving, Hanukkah, the year-end frenzy at work, Christmas, New Year's and everything in between, it's no wonder we need to "restart" again on January 1.
As fall morphs into the busy holiday season, let's choose to make this year different. Let's commit ourselves to
just one simple goal
to stay on track. You might not be able to do everything perfectly between Halloween and New Year's Eve, but you
can
do
something.
SparkPeople has a lot of fun, simple and effective challenges that are the perfect pick-me-up for your program. I would recommend choosing ONE program listed below to focus your efforts. These are all great ways to re-commit this fall and hit the ground running this holiday season!
Read More ›
Instead of being thankful for the things I can do, it's much easier for me to get frustrated about the things I can't. I'd love to be able to run an 8 (or even 9!) minute pace comfortably. I'd love to be naturally flexible without having to work at it, and it would be great if I had endless energy for my early morning workouts. I demand a lot from my body, and honestly, it gives me a lot in return. I think I need to take a more positive attitude towards my body and my accomplishments. How about you?
Read More ›
Most people who decide to make a lifestyle change will tell at least a few others about their intentions. All of a sudden you're buying more fruits, vegetables and whole grains, and you've dusted off those gym shoes to go for a walk a few times a week. Something is up, but how many people do you tell? Do you tell anyone at all, or just let them figure it out for themselves? New research shows that sharing your goals could negatively affect your behavior and success.
Read More ›
If Cincinnati is known for anything (especially among its many runners and cyclists), it is known for its hills. You can't run, bike, hike or even walk very far in this city without encountering multiple inclines, some of which are very steep! That is partly what makes our
Flying Pig Marathon
so notorious! When I run outside or hit the road on my bike, there is no avoiding the hills. And while many exercisers despise hills, I've come to accept them—even appreciate them. And no, I'm not a masochist.
On my many long runs these past few months (I will be running the Flying Pig half marathon this Sunday), I've climbed a lot of hills and had a lot of time to think about each one. I've realized that we all have our own hills—in running, in weight loss and in life. Whether a hill slows us down or holds us back has less to do with its actual physicality (or our own) and much more to do with our outlook as we approach it.
Read More ›
You started the New Year full of motivation and enthusiasm. You decided that this is going to be
your
year to make lasting changes and improve the quality of your life. Now that we're almost a month in, perhaps your motivation has started to wane and a little doubt has crept in. Does this mean that you're doomed to repeat the failed resolutions of the past? Definitely not! Take a few simple steps to ensure that your resolutions last from January to June to December—and for the rest of your life. Here's how.
Read More ›
With the New Year just around the corner, exercise is on a lot of people's minds. So many of us are bound and determined to reach new fitness goals, hit the gym with vigor, and change our bodies once and for all.
Does this sound a lot like last year? What happens between January and December that causes so many people to fail, only to set the same fitness resolutions year after year?
No one
wants
to fail. When you start a fitness program, the hope is that all of your hard work (and sweat) will carry you to the finish line. A lot of people can start a fitness program, but very few can stick with it for the long-term. Why?
In my experience as a trainer and health coach, the
excuses we use to miss a workout
aren't the real reasons people fail. You don't have to be a fortune teller to predict who will be going strong next December and who will be starting over again. Most often, I can tell whether someone will succeed or fail based on four simple signs.
Read More ›
When someone sets a weight-loss goal (or any goal), it needs to be realistic because that is what sets us up to succeed. If we set some wild and crazy goals for ourselves that is too difficult or that we know cannot be achieved, we are setting ourselves up to fail and that doesn't get us any closer to where we want to be.
When it comes to weight-loss, many people have a certain number in their mind of what they want to weigh, whether it is because we remember being that weight at a certain time in our life, it is what we think is ideal, or any other number of reasons. For me, I had a number in mind, but I honestly don't know where that number came from. So I had my goal weight in my mind and like many others, I wanted to get to that number fast. But after reading some articles on SparkPeople, I realized quickly that the weight wasn't going to be lost as fast as I would like. I was still feeling ambitious though and set the maximum weight-loss goal of 2 pounds per week. Was that a realistic goal for me? No. Was I defeated? No way! Although, most of the time I was lucky to lose a half pound per week. Even though I did everything right (eating healthy and exercising), I never had a week with a 2 pound loss.
Read More ›
I don't watch much T.V., but I have to admit I'm a big fan of the Olympics. I love seeing people push themselves to their limits (which is probably why I like running marathons) and reach goals they've been working so hard to achieve. I'm totally in awe of how in-shape these athletes are, and it inspires me to become a little more disciplined and focus on my own goals related to health and fitness.
Olympic athletes don't get these bodies without a lot of hard work, which includes a strict fitness and nutrition plan. They are closely monitored by nutritionists who make sure they are eating the right amounts of food at the right times for optimum performance. It's easy to assume that because they are being told what to eat and when to eat, it's not as hard for them to stick to the plan. But is it really that much easier? Do you think that having access to someone like this would make your weight loss journey that much smoother? My guess is "no."
Read More ›
Big news! I'm beyond excited to announce that I have created a brand-new workout plan exclusively for
SELF
magazine's September issue, which is on newsstands now! This workout features a fat-blasting cardio plan, heart-pumping plyometrics, and muscle-toning strengthening moves to tone you from head to toe. All you need is a mat and a pair of dumbbells. It's one of my toughest workout plans ever, and I guarantee it will make you sweat--and torch major calories to help you lose two pounds per week! Sounds pretty good, right?
One great thing about this challenge (dubbed the
SELF Diet Club
) is that it builds in social support, and provides step-by-step workout instruction along with delicious meal ideas--the perfect combo to take your weight-loss to the next level this fall. You can follow along with the magazine alone--but I encourage you to
sign up online
.
Why?
It's FREE, it sends you email reminders, you'll get a special video I created demonstrating all the exercises, you'll be entered to win tons of cool prizes--and well, because it would just mean a lot to me (and SparkPeople)!
Read More ›
Planning ahead is a common key ingredient to a successful story, no matter what the goal may be. Having a plan will not only help you reach your goal(s), but it can help you stay on track with your goal(s) a lot easier. Something that I have experienced and greatly believe in is having a plan, along with having alternative plans for those times of "just in case." Similarly,
Coach Nicole
has blogged about
developing a Plan B
, which has helped numerous people,
including myself
when times get busy or tough. I'm sure many of you have experienced those times when unexpected things come up and catch you completely off guard. When you have a plan, plan B, and maybe even a plan C, you are more likely to stick with your goal(s), which will make you happier in the end and you will have given yourself a perfect recipe for success.
Read More ›
Do you ever find yourself wondering why you should keep trying? Are you considering giving up because your progress is slow or nonexistent? I'm specifically talking about continuing to get and stay healthy, but the thoughts I am sharing could also be used in other areas of your life.
Getting out of a rut can be hard work. You get tired of fighting to change yourself or the ''thing'' in your life that needs changing, and you just want to lay down in the rut and give up. Accepting "what is" becomes easier than struggling to get to "what could be." The vision or dream becomes lost in the midst of everyday life.
I've seen hundreds of posts during my time on SparkPeople where people ask variations of the same question: "Why should I keep trying?" Hope has faded and they've lost their way momentarily. We all go through that. How do you gather the energy to suit up and get back in the game? Why should you? One of the things that has kept me pushing forward is the opportunity to experience more in life. When I was heavier, it took all of my energy to get through the general tasks of each day. There wasn't anything left for finding the "what could be" in my life.
Read More ›
Read More Entries ›