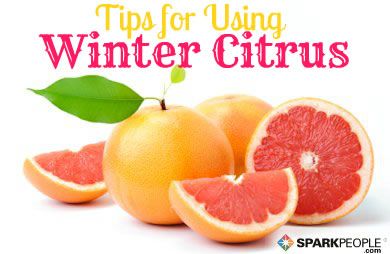 My mom used to tell me about the thrill of receiving an orange in her Christmas stocking when she was a child. Today it's hard to believe that was the only orange she would taste all year long. The ever-popular oranges and grapefruits are available and reasonably priced in every season. But like most citrus fruits, they reach the peak of freshness in the winter months. When you slice open a perfect orange or pour yourself a glass of chilled grapefruit juice this winter, you'll get more than just a pucker. Oranges and grapefruits pack vitamins that help boost your immune system during the colder months. Here's how to select, prepare and enjoy these winter favorites.



Popular Varieties


Two popular varieties of oranges are navel and Valencia. Navel oranges are in season from November through May, with peak supplies in January, February and March. They are seedless and considered the finest eating orange in the world. Valencia oranges are in season between February and October, with peak supplies in May, June and July. They have a thinner skin and only a few seeds.

While there are several varieties of grapefruit, Golden grapefruit (with honey-colored meat and bright yellow skin) and Ruby grapefruit (pink meat and blushed skin) are common. While some people believe the ruby grapefruits are sweeter, experts say there is no flavor difference between these two varieties. You can find grapefruits year round. Winter grapefruit are available from November through June and summer grapefruit are picked and available between June and October.



Buying and Storing


For the best taste and most nutrients, select oranges that are smooth, bright, firm, and heavy for their size. Oranges only ripen on the tree (during warmer months) and are picked when fully ripe. The color of an orange in the market is the same as the color when it was picked from the tree. Valencia oranges are subject to a condition called re-greening (they actually begin to turn green again, starting at the stem end, while ripening on the tree). This does not alter the taste or nutrition.

Oranges can be kept at room temperature for a few days. For longer storage, place them in a plastic bag or in a covered vegetable crisper in your refrigerator. Do not freeze whole oranges.

Select grapefruits that have flawless, firm, and smooth skins. Look for heavy—but not hard—grapefruits. The skin's color can vary depending on the time of the year and growing conditions. Grapefruits will keep at room temperature for up to two weeks. For longer storage, refrigerate in plastic bags or in a covered vegetable crisper.

Continued ›
Article created on: 1/9/2007