On the Shelves: Hot New Supermarket Products!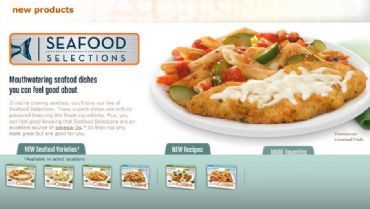 Seen on shelves: These products are so new, we haven't even tried them yet. Have you? Report back, and so will we.
(For additional pricing and nutrition information, click on links to product websites!)
Seafood selections by Lean Cuisine
Lean Cuisine now has nine fish and seafood dishes. From Lemon Pepper Fish to Salmon with Basil, you're sure to find something you'll like.



Did you know that Splenda now has added fiber?






Yoplait Light's New Flavors
Yoplait Light now has three new flavors: Strawberry Shortcake, Raspberry Cheesecake and Pineapple Upside-Down Cake. They each have 110 calories and no fat!
Meanwhile, Yo-Plus with Probiotics has new flavors!. (Get a $1 coupon!)
Yo-Plus flavors include: Strawberry, Vanilla, Cherry, Peach, and the recently introduced Cranberry Raspberry and Blackberry Pomegranate. The newest Yo-Plus flavor, Blueberry Acai, will be in grocery stores in January 2009. Yo-Plus is available at a suggested retail price of $2.79 per 4-ounce cup 4-pack.

Amy's has new soups, chilis and pasta sauces to celebrate 20 years in business!



Organic Summer Corn & Vegetable Soup
(1 cup) 150 calories, 6 g fat, 2.5 g saturated fat, 680 mg sodium, 3 g fiber, 4 g protein, 23 g carbs

Curried Lentil Soup (vegan)
(1 cup) 230 calories, 8 g fat, 1 g saturated fat, 680 mg sodium, 11 g fiber, 9 g protein, 30 g carbs
$2.89-$3.29/14.5 ounce cans

Southwestern Black Bean Chili
(1/2 cup) 240 calories, 4 g fat, 0.5 g saturated fat, 680 mg sodium, 40 g carbs, 10 g fiber, 12 g protein
$2.59-$2.99 (14.7 ounce can)

Light in Sodium Tomato Basil Pasta Sauce
(1/2 cup) 90 calories, 4.5 g fat, 0.5 g saturated fat, 290 mg sodium, 2 g fiber, 2 g protein, 11 g carbs

And check out what's new at Kraft:


Jell-O Sugar Free Rice Pudding Snacks in Crème Brulée and Cinnamon



Cool Whip Lite in a Can



Oscar Mayer Deli Fresh Shaved Meats in Single Serve Packages



Cheeses made without rbST (growth hormones)



Mayo with Olive Oil

There are plenty of new goodies from South Beach Living, including a Buffalo Style Chicken Pizza, a Spinach and Mushroom Pizza, and Hazelnut Crème Wafer Sticks!



(I wonder how these new supermarket foods will measure up on the new nutrition index we'll soon be seeing on supermarket shelf tags!)

What's your favorite supermarket find? What frozen meal or product is a staple in your house? Tell us!

Photos: from company websites, except for the Amy's picture



You will earn

5

SparkPoints

Like what you read? Learn more

about SparkPeople,

or

sign up

for your free account today!
Got a story idea? Give us a shout!