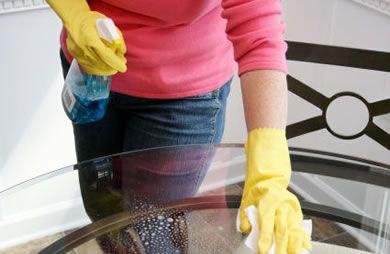 Marketers invest millions to convince us that we need the latest and greatest cleaning spray, detergent, and paper towel, so it's not surprising that tidying up can quickly become a budgetary mess. In fact, according to the U.S. Bureau of Labor Statistics, the average American family spent $639 on housekeeping supplies in 2009.

Without even realizing it, we're tossing away more than $50 each month on cleaning chemicals, paper towels, plastic bags, detergent, soap, and other products that promise to make our homes shine and sparkle. The reality is that most of these products can be used more efficiently, replaced with low-cost options, or swapped with homemade alternatives. Plus, reducing our dependency on housekeeping supplies can be environmentally-friendly. By using fewer chemicals and reducing waste, you'll trim your budget and help out Mother Nature, too.

Buy in Bulk: Pharmacies often carry the highest mark-ups for cleaning supplies. While grocery stores and big box retailers offer lower prices, your best bet is to buy cleaning supplies in bulk from a warehouse store such as Costco. Cleaning supplies often have a long shelf life, so you don't need to worry about bulk products losing effectiveness over time. The key, of course, is to buy products you have been pleased with in the past.

Reduce Your Trash Load: The more trash you produce, the more garbage bags you waste. The good news is that most household trash can be recycled or composted. To make recycling easier, simply create recycling stations throughout your home. For example, place a small trash can labeled "for paper products only" in the home office. If you're a gardener, composting is a great way to reduce your trash load and create free, nutrient-rich fertilizer. Composting is easier than you can imagine, too—this resource explains composting basics.

Tear Away from Paper Towels: Paper towels are convenient, but they are also costly. Name brand paper towels are priced from $1.20 to as high as $2.50 per roll. For most messes, a clean rag—which can be tossed in with the laundry and reused for years—is just as effective. Stash a dozen clean hand towels in a cute basket on the kitchen counter and use them to catch spills, dry hands, or wipe mouths.

Make Your Own Laundry Detergent: Creating your own laundry detergent is a fun way to save money—and it cleans just as well as the commercial stuff. Common recipes feature combinations of fragrance-free soap, borax, washing soda, baking soda, and other inexpensive ingredients.

Continued ›
Article created on: 10/18/2010