Evelyn Beat Cancer Twice and Is Half Her Size!*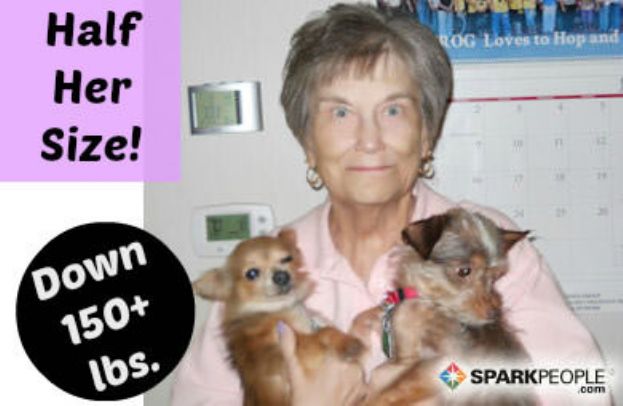 Evelyn Cruze (EVWINGS)
Weight Lost: 150 pounds
Hometown: Crescent City, FL

What was life like before your weight loss?
There are several things that contributed to my weight gain. One of the biggest was that we had very little gym or fitness training in school. This made it difficult to add it to my life as I grew older; therefore, I spent most of my life in a sedate manner. Next, I became smoke-free, and I gained about 40 pounds. After that, I had major stress in my life trying to juggle my job and caring for my ailing mother. My income suffered, and I was very afraid. I would eat and eat and eat some more. Finally, I injured my knee and had to have surgery. During physical therapy, all of the work was blown out and I had to be bed bound for over four months, which also contributed to my weight gain.

At my highest weight of 274 pounds, life was awful. I would cry a lot and after my mother died, I gained even more weight. I felt very useless, especially after my knee surgery. One good thing was that I had a lot of support from my family. My new husband was wonderful about my knee injury, which occurred only a few months after we were married. He said it didn't matter to him what I weighed or what he had to do for me. He said it was called love and he knew I would do the same for him.

What was the main motivation behind your weight loss?
I felt so miserable weighing what I did. I didn't think it was healthy and my doctor agreed. He felt my asthma and sleep apnea could be corrected if I lost some weight. He and I talked a lot and I told him that I wanted to do this slowly to ensure that I would keep the weight off. He agreed and made some recommendations for me.

Tell us a bit about your weight-loss journey:
By the time I found SparkPeople, I had lost about 10 pounds on my own. I didn't use the site regularly until about two years later when I became really serious about weight loss. I came to admit to myself that I couldn't do this alone. I needed tips, encouragement and support. I weighed 255 pounds at that time (August 2010), and I began taking off one to two pounds a week. I started to track what I ate and I learned about portions. I was very happy with my progress. Then several months later, I was diagnosed with breast cancer. I was very depressed because I felt my weight loss may have been due to the cancer. But after the surgery to remove the tumor and lymph nodes, I still lost weight. While going through radiation and chemotherapy treatments, I tried to do a little cardio or strength training each day and tracked my food even though I had little appetite. I kept on even though it was difficult. Then, when I went for my regular check-up, I was told that I beat the breast cancer but was now diagnosed with tonsil cancer. This journey has been long and really nasty. I grew weaker and weaker. I had a feeding tube and I could eat very little solids. I dropped weight at this point more quickly than before.

My treatments ended, and I got right back on track! I set my first goal of reaching 195 so I would be less than 200 pounds for the first time in 15 years. Then, I set my second goal for 160. The third goal was 140. I reached my final goal of weighing 120 pounds on June 22, 2012. I am about 125 pounds now since my doctor wanted me to gain a bit of weight back.

I have found SparkPeople to be a lifeline for me. Membership on this site and learning so much about healthy choices and tracking food intake has helped both my hubby with his diabetes and me with weight loss. Tracking my food and exercise has been a huge motivator, as well as the opportunity to blog. When I was so sick I couldn't be online, my dear hubby would update my blog for me. Getting to know so many Spark Friends in my teams and all of the support and information that is available has helped me move forward in my goal of living a healthier lifestyle. The day I found this site and clicked "register" has been one of the best in my life.


What is your typical exercise routine like?
I try to walk a little each day, even if it is just around the house or using a walker. When days are nice, I also walk outside. I will usually break these up into different times of the day. In between the two walks, I'll either follow SparkPeople exercise videos or one of my exercise DVDs. Learning belly dancing from a DVD was a lot of fun! I really enjoy the videos from SparkPeople. They are explained and demonstrated very well, plus they are easy to alter to my physical needs.

In what ways have your eating habits changed?
My treatment for the tonsil cancer zapped my salivary glands and things tasted horrible for a long time. I also had to have nine teeth removed, so it is very difficult to chew or eat very much at one time. There are still many foods I can't eat, like most carbs along with many sweets. Nearly every day, I'll have an Ensure for breakfast. For lunch, I usually have cereal with 2% milk and fruit or nuts. For dinner, I'll have either a soup made with very low sodium broth, veggies or rice or a salad with low fat cottage cheese rather than dressing. I also have between one and three snacks a day. I have limited my sodas to one per day. That has been a HUGE change for me!

What advice would you give to someone either just beginning or hitting a rough patch in their weight loss journey?
You are so worth getting healthier! I am so proud of you for taking the first step by joining this wonderful community! Try to remember to take things nice and slowly. If you slip, don't be too hard on yourself or give up; simply start over at the next meal or when you can exercise again. Not everything works for everyone, so it's great that there are so many friends here on SparkPeople who are willing to help and be supportive no matter what. You'll find them on SparkTeams or on the message boards. When you need some help or tips, just reach out and you'll be surprised how many you'll get! Finally, don't forget to love yourself! We really can't expect anyone else to love us if we can't love ourselves.

How has your life changed since losing weight and improving your health?
Things are much better. The doctor was correct - the asthma and sleep apnea have disappeared now that I've lost weight. I can move better and my balance has improved. I still have some days where I must use my power chair to get around, but that has become less and less often. I will have some days when my balance is way off, too, and I'll fall. But I sure am doing 1,000 times better than I was carrying around that extra person! Staying positive during this journey has changed my life, too. It's a wonderful journey with twists, turns and some plateaus along the way, but it is all so worth it!

*Weight loss results will vary from person to person. No individual result should be seen as a typical result of following the SparkPeople program.

Have you lost weight and kept it off using SparkPeople.com? We'd love to share your story. Email us: sparkpeoplesuccess (at) gmail (dot) com




You will earn

5

SparkPoints

Like what you read? Learn more

about SparkPeople,

or

sign up

for your free account today!
Got a story idea? Give us a shout!