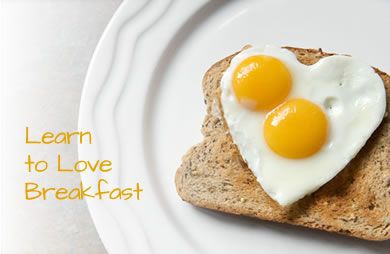 As a working mom with three kids at home, mornings are always hectic. Getting everyone up, fed, dressed and out the door takes precision timing and a level of organization that most businesses couldn't match. And while I insist my children have a good breakfast every day, making sure I have something to eat before I start work is usually at the bottom of my priority list.

Don't get me wrong—I know all the reasons why I should eat breakfast. But knowing what I should do and actually doing it are two very different things. But it was my desire to lose those ten pounds that really prompted me to start eating in the morning.

A 2002 study by the National Weight Control Registry, a group of more than 3,000 people who have lost at least 30 pounds and kept it off for at least a year, found that breakfast eaters were more successful at maintaining their weight loss. Another study found that women who skipped breakfast made up for it by eating more throughout the day. So even though I thought I was saving calories by skipping breakfast, I was actually eating more overall (probably because I was hungry).

But why does breakfast make the difference? Scientists have proven that eating at regular intervals helps your brain sends a signal to your body, telling it not to store the calories as fat—that you literally aren't starving. When you skip meals however, your body can switch into "starvation mode," hanging onto every calorie because it doesn't know when, or if, the next meal is coming.

By the time you get up in the morning, 10 to 12 hours have passed since your last meal and your body is in fasting mode. Eating soon after rising will literally break this fast (see where the word "breakfast" comes from?) and fire up your metabolism for the day. If you aren't hungry as soon as you get up, have something nutritious to eat anyway, even if it's small. After two to three weeks of eating even a small breakfast (like yogurt or fruit), your body will reset your appetite and you'll begin to naturally feel hungry in the morning—that's a good thing!

A morning meal also gives you a head start on getting the five to ten servings of fruits and vegetables you need each day. Banana slices on cereal, a glass of juice, or diced veggies in an omelet all count towards your daily requirements, while some calcium-rich yogurt, milk, or soymilk help you get the nutrients you need to build strong bones.

If you find it hard to get up in the morning, eating breakfast may help boost your energy levels (and mood), by raising your blood sugar levels and increasing your ability to concentrate.
Continued ›
Article created on: 4/12/2007