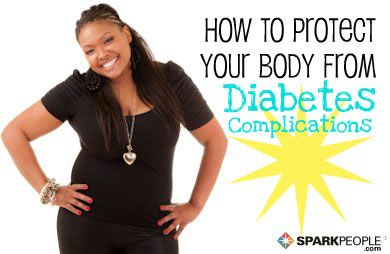 Diabetes is a disease that can be prevented in most cases and treated successfully in the rest. But improper management of this disease can cause serious complications in many different areas of the body. If you have diabetes or are at risk for developing it, here is a head-to-toe list of its potential complications, and suggestions to prevent them from happening to you.

Your brain: Having diabetes increases your risk of stroke. People with diabetes are 2 to 4 times more likely to suffer a stroke, which could lead to paralysis, brain damage and death. You can help prevent stroke by controlling your blood glucose and following these heart-smart diet and fitness tips.

Your eyes: High blood sugar can lead to blurred vision, and eventually to diabetic retinopathy (eye disease), which can lead to blindness. However, studies show that monitoring and keeping your blood sugar and blood pressure levels within their normal ranges can delay or prevent eye problems. Work with your health care provider to develop a plan for keeping your levels under control, and undergo a thorough dilated eye exam once a year.

Your teeth: High blood sugar levels can cause gum disease, and gum disease can cause high blood sugar. This vicious circle of dental complications from diabetes can be prevented. In addition to keeping blood sugar levels under control, brush often, floss daily, and get regular dental checkups about two times per year.

Your heart: People with diabetes are more likely to have heart and blood vessel problems. If you also smoke, have high blood pressure or have high cholesterol, you are at an even greater risk. According to the Centers for Disease Control (CDC), heart and blood vessel problems are the main causes of sickness and death for people with diabetes. Controlling blood glucose levels, abstaining from tobacco and monitoring blood pressure and cholesterol levels can decrease your risk for these complications.

Your lungs: Death from pneumonia or influenza complications is more likely in people who have diabetes. It is recommended that diabetics get vaccinated for pneumonia as advised by their physician and receive yearly flu shots to decrease their chances of getting sick in the first place.

Your stomach and bowels: Uncontrolled diabetes and/or high blood sugar levels can lead to nerve damage in the digestive system. This can lead to a number of problems including a condition called gastro-paresis, which delays the emptying of the stomach contents. Symptoms of nerve damage in the digestive tract can include trouble swallowing, nausea, vomiting, diarrhea, constipation and bloating.

Continued ›
Article created on: 4/11/2007