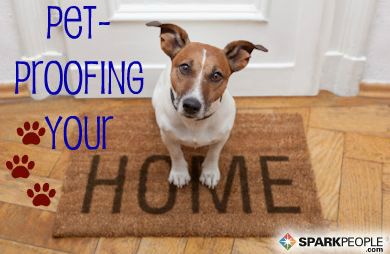 Every new parent knows that one of the necessary steps in that first year is "baby proofing" your home to keep the child safe. But, as pet owners, have you ever stopped to consider whether your home is safe for your four-legged companions? Here are some of the most common household hazards for pets, and tips to help keep your pet protected.

Factors to Consider
When creating a pet-proofing strategy for your home, consider these factors to decide where to focus your efforts.
First, what is the size of your pet? (Or, if you are bringing home a new kitten or puppy, what size will your pet be when it is fully grown?)

Will your pet be confined to a room or to a certain living space or allowed free range of the house?

How old—or how mobile—is your pet? Whether you're dealing with an older, sedentary cat or a rambunctious Labrador pup can play a role in the degree of pet-proofing your home will require.
Survey Your Home
Next, take a survey of your home from your pet's point of view. What is in reach that might look tempting to your dog or cat? Are there any small spaces where pets might be inclined to hide or get stuck? (A warm pile of towels or blankets sitting in the dryer can be a welcoming invitation to many cats, so always be sure to check inside the pile and the dryer before you start your laundry!) Are there any shelves that could topple onto a climbing dog or cat? Eliminate as many hazards as you can right off the bat by minimizing small spaces behind furniture and securing shelves or bookcases to the wall. By considering all areas of the house and yard to which your pet will have access, you will be able to recognize and remove many potential dangers before they become an issue.

Start with the Basics
After you have taken note of potential hazards and established where your pet will be spending his or her time, you can start to employ some basics. For dogs that will be spending long periods of the day at home alone, it might be wise to purchase a crate. Many pets respond very well to crate training and will come to regard the crate as a comforting space. A crate can be a useful tool to keep your pet safe when you are away from home or unable to observe him or her directly.

Continued ›
Article created on: 8/9/2013