7 Things Your Daughter-in-Law Wants to Tell You
Stereotypically, a wife's relationship with her mother-in-law can be tense—even competitive in some cases. There's a good reason for that, says stress-management expert
Debbie Mandel
author of
Addicted to Stress
: You have two women who love the same man, albeit in different ways. Add to that the fact that a daughter-in-law may find it difficult to express herself when an issue arises with her mother-in-law, whether out of fear, respect or frustration, and you've got the makings of one stressful family dinner. However, according to Mandel, a healthy relationship can form between the two women. It just takes time––and a lot of mutual respect. So we asked some real-life daughters-in-law to tell us what they feel they can't tell their mothers-in-law, and had experts weigh in on how best to resolve these conflicts so you can both start having a happier family life today.
1. Trust that I know how to raise my children.
The topic of children––how they're raised and disciplined––can quickly become a battleground because it's an emotional topic for everyone. When a mother-in-law makes comments, her daughter-in-law may feel like she's being judged, says Mandel. "Meanwhile, your mother-in-law may feel as though you're doing things differently than she did to undermine her." LeAnn* has diminished this type of intrusion by simply responding to her mother-in-law's suggestions with, "They are fine" or "We raise them differently." She's on the right track, says Mandel. "Daughters-in-law should try to respond neutrally—'That's an interesting point'—rather than negatively, which only fuels the fire." Meanwhile, she says, "A mother-in-law is smart not to offer unsolicited advice. If your daughter-in-law asks how you used to do things, tell her and leave it at that."
2. Don't come over to our house unannounced.
For years, Anne* and her husband lived just blocks from her in-laws, who were fond of ringing their doorbell on Saturday mornings—without calling first. "It felt so intrusive!" Anne says. "This is the time for the husband to get involved," says Elizabeth Lombardo, PhD, psychologist and author of
A Happy You
. What sounds shrill coming from you can sound like good advice from their son, as long as it's said politely. "Suggest he try something like, 'Mom, we love seeing you, but Saturday mornings are so crazy with the kids. Next time, call first so we can be sure the gathering is more relaxed.'" Remember, she just wants to see you (and your kids, if you have them), so if you assure her that you also want to spend time with her, perhaps the unannounced knocking will come to a halt.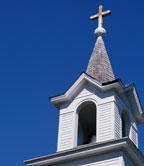 3. Leave religion out of it.
Claire's* in-laws, who are Catholic, openly fret to her and her husband about how they have yet to baptize their son (something they have no intention of doing), which causes uncomfortable feelings all around. Here, both sides have to come to the realization that the question of religion might never be settled. "It may be a core value for the in-laws, so if you reject their religion—especially for your children—they may feel personally attacked," says Mandel. The best you can do is to be firm in your own choices, but also be clear and reassuring that you're raising your children to be good people.

4 more things your daughter-in-law wants to tell you
!
Stories you might like:
Do you think saying these things would help or hurt the relationship between mothers- and daughters-in-law? Would you add anything else to this list?
Provided Photo



You will earn

3

SparkPoints

Like what you read? Learn more

about SparkPeople,

or

sign up

for your free account today!